From presenting Changing Rooms and 60 Minute Makeover to starring in Celebrity Masterchef, TV's leading interior designer has her talented fingers in many projects, including an investment property in Cyprus, reports Angela Sara West.
As the ultimate doer-upper, Britain's best-loved interior designer has been inspiring the nation with her home makeover shows for decades. She and her former TV executive husband, Chris, are also avid investors in bricks and mortar, with a plethora of property in Blighty and abroad.
Her property portfolio began in Battersea, southwest London. Linda,  who was born in Yorkshire, bought her first flat while working as cabin crew for Britannia Airways for four years.
Her revamped flat featured in  House Beautiful magazine and with her impeccable taste, eye for colour and ability to create amazing spaces on tight budgets the interior decorating commissions came rolling in. Linda started co-presenting the BBC show Changing Rooms alongside Laurence Llewelyn-Bowen and boom – Britain was bitten by the home-improvement bug.
She has also owned properties in  Forest Hill and East Dulwich in southeast London, but the design doyenne, 56, now bases herself more in Yorkshire, where she's renovating her newly bought five-bedroom character house in East Riding and planning interior design/yoga/ wellbeing workshops in her spare time.
And abroad? More than ten years ago, she and Chris, 57, bought a Roman-style villa with friends in La Môle, near Saint-Tropez, which they lovingly transformed from a basic bed and breakfast into a barefoot luxury retreat.
About 15 years ago, they invested in a north-western Cypriot new-build, which they never intended to visit. Perched on a hilltop overlooking the small port of Latchi, the modern three-bedroom, two-bathroom luxury villa, Hillcrest,  sits snugly in a small development at the bottom of the unspoilt village of  Neo Chorio, on the edge of the Akamas peninsula in the far west of the island.  It cost "around £300,000".
With uninterrupted, panoramic sea and mountain views, the front-line property enjoys a breathtaking premium location and is built with creamy-white, natural stone. "It's half-white render and very beautiful, in the most amazing position overlooking the sweeping bay."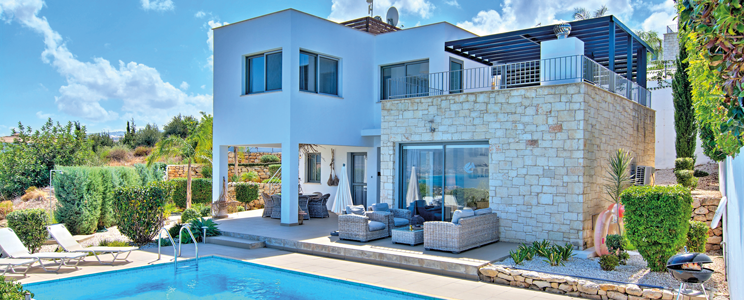 Although Linda now uses Hillcrest as a holiday home, alongside renting it out, the initial attraction was for it to be purely an investment. "We weren't searching, but the property seemed a good investment deal. I literally saw it on paper, talked  to the developer and it was viewed as  a pretty safe bet back then."
She chose the site of the villa before it was built and a stroke of luck took any potential rental hassles off their hands. "We were really fortunate to  bump into a wonderful couple, Paul  and Andrea, from Luxury Latchi Villas management company."
When the financial crisis struck, however, a concerned Linda and Chris flew out to check on their investment.
"We hadn't visited after it was built and it had slipped into the doldrums. We gave it some TLC, brought it back to life and then totally fell in love with it. The first day, we walked up the hill through the village onto a plateau full of wildflowers, birdsong and olive and carob trees: it  just blew us away."
Prior to having the house, they'd only holidayed once on the island but they have grown to love it and the Cypriot climate.
Problem-free purchase
Part of the initial appeal was Cyprus's English law-based system. Linda praises the problem-free purchase: "It was very straightforward. Once we'd been in touch with the developer and seen the plans, we just went for it. 
"There's not really a language barrier as nearly everybody speaks English. It was all very efficient. The rental market is wonderful. People love coming here and it's a long season with bookings from April to November. Demand is mainly British and, very occasionally, Cypriot. Paul and Andrea are super-efficient and we have repeat business."
Cyprus style: going local
Showcasing her simple but elegant style, Linda has successfully combined a typical Cypriot feel with a stylish contemporary twist. Downstairs comprises an open-plan living/dining area and fully fitted kitchen, while outside a tempting turquoise swimming pool is set in mature, landscaped, flower-filled gardens. 
She sources décor and furnishings in Paphos. "There are lots of good decoration shops there. We found some great external wicker furniture, including the outside dining table. I wanted to use very Cypriot things and they're renowned for their large urn ware and exterior jars, so we've decorated the side of the pool.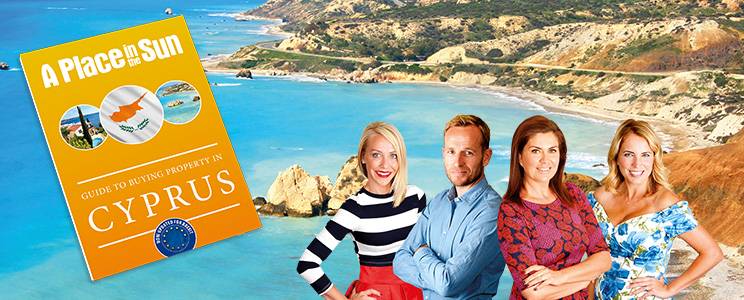 DOWNLOAD OUR FREE GUIDE TO BUYING A PROPERTY IN CYPRUS
"My usual thing's mixing modern and old, but there are no antique shops here  as people are so careful about what they own, passing everything from generation to generation."
She did, however, find some local weavers. "There are several baskets throughout the house and terracotta pieces. It's a Cypriot experience…  with a little bit of Ikea thrown in!
Linda offers special touches for guests. "It's nice to have big baskets of olive branches and seasonal fruit. We grow lemons which are absolutely massive. We also lavish something on the house each year so it's different for returning guests."
Cypriots are well known for their friendliness, generosity and hospitality and it's all about the local way of life for Linda. "The people are so amazing. Women sell oranges on the side of the road, it's glorious. The last time we came, we stopped for our oranges for breakfast and there were some massive pomelos, like grapefruits, and they invited us to see the bees at the back of the farm."
Linda walked through orange groves, saw the bees and bought fresh honey. "And the most incredible cold-pressed olive oil. They sat us down and gave us huge hunks of this beautiful 'village' cheese they were making out of goat's milk, just in an open garage, with lovely honey poured over it and the most beautiful Cypriot coffee. All very traditional and just divine. That whole experience, for me, is what Cyprus is  all about."
Linda visits at least once a year and is determined to go more. "It's usually out of season, around Easter time, when it's the most magical place as it's very quiet, the meadows are full of wildflowers and the air's so sweet. The tradition in the village is amazing and they do extraordinary festivals: the church displays all its lights and decorations and trays  of beautiful flaouna dough pastries are carried up and down the village."
Linda and Chris enjoyed attending an atmospheric midnight mass on Good Friday this year. "The whole village was there, the church was packed, full of wafting incense, singing, kids dressed up and running around and parents and grandparents all looking fabulous."
Their daughter, Jess, 25, also loves to visit the family-oriented island and Linda's nieces have holidayed there, too. "One of my nieces has just got married and we surprised her with a week here  for her honeymoon."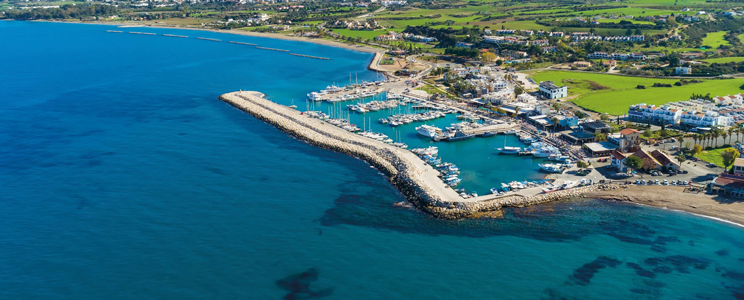 Linda's favourite beach is a handy pebble's throw away. "It's at the bottom of the road and we can see it from the villa.  I walk down the hill in the morning, through beautiful crop fields and olive trees and I'm straight onto the beach and into the sea. I love my routine … I'll wake up early and head to the beach. There's never anyone there".
The island's Blue Lagoon is accessible only by foot, boat or dune buggy. "It's the most beautiful blue shallow lagoon in a sandy cove. Summer might be different but there's nobody there when we go. You can hop over the mountain to Coral Bay, too.
Linda loves setting sail on the crystal-clear waters of the sparkling Med.  "For a day out, we'll do a boat trip and  get out onto the sea."
The Troodos mountains are also in range. "I climbed them a while ago and they're lovely. I once visited the monastery, but we usually stick to the local ones." 
She says there's no need to go far for fantastic days out. "It's a very big island and journeys are long – an hour into Paphos, over two into Nicosia. We tend to stay put and I think that's what you do if you end up in this part of the island."
The sensational sunset panoramas from Linda's luxury roof terrace make it the perfect spot for practising another of her favourite pastimes, yoga.
A keen cook, Linda loves the Cypriot gastronomy and, along with those side-of-the-road experiences, supermarket shops for local ingredients. For traditional dining out, she favours the local village and port.
"We head to the port, a quick bike/car ride away, for fish meze for supper. It's restaurant central and a fishing village, so they're landing a catch. The fresh fish is just heaven! Traditionally, they do the most beautiful houmous and tzatziki, followed by fish or meat meze."
Her go-to eatery? "The Porto Latchi is lovely." The port is also lined with local artefacts and jewellery shops. "Great for gifts like olive-oil products, sea sponges and black soaps."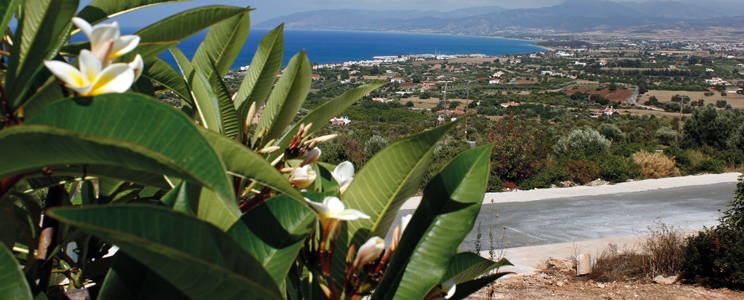 How has she seen the island change?  "I think a lot of Cyprus was trying to cash in during the boom years and I was guilty of that. Everybody seemed to become their own property developer and there were a lot of properties that flooded the market. But I believe the island 's traditional roots are stronger than ever. The locals are very keen on not spoiling it and understanding the value of their traditions, food and produce much more. It's great that they're very passionate about that."
Top tips for purchasers?
"Well, I did no research whatsoever.  I was just very fortunate to have invested in a place which I absolutely love. But I would say, with my sensible head on, that you should absolutely do your research because it's so big and offers so much, from tradition to a very English experience for expats. It depends on what you want; it's all here.
"There's a large, established expat community enjoying a laid-back lifestyle on the island. But we're tucked away in a very traditional village where you don't see it too much. We bump into English people occasionally and it's nice when we do and it's nice when we don't.
She says "because it's so vast" she recommends driving around before deciding on an area. "If you can find someone in the UK who is Cypriot/of Cypriot parentage, it's wonderful to talk to them as they speak with such passion about the island. That's when you get a  real flavour of Cyprus, the Cyprus that really resonates with me."