Download our Free Guide to
Cyprus for 2019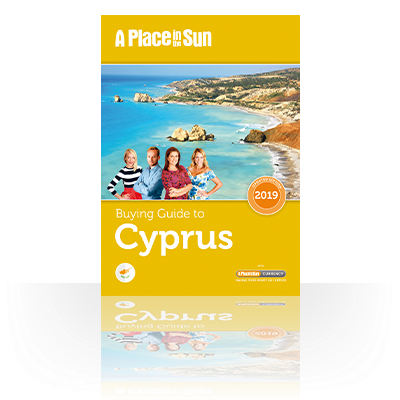 A Place in the Sun is the UK's leading overseas media brand, with a hit Channel 4 TV show, monthly magazine, twice yearly live exhibitions and an advice-driven overseas property website where you can search from thousands of properties for sale.
Cyprus is a country that many British holidaymakers will be familiar with, so it's little wonder that it is now starting to regain its popularity, after almost grinding to a halt in the crash of 2008, with house hunters looking for a bargain in the sun.
Cyprus boasts stunning beaches, inland mountains that are great for hiking and numerous resorts with world class golf courses, restaurants and bars. In short there's a dream property for everyone in Cyprus.
So, if you're thinking of buying a property in Cyprus, then download our FREE detailed guide now.  You'll find all the information you need to help you with your purchase.
What's in the Cyprus Property Guide?
Brexit and your holiday home – it's brief because nothing has changed and Brits will always be able to buy and enjoy property in Cyprus, some of the detail may change and we will have more when it is known.
Brexit and living permanently in Cyprus – if you're thinking of living in Cyprus permanently then now is a good time to make the move and acquire residency rights.
There's a run-down of the popular areas to buy a property in Cyprus, including

Limassol, Paphos, Peyia, Pissouri and Polis

A helpful

 legal briefing on the main points to consider during the process of purchasing your property including what costs you can expect to pay, and when.
One service that is often overlooked is how transferring your money to Cyprus correctly can save you thousands of pounds, so we are pleased to have had the support of our online currency partner Currency Index, and also the information resource the Overseas Guides Company, in the making of this guide.
Useful resources and a glossary of terms you may come across in the property buying process
We hope our buying guide to Cyprus will inform, enlighten and set you on your way! 
Download Guide here
---
If you want to know more about how we store, secure and use your personal data, including website cookies, please take a look at our Privacy Policy.
Thank you for downloading the Buying Guide to
We've sent you an email with a link to your guide so that you can read it anytime, or please click here to get your guide now which you can print or save to your computer.