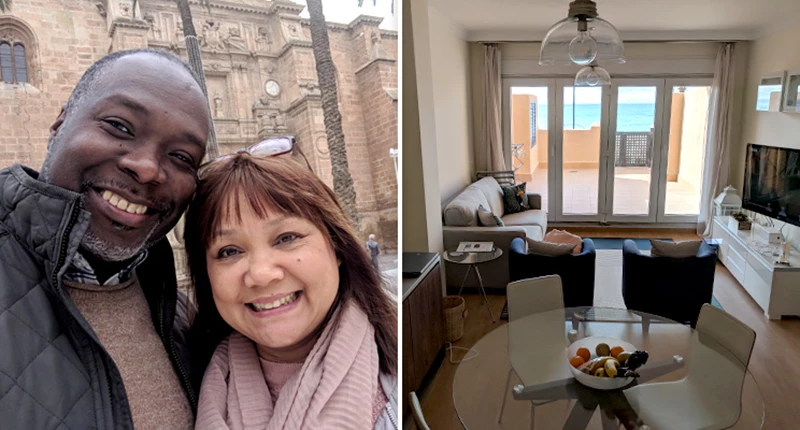 Lennox and Georgina Thomas from West Norwood in south London run a career consultancy business and have four adult children. After appearing on the TV show looking for a property in Almería in southern Spain they are the happy owners of a two-bedroom apartment which they bought for £143,000. They tell us how.
"We attended the A Place in the Sun Live show at London's Olympia last summer to do some research and were curious about the TV show and ended up queueing for a screen test," says Lennox, 53.
"We'd spoken for many years about buying in Spain and the key thing that pushed us into it was when we met a couple –  who also worked together – who advised us to "go and buy yourself a place abroad to escape the business and just be man and wife".  So we really took that on board."
"We'd been mainly to the Costa del Sol, but at the exhibition, we spoke to several agents about Almería as an up-and-coming place," adds Georgina, 54. "One stand had a huge poster of a marina and we said, 'We want to live there'. It was Almería marina, which is seven minutes from where we ended up buying."
So, their wishlist with a budget of £150,000 was two bedrooms or more with a view of the water and somewhere modern. Things happened very quickly after their screen test. Two weeks after Olympia they were out filming and they completed four weeks later on the third property they viewed on the show. It was an apartment on a frontline beach development with two swimming pools, a gym, sauna and security.
"The filming was fun, Jonnie [Irwin] made us feel very relaxed, asked some good questions and the whole team were amazing. It was a bit like sitting down with your mates," says Lennox. "The property we found is modern, light and bright, with water views and recently refurbished. Running costs are a modest £125 a month, but only £74 a month for the first year.
"Compared to the Marbella area it's a tranquil place, yet it feels quite aspirational," says Georgina. "It's 25 minutes from Almería airport and British Airways has just started flying there this summer, in addition to easyJet. The restaurants are good  and I don't have any problems as a coeliac."
"It is more than we ever dreamt of owning," says Lennox. "With properties here so much cheaper than London we might buy another as an investment."
Download our free guide to buying a property in Spain below