Liz Rowlinson meets a British couple who adore the natural beauty of the Portuguese island.
Back in 2010, Dr Mike Goosey and his wife Liz had been looking to buy a holiday home in Italy. They loved the culture and especially liked Como, Umbria and Tuscany, but a holiday to the Portuguese island of Madeira in 2011 produced an abrupt change of plan.
"We had never quite got around to buying in Italy, despite talks with agents and many trips," says Mike, 62, a biochemist who until recently worked for Shell. "But we really liked Madeira and decided to visit again the following year. We love the fact that there are wonderful flowers there all year round  (I am a keen gardener), due to the sub-tropical climate. We also found the Madeirans to be charming – even more friendly and welcoming than the mainland Portuguese."
The island of Madeira lies in the Atlantic off the west coast of Africa – above the Canaries, with which it shares the year-round sun - but is very different in tourism culture. The 35-mile x 13-mile island is reached by direct flights from the UK – taking about 3 hrs 40 minutes – and is part of a lush volcanic archipelago. Bananas thrive on the lower, sun-drenched slopes of Madeira's peaks, while the highest ones are often shrouded in cloud.
The Gooseys met a couple of British expats on their second holiday who introduced them to Nelio Mendes, a local agent and developer. On mentioning that they were keen to buy a holiday home, they met Nelio on the Sunday of their trip, went to see a property with him and two days later they put in an offer for it.
"After talking about planting trees – something we are both passionate about doing – we struck up a bond and this cemented our relationship," says Mike, who is based south of Chester on the Welsh border. "It was just good timing. He showed us a property that had been built a couple of years previously for an English buyer who had ended up pulling out of the purchase. It was in Lombada, around 170 metres above the village of Ponta do Sol on the south coast.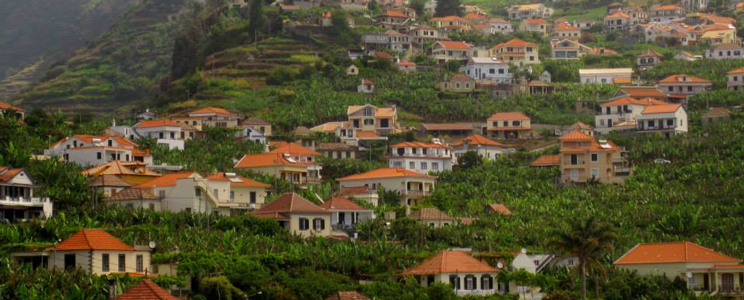 "We liked the area because it gets lots of sun [it records the highest number of sunshine hours on the island and indeed most other parts of the EU]. And it's still full of lots of locals, unlike areas such as Calheta, where there are many expats."
The property was a traditional-style three-bedroom, three bathroom villa with a pool and a large plot of land ideal for the palms, bananas and cacti that the couple have subsequently grown. "There's a saying in Madeira that when you plant something it sleeps for the first year, creeps during the second year and then leaps during the third," says Mike. "Our plants are already 20 feet tall."
The couple, who have three children aged between 24 and 32 and two grandchildren, spend 60 to 65 days a year at their Madeiran home: that's about six trips a year, flying out from Manchester airport each time. "The plan was to spend more time there as work commitments got lighter and I have just retired from a full-time role, although I am doing consultancy work," says Mike. "We don't intend living there full-time."
The couple love swimming in the sea, trying out the local restaurants and going to see CS Marítimo, the island's football team: they are season-ticket holders. 
"Sometimes we go and eat in Funchal and overnight there: it's only a 25-minute drive from our home but that's a long way for the locals. Our favourite restaurants include Taberna Ruel in Funchal's old town (tabernaruel.com) and Restaurant do Forte, located at the Fortress of São Tiago in Funchal, for its concept menu: it's sophisticated dining.
He says the affordable cost of living is refreshing. "The running costs of the property and taxes are pretty reasonable, as is eating out in many of the local restaurants. The only thing that is expensive is the purchase of cars. We keep a car in Madeira – it's hard to manage without one – and many homeowners do this, or hire one every time they come.
Download our free guide to buying a property in Portugal