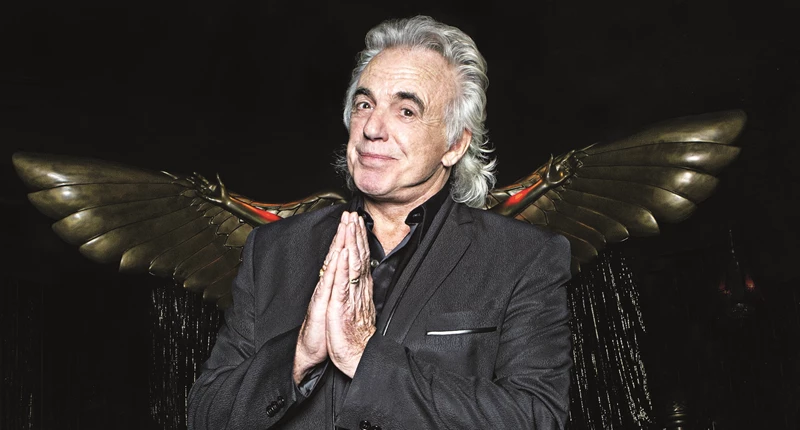 This article has been re-published following the sad passing of Peter Stringfellow in June 2018. Below, he reveals his great appetite for getting the most out of life, seizing opportunities and many happy times spent at his homes in Spain and Italy.
From booking The Beatles for £50 to signing Edwin Starr and Dusty Springfield and hosting performances from Take That, Peter Stringfellow has enjoyed an illustrious and fascinating career as one of our country's most famous entrepreneurs. He's a self-made multimillionaire who's built his dreams from the rubble of the Blitz, survived a prison sentence, bankruptcy and the New York mafia to see his name up in lights on both sides of the Atlantic.
Having clocked up 54 years in the nightclub business, it's time to wind down – and also to swap one much-loved place in the sun for a new project. "I now only have the one classic club, Stringfellows in Covent Garden. It's been open 37 years and makes me more than enough money to enjoy the rest of my life," says Peter. "I haven't just been the businessman in nightclubs… I've lived the life in my nightclubs almost every night of my life. I've had a wonderful time and now, I'm not retired, but I'm certainly leaning back a little."
These days, he's in his club three times a week – not bad for a 76-year-old. It helps, as ever, having a younger partner. Peter wed his third wife, Bella, 34, a former Royal Ballet dancer, eight years ago. They have two children, Rosabella, 3½, and Angelo, 1½. "They're an absolute delight! My whole life is wrapped around them and my wife. I'm a very happy and lucky man." He also has two grown-up children from his first marriage. "My daughter, Karen, lives with her husband and my grandkids in America, where they have their own restaurant empire. My son, Scott, has two children, lives in London and is the director of Stringfellows."
A long love affair with Mallorca
Seventeen years ago, Peter purchased a lavish villa in Mallorca, which is very close to his heart but is now on the market for €3.75m [through the agent Balearic Properties]. "An absolute bargain," says Peter, who acknowledges that it would be a reluctant sale. "I may sell it, I may not. I'm in a position where I don't have to. If somebody comes along that makes it easy and meets my price then I will possibly sell it, but to let Mallorca go would be a major life-changer".
"It's been one of my main homes and that's how it feels. It has a permanent housekeeper. It's incredible. It's my home..." He and Bella seriously considered living in Mallorca rather than Gerrards Cross. "To live there, the children would go to the international schools, some of which are very good, but I'd need to travel every two weeks for three or four days to London for my business. As much as we love Mallorca, we eventually decided that would be too restrictive."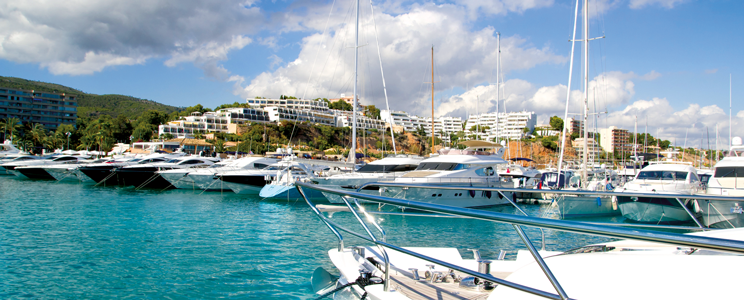 But why sell up? "We spend more time now going to Italy where my wife's family lives and we're dictated to by the school holidays; so, although we still love Mallorca we just don't have the time to go. I used to be on a plane every couple of weeks, but when you've got babies you can't do that. Also, the villa has steps, which is perfect for maybe a grown-up family but not necessarily right for toddlers."
The former ladies' man has enjoyed a longstanding love affair with the island, first visiting for a family holiday in the 1970s before being invited back around 1990 by a friend who had retired and moved there. "I liked it immediately. The first thing I did was buy a boat, which I lived on for around six years before buying the villa. I took the boat and lived in Ibiza for a while, then I met my wife and we decided that the villa was where we'd like to be. It became our home and that's how we've lived our lives these last years, between Mallorca, London and Italy."
Peter has owned (and sold) two Sunseekers on the island. "I've had a wonderful time, sailing to Ibiza, Formentera and Menorca. It must be the best spot in the whole Mediterranean for boats." Affording a breathtaking sea view, Peter's contemporary-style property sits on an exclusive estate on a hill in Bendinat, overlooking the upmarket fashionista hangout Puerto Portals marina.
The four-bedroom villa boasts four ensuites, a fabulous pool and, of course, offers fittings in his legendary leopard print [above right]. "It was originally built by an American, so downstairs it's open-plan, which appealed to me, with the lounge, dining room, kitchen and what I call my office area all open-plan on one floor, plus a small area where the original Stringfellows piano is."
Any wild parties?
"No, I've kept it as private. Mallorca has been for laidback family time and that's how I like it. I host my parties in the club. I've occasionally hosted a Mallorca party for the locals and some friends." So, while the clubland Casanova mingles with the A-list at his London club – "Donald Trump, Simon Cowell, Rod Stewart… the lovely Charlie Sheen a couple of weeks ago" – Peter's place in Mallorca is not for hobnobbing, although the island is a magnet for Hollywood heavyweights, with Michael Douglas among the homeowners there.
"It's nice to say hello to these people when we bump into them; we frequent the same restaurants occasionally." Peter lives quite a simple life there. "I keep chickens and ducks in my garden and play with a little vegetable patch. I love growing sage and lettuce, and I've got orange and lemon trees... That's the good thing about living in the sun. All this comes with living in the gorgeous Mediterranean." He's also a keen cook: "I've got a wonderful kitchen, so I like to do a lot of cooking. It's not your latest modern thing, but it's got the island in the middle and it's fabulous."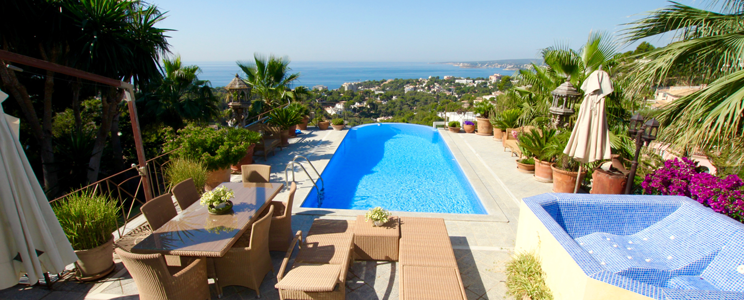 How about the local cuisine?
He also loves Mallorca's prolific food markets."Santa Catalina, in Palma, is a very special place, with wonderful, localised produce. If it's not growing, they don't sell it. They have a great fish bar with fantastic, freshly caught fish." Having tamed his party-animal reputation, he's developed a taste for restaurants: "That's where we go to relax, now we've got babies." They're spoilt for choice with fine local eateries. "In my area, a favourite is Mood, which looks straight out onto the bay, has excellent service and food. It attracts the more affluent, starrier crowd. "In the port itself, another favourite is Ritzi, a lovely, fine Italian.
Although he's a sun-lover, he doesn't do beaches. His favourite spot is beside his pool, but he never fails to support the celebrity golf tournaments of his Mallorca-based friend Robert Winsor. "I always turn up and sponsor when charity calls. I'll go on stage speaking, buy tickets, tables, things from his auction… I love the golfer boys but I've never played golf in my life!" 
Are there any downsides to life there? "Truthfully, I've nothing bad to say about Mallorca. It's a beautiful place. It's even worth getting on easyJet to get there."
Next stop...Puglia
Regardless of whether he sells, Peter has more property plans; swapping his property in Mallorca, Spain for Puglia in Italy. "We're buying land and building a villa in San Vito dei Normanni, Brindisi. It will be a year before it's ready. Bella is half-Italian; her father is very English and her mother very Italian. I love the Italians. They're all family crazy and when you go there, they go all out, have massive dinners and I love it. My mother-in-law is one of best cooks I've ever come across."
Having plumped for Puglia, Peter believes it's the next property hotspot. "The area's probably like Mallorca was 20-odd years ago. It's incredible value, the land is incredibly easy to buy and you can build a lot cheaper than anywhere else. I think I'm getting into Puglia before everything goes completely crazy."
Peter's project is proof that you can get a lot of Italian bang for your buck. "Believe it or not, we're building a four-to-five-bedroom villa in a gated community, with our own pool, large lawn, backfield full of vines, side field which will be full of olive groves, all for around €600,000-€700,000. "Mallorca is now probably the most developed island in the Mediterranean, meaning developed well, not bad. It has a great infrastructure and Puglia hasn't; that's all still to come. Don't expect an Italian Disneyland. It's rural, with fields full of artichokes, fruit trees and restaurants offering local, provincial Italian food. Northern Italians go there for the seaside. I love the area. As with Mallorca, we'll make this our fantastic family home."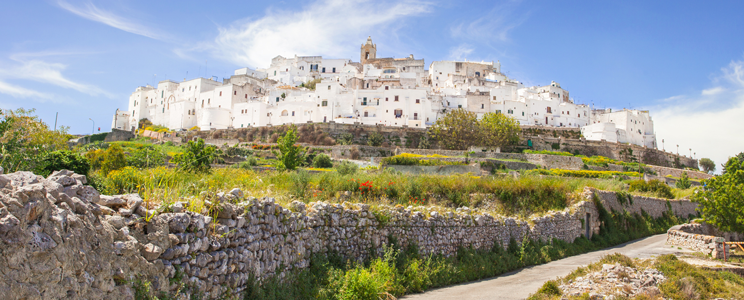 Does he speak the lingo?
"The only Italian I know is grazie. That kind of works well for me." Peter prefers flying the family there by private jet. "I've used Ryanair a lot but now, with the babies, it's a step too far." Even his four pampered pooches (two chihuahuas and two Yorkshire terriers) have enjoyed airborne VIP treatment, having recently moved from Mallorca to Puglia to live with Bella's sister there while their new home is being built.
The only solution Peter could find to transport them comfortably was to hire a six-seater private jet complete with a stewardess and VIP escort at either end (with Peter following them on easyJet). Peter has numerous tips for readers considering buying abroad. "Don't buy anything if you're on a stretch. If you can just afford it, it's not a good idea. I've seen too many people get into trouble with fluctuating exchange rates and with Brexit." What will everyone's favourite long-haired lothario miss most about Mallorca?
"It's the safest, nicest place in the world to live. I've matured my lovely villa over 14 years and it looks like me inside and feels like me, but I will remake it all again in Puglia."