Britain's best-known entrepreneur talks to Angela Sara West about his properties around the world and his plans for his favourite Balearic island retreat.
Planes, trains and Virgin mobiles… with outstanding resorts around the globe, too, the billionaire businessman Sir Richard Branson, 67, has transformed our landscapes and skies with his boundless brand. He has clocked up five decades in business, during which Virgin's expansion has seen him diversify into sectors from music and mobiles, healthcare and health clubs to trains and transatlantic travel, cruise ships and spaceships.
Barefoot luxury at Branson's Necker Island home
The white-sand beaches of Necker Island, lapped by turquoise water and stunning views of neighbouring islands, are where this adventurous tycoon usually resides…
Richard bought his much-loved Caribbean retreat in the British Virgin Islands in 1978 to impress his future wife, Joan, now 72, whom he later married there. Despite its $5 million price tag, he initially offered a cheeky $100,000 for the uninhabited 74-acre island. Less than impressed, the seller (the British aristocrat Viscount Cobham) threw Richard off the island to find his own way home which, incidentally, is how his brainwave for Virgin Atlantic came about.
A year later, he paid a desperate-to-sell Viscount Cobham $180,000 on the condition that Richard would build a resort there, marking the start of his luxury property portfolio, Virgin Limited Edition. He sold his UK properties, including his Oxfordshire estate and London home, to make the move to his new main residence in 2013. "I left Britain for my love of the beautiful British Virgin Islands and, in particular, Necker Island," says Richard. "We've built our home there, a place where my family and I are able to truly relax. I'm so inspired by this idyllic island paradise's beauty."
He has transformed it into a multimillion-pound luxury resort, with a 10-bed villa overlooking the beach, other luxury residences, private pools, tennis courts and a helipad. Necker is now one of the most exclusive resorts in the world. Brad Pitt and Jennifer Aniston reportedly wanted to honeymoon there, but the island was fully booked. How Richard's life has changed since his time living on a houseboat in London in the 1980s.
The private island paradise is also a playground for Richard's large group of famous friends and showbiz pals. He describes his party island as "a wonderful magnet to attract wonderfully interesting people" and has played host to a who's who of Hollywood heavyweights, rock stars, royals and ex-presidents there, including Robert De Niro, Demi Moore, Harrison Ford, Kate Moss, Sir Mick Jagger, George Michael, Mariah Carey, Princess Diana (with Princes William and Harry in tow), the Duchess of Cambridge, Nelson Mandela and Barack and Michelle Obama.
One Direction's Harry Styles once famously shared a hot tub with the Virgin boss there, while the tennis-loving host also regularly invites the three-time Wimbledon champion Boris Becker to participate in the "Necker Cup".
Planes, flames and hurricanes
When he's not busy schmoozing or setting sail on his luxury catamaran yacht, the Necker Belle, Richard rides around on a golf buggy or his electric bike, taking in the natural wonders such as flamingos and lemurs, along with the startling views.
The business magnate's magnificent abode has twice been devastated by Mother Nature. The Great House was rebuilt after a fire caused by a lightning strike during Hurricane Irene in 2011, with the actress Kate Winslet heroically rescuing Richard's 90-year-old mother, Eve. "She was wondering when a director was going to shout 'cut!'," says Richard. He wasn't exactly dressed for the occasion himself. "All we could do was run over to the house as fast as we could, stark naked!"
The house reopened in 2013, 20 percent bigger and better. The Balinese-style home now featured hammocks, eight guest rooms and Jacuzzis, "like the old house, but on steroids".
The main house was left uninhabitable again after being hit by the category-5 Hurricane Irma last year. "We felt the full force of the strongest hurricane ever in the Atlantic Ocean," says Richard, who rode out the storm in his wine cellar. "Many of the buildings and much of the vegetation were destroyed or badly damaged."
Back in business in Bunyola
While his main residence is out of action, Richard's spoilt for choice with his other properties around the world. His privately owned collection of award-winning luxury hotels and retreats with Virgin Limited Edition includes a lodge in the Swiss Alps, a safari camp in Kenya and a kasbah in the Atlas mountains of Morocco. 
"Whilst Necker Island is being rebuilt, I've had the pleasure of spending time at many of these properties," he tells me. More evocative of a home than a hotel, each retreat offers a home-away-from-home feel. "I've tried to create the kinds of places that I would never want to leave. I've always run my homes like businesses and run all my businesses like homes."
Richard has been enjoying a slice of Spanish life at his newly renovated gated Mallorcan estate, Son Bunyola, between Esporles and Banyalbufar on the northwest coast, more than ever. "Son Bunyola is my favourite Mallorcan retreat. I try to visit as often as I can."
He's had a longstanding love affair with the largest of the Balearic islands. "Mallorca has always held a special place in my heart since I first visited as a child."
That love affair was marred by disputes with the local authorities, who refused planning permission for the British businessman to build a luxury boutique hotel at Son Bunyola, resulting in him selling up in 2002. He also sold his hotel, La Residencia, in Deià, which was a mecca for A-listers, including Leonardo DiCaprio, Goldie Hawn and Michael Douglas, another homeowner on the island.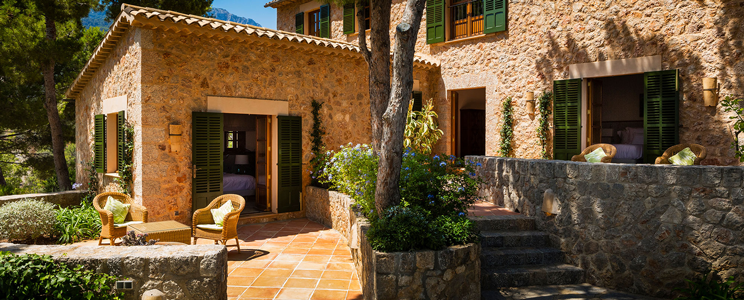 After a change of heart and Richard's realisation that he missed Mallorca, he says he couldn't resist when the opportunity arose to buy back Bunyola for about £11 million in 2015.
Richard hopes to convert the estate into the best eco-resort in Europe. "Central to the estate is a Finca building dating back to the 1800s, surrounded by vines, citrus fruit trees, almonds and olive trees," he says. "It's absolutely beautiful and I look forward to seeing how plans progress." 
The expansive estate sprawls over 700 acres and Richard cites numerous reasons for choosing the area. "The northwest coast has always been a location for which I have great fondness. It has so much to offer ... unspoilt nature, picturesque villages, top-class restaurants and Finca hotels and culture. The region is dominated by the Tramuntana mountain range and its breathtaking scenery and is home to some of the most historical and picturesque towns on the island. My son, Sam, even named his own daughter Eva-Deia in honour of the village of  Deià, which is one of the most beautiful in the world.
Overlooking 5km of stunning coastline, his property comprises the Mallorquín manor house – the above-mentioned Finca which dates back to the 16th century – plus three country houses which he has recently transformed into ultra-luxury villas, available for exclusive hire.
"We opened villas Sa Punta de S'Aguila and Sa Terra Rotja in summer 2016, with Son Balagueret opening last summer. We usually stay in Sa Terra Rotja, our four-bedroom villa situated near the edge of the estate, but I'd be torn if I had to pick a favourite out of the three."
Exposed beam ceilings, walkout balconies, sumptuous bedrooms, a formal dining room with a fireplace… Sa Terra seamlessly blends old and new with an elegant result. Outside, a private terrace and pool overlook the sparkling Mediterranean, while a peaceful pebble beach is a mere stone's throw away.
Son Balagueret is a three-bedroom abode with a courtyard, built in traditional Mallorcan style, with its original turret dating back to the 13th century.  The terracotta-tiled, five-bedroom Sa Punta de S'Aguila is sympathetically built into the landscape along a track above the coastline, affording panoramic mountain and ocean outlooks from the flower-lined terrace.
Each villa boasts a private pool and a dedicated concierge service via Mallorca VIP (http://myworldvip.com/mallorcavip/) to attend to every wish'n'whim. "Not to mention stunning views," adds Richard. "A stay at Son Bunyola is not like any villa stay and it is so much more than a place to rest your head. All guests are encouraged to treat the villas like their own home from the moment they arrive. We like to ensure our guests feel special and receive excellent customer service and aim to create a truly unique experience."
Historically Son Bunyola was an important estate, producing its own olive oil and wine. In restoring the land to its former glory, Richard has planted almond and citrus fruit trees and vines alongside the ancient olive trees.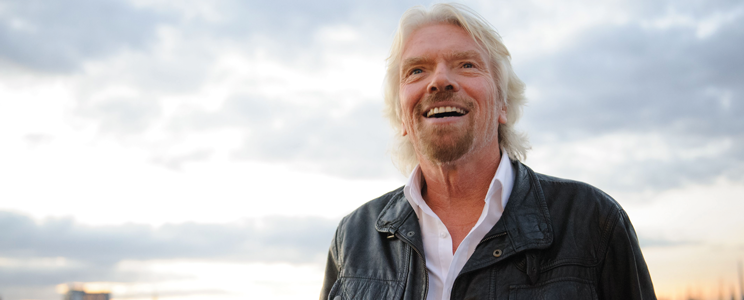 With a strong ethos of giving back, the philanthropist says that Virgin Limited Edition's recruiting policy is to give back to surrounding communities by offering training and employment. "We recruit locally at Son Bunyola, and source food and wine from right here in the region. We work hard to protect the beautiful landscape we're so fortunate to occupy.
Our approach includes a commitment to responsible supply-chain management, fair trade policies, ethical dealings with our employees and the local community, and, of course, the environment."
Mallorca is great for adrenaline junkies (such as Richard)
What is his favourite things to do on the island? "That's the beauty of Mallorca: there's so much to do and something for everyone, even if it's just picking a great sun lounger and sunbathing."
The magnate's world record-breaking boat, Virgin Atlantic Challenger II, was found abandoned on the island a few years ago, after being sold to a sultan; and as an experienced kitesurfer, Richard holds world records in that sport, too.
"I'm a bit of an adrenaline junkie, so I must have a way to stay active and adventurous, and Mallorca is great for hiking and cycling.
"I'd also recommend setting sail and exploring the coastline of Tramuntana where you'll find some great spots for snorkelling and the chance to discover some hidden caves. With clear Mediterranean waters, the area is perfect for scuba diving and fishing excursions too."
When he's not out and about, practising sports or embracing the island's copious culture, there's always his terrace for practising his other preferred pastimes of yoga and thai chi. Richard enjoys a good game of chess, too, and is something of an ace when it comes to tennis. Happily, the court's just a short lob away.
So, what's next for Richard's property portfolio? With trips to the moon in the pipeline, could he soon be building there? "There are still so many places to see and not enough time to do it in. I've been lucky enough to visit many wonderful countries around the globe… But I'm very excited about the future of commercial space travel and what our team at Virgin Galactic are planning  for our future astronauts." 
There are zero plans for retirement, but when it's time for time out there's always this Spanish island, with its dramatic scenery of verdant countryside against a backdrop of magnificent mountains and cobalt blue water.
"Mallorca is so special to me because it provides the perfect environment to relax, laugh, learn and love with my family," Richard says. Eva-Deia now has a brother, Bluey, while Richard's daughter, Holly, blessed him with twin grandchildren, Etta and Artie. Now he has the grandkids, Richard says he enjoys being able to spend more time in a place that means a great deal to them all.
"My favourite memories are the most simple: sitting around the table talking, admiring the scenery and enjoying meals and good company. We've had a special bond with the island for several generations and I'm sure it will go on  for generations to come."
Richard's autobiography, Finding My Virginity, is available on Amazon. Find out more at virgin.com.
Read more case studies, features and listen to more buying top tips in our Summer 2018 magazine issue!