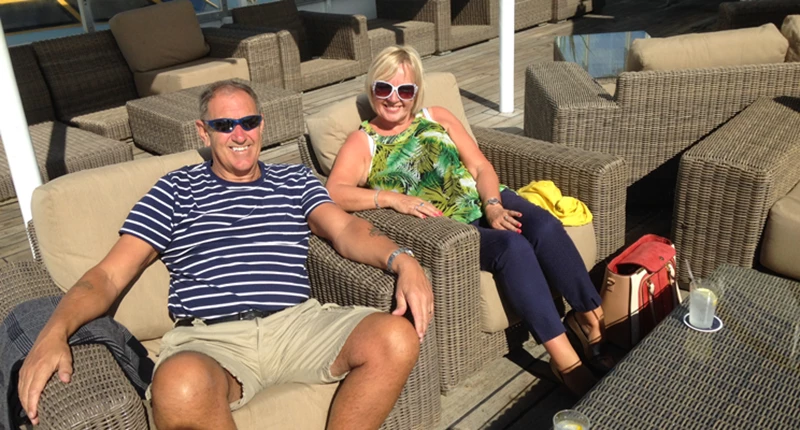 We are always getting emails asking what happened to some of the people we have helped to find a home in our magazine or through our TV series. Here Richard Way revisits one of our successful buyers who bought their property in Spain.
Scottish couple Duncan and Mary McLelland, both in their early sixties, found their Costa Blanca holiday apartment in August 2016, when they agreed on a purchase price of €76,000 through the agency HomeEspaña. Since completing in October that year, they've visited half a dozen times and ultimately have plans to spend up to half the year there.
"We've made lots of new friends on our complex and have just spent a fun Christmas and new year's with many of them, helped by the lovely weather. Actually, I prefer being there in the winter months, when the temperature is like a good summer in the UK. I find summers in the Costa Blanca a bit too hot.
"We're really happy with our property and have spent a fair bit on it. We've put in a new bathroom, kitchen and air conditioning, redone the patio and glassed in the top terrace area. We found a British builder on our complex to do the work, and if there is something he can't do himself he'll know someone who can. I think we'd get back what we've spent on the property if we were to sell now.

"Last year our visits tended to be for a week or so, but this year the plan is to include a stint of four to six weeks, probably over the Christmas period again. Eventually, we'd like to spend up to six months a year there, with trips spread out over the year. I've recently retired but Mary still works part-time – she planned to retire in May 2017 but she's put this off until May this year. I don't think we'd ever move to Spain permanently. I've taken my motorbike, a 400cc Suzuki, out there: it's ideal for getting around.
"Most of the owners on our complex, which is in Playa Flamenca, are Brits but there are also Spaniards, French, Scandinavians and Finns. We've really noticed how much cheaper day-to-day living costs are in Spain compared to back home, especially eating out. That said, we've found that some random things are unexpectedly more expensive, for example, furniture. And we have to pay a standing charge for electricity, even when we're not using the apartment.
"As for Brexit, we're not particularly concerned by it. The value of the pound dropped immediately after the vote, just after we had decided to buy in Spain. However, the exchange rate hasn't really moved much since we bought, so we know no different. There are expats who retired to the Costa Blanca before the Brexit vote who will have seen the euro value of their UK pension fall, due to the weaker pound."