Richard Way meets a couple from Somerset selling their Coral Bay holiday home in a less than traditional way… 
Lady Luck and not an estate agent will determine who gets the keys to Fiona and Joe Moretti's villa in Cyprus – the couple is offering it as a raffle prize.
In August 2017, the Morettis from Somerset set up a prize draw to off-load their home in Paphos. By the start of October, they had sold more than 30,000 tickets, with the closing date set for 1st August 2018. At £2 a ticket and maximum of 200,000 available, the couple are hoping to generate £400,000 from the draw. But not all of the proceeds are destined for their own pockets.
"We're splitting 10 percent of the total money raised between three charities, regardless of whether we hit our target," said Fiona. "The rest of it will go towards buying a larger property we need for a project in the UK, combined with the proceeds from the sale of our Bridgwater home. One of the charities we're supporting is Freddy's Fight for Life, which raises money for a local boy who needs life-saving heart surgery in America. The support in our village for this has been great. The other two causes are the RSPCA and the National Autistic Society."
Before hatching their raffle plan, Fiona and Joe attempted to market their villa, which has its own swimming pool, the more traditional way.
"When we decided to sell last year we approached some local estate agents in Cyprus," explained Fiona. "But they were reluctant to list the villa because at the time it had no deeds, an issue we've since put right. Meanwhile, we were keen to get things moving so when we read about a man raffling his UK home and realised this could also be a useful way to raise some money, we decided to do the same." 
As well as the villa, the Morettis' prize covers all the costs associated with transferring ownership to the raffle winner. It was completely furnished from new in 2013, and all the indoor and outdoor furniture, furnishings, kitchen appliances and small appliances, including air conditioning and log burner, are included too – it's ready to enjoy from the get-go. The property is estimated to be worth €250,000-€300,000 –  a neighbouring one two doors along without a swimming pool was recently on the market for €280,000.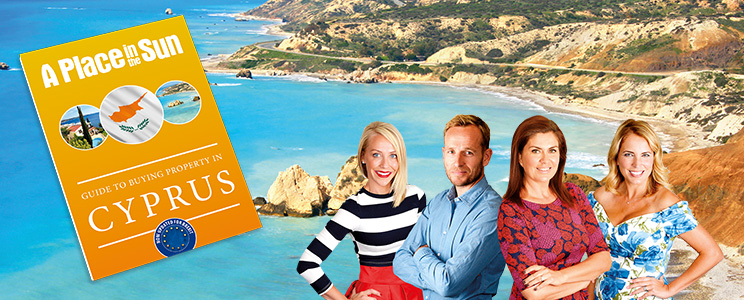 download our free guide to buying a property in Cyprus
Fiona and Joe, who have six adult children between them, bought the villa to use as a holiday home in 2012. It's in the village of Kathikas, 10 minutes inland from Coral Bay, 25 minutes from the bright lights of Paphos town and 30 minutes from the airport. They were first shown and encouraged to buy it from friends who already had their own place in the area.
"Joe is half Cypriot, so we've always gone out there each summer to see family and friends," continued Fiona. "When our friends first pointed out the villa in 2010, we weren't interested really and put off by its bad state of repair. But the following year we went back and viewed inside,  and made an offer that was accepted in December 2011. The location five minutes' walk from the centre of the village is what really swung it for us. It's such a friendly, traditional place, not at all touristy, in the middle of a winegrowing area. There are lovely traditional tavernas, some selling their own wine, and cafes. Plus, it's above the humidity line so not too stifling in the summer months."
Fiona describes their villa, which is one in a row of four, as a fixer-upper when they bought it. It had been empty for a year or two and was in need of repair work and some TLC. 
"For starters, the roof leaked, there was mould on the walls and the pool was in need of attention," said Fiona. "We've brought it back though, so now it's a lovely three-bedroom property. It has both en-suite and family bathrooms upstairs, and a downstairs that includes an open-plan living/dining/kitchen area and shower room. Outside, the pool is surrounded by a large terraced area.  Two of the bedrooms have balconies overlooking the pool."
If you can see yourself relaxing by their pool, why not buy a raffle ticket? For the small outlay of £2 and a bit of luck, you could bag yourself the villa. 
To buy tickets for Fiona and Joe's villa raffle, visit winacyprusvilla.co.uk.