Seeking some easily reached winter sun? Liz Rowlinson meets a British couple who have moved full-time to the subtropical Atlantic island...
It was the British winters that really got Gary and Glenys Flint down about their life in Cookham Dean, Berkshire. Knowing they wanted to take early retirement – and without children to worry about in their decision making – the couple decided to sell up and rent in the UK while they researched where to move to abroad.
"I don't think we were actually suffering from SAD [seasonal affective disorder] but we were always miserable in the winters and also found commuting into London for our jobs stressful, so we decided to move to somewhere sunnier," says Gary, 52, who used to be in the corporate world.
"Having made the decision to go, we tried northern France first. But we visited in winter and found ourselves in six inches of snow. We were offered everything  from cow sheds to chateaux, but we weren't going to swap bad winters for even worse ones!"
After rejecting Spain and a few other locations due to the presence of snakes (Glenys cannot tolerate the possibility of them popping up in the garden) and the Caribbean as being too hot, they went on holiday to Madeira and loved it. They went back three more times and decided it felt right. "The temperate climate, the friendly, laid-back people, the way of life, the architecture, the feeling of security, it was all part of it," says Gary. The island has one of the lowest crime rates in Europe.
They were lucky enough to come across a local builder from the company Bespoke Villas, through recommendations. "Two British judges who he'd built villas for around Ponta do Sol and Ribeira Brava [on the south coast, west of the capital Funchal] as second homes told us about their experience and we felt reassured to get Nelio to build us a home (below)."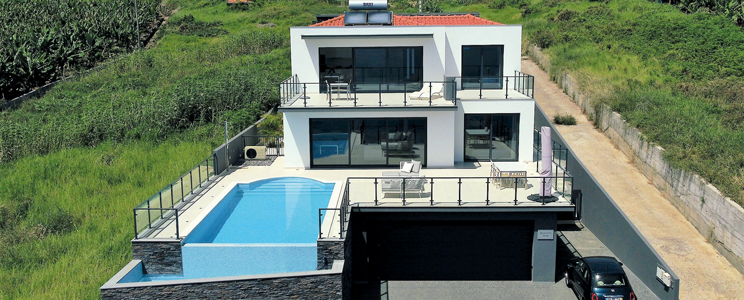 That was three years ago and the resultant three-bedroom villa with stylish infinity pool is a great example of the sort of contemporary, luxury property that you might not associate with Madeira, an island full of traditional quintas and farming estates tucked between banana or sugar cane plantations. Madeira wine is a bigger export than sugar (or white gold) on the island these days.
Their villa is fittingly on the "banana line", the point up the mountain on which it is warm enough to grow the fruit. And it enjoys 180-degree views of the sea. "If you want to be cooler, you go higher up the hill, but we chose a level where it is warm enough to avoid not having central heating," says Glenys, 55, who used to be in fashion.
Built on a plot of 860m2, the 400m2 house is surrounded by terraced gardens and includes a self-contained one-bedroom apartment which they rent out for holiday lets (they needed to obtain an AL or Alojamento Local number for this) – and advertise on Home Away.
"The income from the rentals allows us to live here without working and we get all sorts of nationalities," says Gary. "We have just got a booking for four weeks from an American who normally goes to the Caribbean but whose usual place was hit by the hurricane."
The couple spend their time cleaning, pottering around, walking their dog, hiking along the levadas, or terraces cut into the hillsides, and Glenys paints in her studio in the garden. They also enjoy mixing with the large expat community, most of whom are fellow Britons, Germans and Austrians.
They have most things they need in their local town of Ribeira Brava, including supermarkets, banks, doctor and a tax office. The island has a population of nearly 255,000 and the fourth highest doctor: patient ratio in Europe.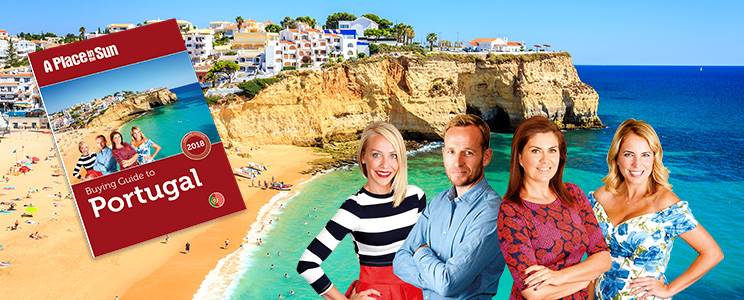 download our free guide to buying a property in Portugal
What is their favourite place? Jardim do Mar, just along the south coast, says Gary. "It's a quaint little-pedestrianised village with good eateries and a good promenade," he says. "It's near Calheta, a place with man-made beaches – made from imported Moroccan sand – that is popular with German expats." For really good sandy beaches, the couple take a 2.5-hour ferry to the neighbouring island of Porto Santo, a great day trip.
"We are hoping that the ferry that used to run a round trip via Madeira, Tenerife and Portugal is started up again as that would really open things up for us. As Portuguese residents, we get a government rebate on ferry fares, flights and also healthcare costs. There are plenty of flights to the UK each day from Madeira."
And after Brexit? "We are not worrying and will find a way around it," says Gary. "There are 210,000 Portuguese citizens in the UK – including many from Madeira in the hospitality business – so there will be some kind of deal. Maybe we might need to have private healthcare."
The couple recommends that expats do not miss the deadline for applying for the non-habitual residency tax benefit that is available for new arrivals who spend more than 183 days in Portugal in the tax year. "You need to apply within a year of arriving, or you miss out," he counsels. "It's really worth doing from a tax perspective, yet many expats are still not aware of its existence." Apart from missing her British yoga teacher, Glenys has no regrets about leaving the UK. "We love Madeira and have no intention of going back to Britain.
Facts about Madeira:
- Madeira is 500 miles southwest of the Algarve in the Atlantic, 280 miles from Africa and north of the Canaries
- It measures 35 x 13 miles and has several mountains higher than Ben Nevis
- Constant average temperature of 25 degrees during the summer
- Up to 30 flights to Madeira from the UK each week – the flight time is 4 hours
- One of the lowest crime rates in Europe 
- Has the second highest income area in Portugal after Lisbon
- The autonomous Portuguese territory offers similar tax benefits to the mainland and a well-regulated legal system