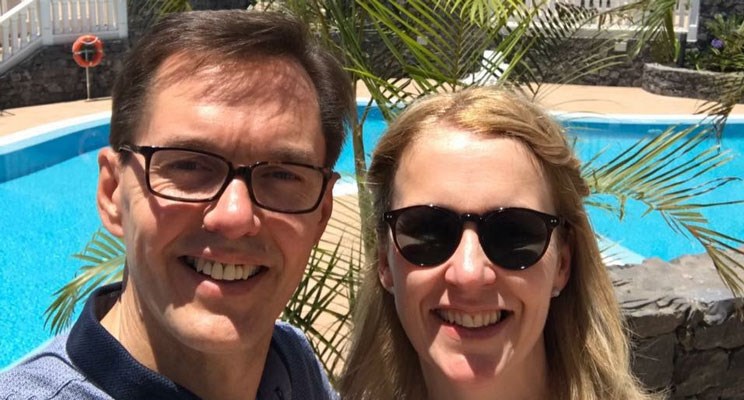 Jane and Roger Pangbourne take us through their property in Tenerife and tell us how they found the buying process.
"We have been visiting Tenerife since 2008 and have gradually fallen in love with the island and its way of life. Our dream has always been to own a holiday home abroad and we kept coming back to Tenerife as a strong option.
More recently we started to change our approach of waiting until retirement; reviewing the possibility of being able to achieve our goal within 2-5 years whilst we are still relatively young - we are both 50.
At this stage, we had no idea whether we could afford to implement our plans, but we do like a project, so around June 2016, we started planning, which included a trip the A Place in the Sun Live exhibition at Olympia in London.
We were already huge fans of the A Place in the Sun TV show, but then we started to watch repeats of repeats to gain as much insight into Tenerife properties as we could. We bookmarked a few properties online, which looked really interesting. Roger is a researcher and takes his time with decisions – I, on the other hand, go with my instincts, make quick decisions and rarely research, so some compromises were essential!
During this process, I instantly liked a brand new build townhouse in Los Cristianos (due for completion in 2017), for which we had only seen artists impressions, but it looked amazing! It went on the list.
One of the areas we had previously really enjoyed visiting was La Caleta which is a peaceful fishing village on the South West side of the island.  We linked up with Tenerife Property Group who became our helpful property guru in the area. He also recommended a fabulous local solicitor who has continually gone out of their way to ensure our legal needs are met.
We booked a holiday to La Caleta for summer 2016, to scope out the area from a home owner's perspective and to see how we felt about it.  We booked to stay at a complex in the area which was a strong contender for our future purchase and arranged to spend a couple of days with Simon, viewing a number of other properties in other areas - exciting.  At this stage, we were clear that we were unlikely to buy anything before 2018, but if we saw the property of our dreams then we would try to buy earlier.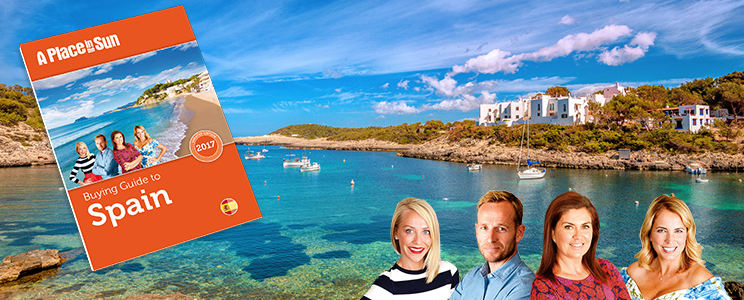 download our free to buying a property in Spain
And so our adventure began with a lovely break in La Caleta in June 2016.  This stay turned out to be the best thing we could have done.  We were almost over the line in terms of a future purchase at the complex in La Caleta, but having spent a week there we realised that, as beautiful as it was, it was too quiet and remote for us. That could have been an expensive mistake!  Although we still loved the area and the restaurants, we decided that we needed to be based in a busier part of the island.
When we came home from our trip, we had pretty much decided that the new build in Los Cristianos was the one we wanted and we couldn't hang around as they were selling fast!  (Not suggesting that I always knew this was the house for us, but …..I knew it! J) – Roger knew as soon as he reached the top of the property and saw the 2 roof terraces – The house was just perfect for us.
At this stage we had no real plan of how we were going to pay for a property, but the end of our English mortgage was in sight so having decided we would prefer an English mortgage to a Spanish one, because we had more choice, flexibility and no currency fluctuation to worry about, we set out to re-mortgage our UK house.
We revisited the new build in October 2016, to make sure we were happy with our choice then came home to complete the process of remortgaging.  We needed to be very focused on all the paperwork to register a firm interest in our chosen property (and pay 30% up front!) which culminated around Xmas 2016.
During the next 7 months, we were lucky enough to visit the area on two further occasions whilst  Simon and other good friends and family visited the area; taking videos and updated photos of our dream home to keep us happy whilst we were back home!
The expected completion date was put back a few times, but we finally collected the keys in July 2017; a little over a year after we first started planning (phew!).
...and relax!"
search for a property for sale in Tenerife
Or see their Tenerife townhouse for yourself below!