Jane and Roger Pangbourne take us through their property in Tenerife and tell us how they found the buying process.
"We have been visiting Tenerife since 2008 and have gradually fallen in love with the island and its way of life. Our dream has always been to own a holiday home abroad and we kept coming back to Tenerife as a strong option.
More recently we started to change our approach of waiting until retirement; reviewing the possibility of being able to achieve our goal within 2-5 years whilst we are still relatively young - we are both 50.
At this stage, we had no idea whether we could afford to implement our plans, but we do like a project, so around June 2016, we started planning, which included a trip the A Place in the Sun Live exhibition at Olympia in London.
We were already huge fans of the A Place in the Sun TV show, but then we started to watch repeats of repeats to gain as much insight into Tenerife properties as we could. We bookmarked a few properties online, which looked really interesting. Roger is a researcher and takes his time with decisions – I, on the other hand, go with my instincts, make quick decisions and rarely research, so some compromises were essential!
During this process, I instantly liked a brand new build townhouse in Los Cristianos (due for completion in 2017), for which we had only seen artists impressions, but it looked amazing! It went on the list.
One of the areas we had previously really enjoyed visiting was La Caleta which is a peaceful fishing village on the South West side of the island.  We linked up with Tenerife Property Group who became our helpful property guru in the area. He also recommended a fabulous local solicitor who has continually gone out of their way to ensure our legal needs are met.
We booked a holiday to La Caleta for summer 2016, to scope out the area from a home owner's perspective and to see how we felt about it.  We booked to stay at a complex in the area which was a strong contender for our future purchase and arranged to spend a couple of days with Simon, viewing a number of other properties in other areas - exciting.  At this stage, we were clear that we were unlikely to buy anything before 2018, but if we saw the property of our dreams then we would try to buy earlier.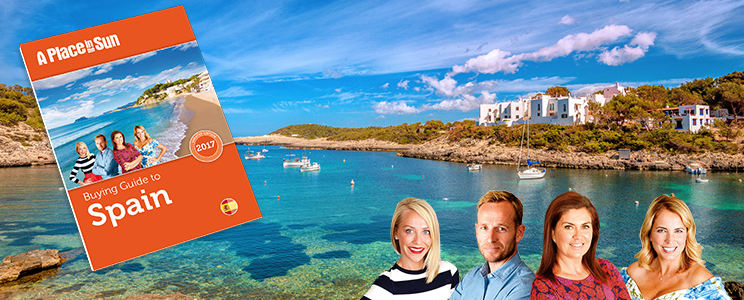 download our free to buying a property in Spain
And so our adventure began with a lovely break in La Caleta in June 2016.  This stay turned out to be the best thing we could have done.  We were almost over the line in terms of a future purchase at the complex in La Caleta, but having spent a week there we realised that, as beautiful as it was, it was too quiet and remote for us. That could have been an expensive mistake!  Although we still loved the area and the restaurants, we decided that we needed to be based in a busier part of the island.
When we came home from our trip, we had pretty much decided that the new build in Los Cristianos was the one we wanted and we couldn't hang around as they were selling fast!  (Not suggesting that I always knew this was the house for us, but …..I knew it! J) – Roger knew as soon as he reached the top of the property and saw the 2 roof terraces – The house was just perfect for us.
At this stage we had no real plan of how we were going to pay for a property, but the end of our English mortgage was in sight so having decided we would prefer an English mortgage to a Spanish one, because we had more choice, flexibility and no currency fluctuation to worry about, we set out to re-mortgage our UK house.
We revisited the new build in October 2016, to make sure we were happy with our choice then came home to complete the process of remortgaging.  We needed to be very focused on all the paperwork to register a firm interest in our chosen property (and pay 30% up front!) which culminated around Xmas 2016.
During the next 7 months, we were lucky enough to visit the area on two further occasions whilst  Simon and other good friends and family visited the area; taking videos and updated photos of our dream home to keep us happy whilst we were back home!
The expected completion date was put back a few times, but we finally collected the keys in July 2017; a little over a year after we first started planning (phew!).
...and relax!"
search for a property for sale in Tenerife
Or see their Tenerife townhouse for yourself below!
Rodger: Hi, welcome to our property. I am Rodger and this is my wife Jane.
Jane: Hi, Our property is based in Los Cristianos in Tenerife and we have owned it for about 2 months.
Rodger: It's a 3 bed townhouse so lets show you around.
Jane: Hi, come in, take a look at the kitchen. As you go in and turn left you can see that our front terrace is a bit bare and there will be a garden out there eventually but that's our view of the front of the house. If you turn around a little bit further you can see our fully fitted kitchen which came with our house. What we didn't tell you was that it is a brand new house so there was nothing in there expect our kitchen so we haven't had to do an awful lot in here.
Lets take a look at one of the next rooms. We are lucky enough to have a downstairs toilet which has  a lovely shower behind the door which is super useful when you have people dragging dust in from outside with their feet so they can give their feet a wash before coming into the rest of the house.
Lets go through to the lounge. As you go through you will see we have a nice space for a dining table, you could fit a larger table in here but we don't particularly need it, we can fit 6-8 people no problem at all. As you pan to the end of the lounge you will see some tools as its work in process at the moment.
This is the lounge area, we do like to spend a lot of time relaxing here, we are considering putting a TV in the corner, but we are enjoying having no TV at the moment. As you can see we have air conditioning fitted on the back wall. We decided that was a must to make sure the lounge was comfortable for family when they come and visit. This is a family holiday home and it gets pretty hot here.
Lets go upstairs, we will show you the outside later. Here we have the family bathroom which has a shower and sink and toilet. If you bear left you are through to the master bedroom. We have managed to squeeze in a King Side bed after dragging it up the balcony so be mindful of the size of things you buy. There is so much wardrobe  space which is great which as I will be filling with clothes. If you come round to the other side of the room you will see the ensuite and its been really useful with a bath aswell and double sinks which we didn't expect to get.
We have our lovely view which is so much more than we expected to get, when we were seeing the place being built we certainly didn't expect the view to be this lovely and we do feel very lucky to have this. It's the best part of the house as far as we are concerned.
The last couple of rooms on this landing are what we affectionally call bedroom 2 and 3. They are pretty identical, we could take you in there but they are pretty much identical. The only difference Is one has a tiny balcony and the other is just patio windows. They both have a large wardrobe as well. Obviously ill be filling those with clothes too. Lets go upstairs to the next floor.
On the top floor of our house which is essentially a utility room, I really wanted to show you the views from our roof terraces. So this is on the street side of our house and as you can see there is a lovely view of the mountains on the left and on the right you start to head towards Los Cristianos harbour and a 10 minute walk from the sea.
Now we are on the other side of the property where the terrace enjoys sun in the afternoon and we are very lucky to have a hot tub, which the builders fitted in all the properties which is nice to enjoy in the evening. We also have a fantastic view of the mountains which lead on to Mount Tilde in the background.
Rodger: And is there where Jane and I love to unwind at the beginning and end of the day. Whether its having breakfast first thing in the morning or evening just before going out, looking over onto the pool which is my favourite place.
Jane: So, we are finishing our day in the hottub and we wanted to share a few of our thoughts on A Place in the Sun.
Rodger: So, like most people we became fans of the TV show, we must have watched every episode at least once and last year we went to one of the Live exhibitions which helped answer a lot of our questions. We also used the A Place in the Sun website in the early stages of our research.
Jane: So, just a few tips we have loads but picked our top 3.
Rodger: Use experts, we used some fantastic people but top of the list would be first of all our estate agent from Tenerife Property Group and he went the extra mile. We also used a local solicitor which was invaluable they couldn't have done more for us there were fantastic.
Jane: Tip number 2, if you are planning on buying abroad just do it, do not waste any time, time is too precious, if you can afford to do it, just do it.
Rodger: Tip number 3, learn a bit of the language, we are still finding a few words go along way and put a few smiles on people's faces. So in summary, we certainly say its like a rollercoaster, its going to be fast, exciting and a little bit scary but in the end well worth it so cheers!