Jo Messenger recently bought her very own Costa Blanca property in Javea (north of the region) and gives a personal account into her new life in Spain below.
"I'm a retired pensioner, divorced and an adventurer by heart. My travels have taken me to Mount Everest in Nepal, all the way to backpacking through some of the most remote parts of New Zealand. However, my biggest adventure to date was to sell up my home in the UK and buy a property in Spain this year (2017), on the Costa Blanca. And despite only being a few months into my new life and still trying to shift the "new girl on the block" tag, things are going swimmingly.
Where did you purchase and why?
"I chose Javea on the Costa Blanca because I had previously worked on the coast many years ago and extremely regretted returning to the UK, mainly due to the climate difference. The outdoors lifestyle here suits me very well, as I'm really into my outdoor activities. I find that the UK's grey cold and wet winters don't allow me to partake in these activities as much as I want too.
Adding to this, I find that the sun makes people socialise a lot more which, as a person living alone, is very important. The weather also lets me move around different regions more freely too.
I was already familiar with Javea and the surrounding district after travelling around different parts of Spain for years whilst owning my own property back home. I was just naturally drawn to this area, and it made complete sense to make the move.
What type of property?
My villa, on a 991 m2 plot of land, has three bedrooms (two en-suite with a further toilet), a large lounge with a Tosca stone fireplace and further archway, with double feature wooden doors leading to the Nava, which I use as a dining room. The large modern kitchen leads directly onto a large patio area from glass doors.
I have a large L-shaped pool in my garden which is great, and there is ample space for chairs and tables on my tiled patio. My garden also benefits from a lemon and almond tree too, as well as many other different types of flowering shrubs (below).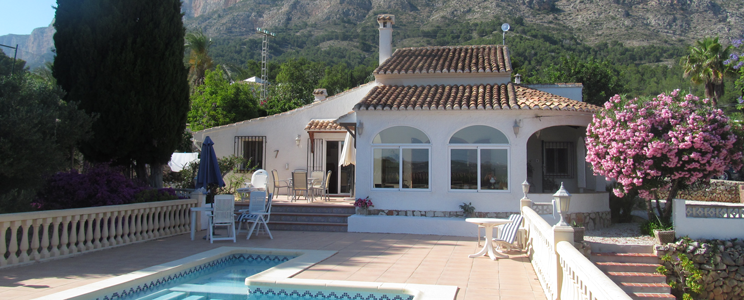 It's situated on a quiet cul-de-sac which sits below the magnificent and historical Montgo Mountain. It's south-facing, and only a thirty minute walk away from the old village of Javea on the hill which has everything I need - beaches, markets and great places to tuck into the local cuisine.
Any advice on buying a property in Spain?
If I had to give some advice to people regarding buying a property in Spain, I would say definitely research the current laws and common council conditions before committing to your purchase, which are very different to the UK. I rented a property in the area for three months just to make sure the area was for me! Also, ask the locals for their advice too, which proved to be invaluable.
Two weeks after moving here for good I was unfortunately hospitalized. However, it gave me an insight into the Spanish healthcare system which I must say was very efficient.
Sometimes, as a Brit, I feel that the Spanish laid-back attitude can be frustrating at times, although I've learnt to just "go with the flow" as they say...
During the buying process, I sought the assistance of a lawyer which was imperative, which I suggest everyone does. You should always source this at the start of the buying process, but if you can't, you can always ask for recommendations from locals and expats whilst abroad.
How did A Place in the Sun help?
I've always relied on A Place in the Sun for the latest overseas property guidance and information. I've watched the TV show religiously and been to multiple A Place in the Sun Live exhibitions down the years, including Manchester, Birmingham and London. Everything really is under the roof, and the information I got was invaluable.
To sum up...
If I can make the move alone then surely anyone can do it! Some of my friends thought that the idea was foolish at my (let's say) mature age, but others thought it was positive and inspiring. Others say I was brave and left it at that!
If I had to sum up my experience to date in three words it would be - stressful, exciting and adventurous!"
Follow in Jo's footsteps and find a property in Spain below
search for a property in Spain
Or download our free handy guide to purchasing a property in Spain