Welcome to the latest instalment of our 13-part series, Tips From Our Overseas Property Buyers, where we catch up with homeowners from all over the world who share their experiences exclusively with A Place in the Sun. Next up we have Nancy and Russel Davidson from Edinburgh, who decided to purchase a villa in Vilamoura, Portugal.
Algarve veterans Nancy and Russell Davidson, from Edinburgh, were deterred from buying the first apartment they wanted because the vendor didn't want a lawyer involved. So, they moved on and bought somewhere equally nice, with legal representation. Nancy [above] tells us why.
"We got the keys to our one-bedroom apartment in Vilamoura in February this year, although it isn't the place we'd set out to buy. We've been coming to the Algarve for family holidays for 20-odd years, usually renting the same apartment owned by a local Portuguese man. When we decided to buy our own place at the start of 2016, we made an offer for that apartment, which was accepted.
But when the owner didn't want an independent lawyer involved, preferring to let notaries deal with the purchase, we backed off. We were buying something for our children's and grandchildren's futures, so it was too risky not to have independent legal representation during the buying process.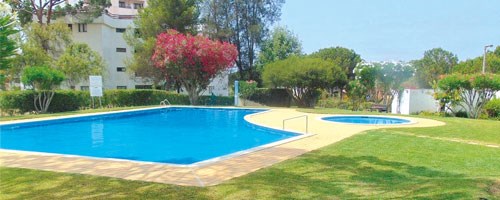 Later that year, we went to A Place in the Sun Live! in Glasgow, which resulted in us going on a viewing trip between Christmas and New Year. During the trip, we spotted our apartment in the shop window of an estate agency. We did a viewing, loved the place and had our offer of €125,000 accepted the same day.
Our apartment is a small complex with communal pool [above], just 10-15 minutes' walk from Vilamoura's marina and beach. It's a holiday home, so we'll visit as much as work will allow, as will our two children with their families. We may also rent it out, at least until we retire in 2018, after which we'll visit more frequently.