Our magazine editor Liz Rowlinson has been touring the Languedoc around Narbonne and Béziers in search of great properties at a low price in this underrated slice of the south of France.
The eastern half of the southern coast of France is the world-famous Côte d'Azur where the international jet-set congregate every summer on their superyachts, in their multimillion-pound villas or for events such as the Cannes Film Festival and the Monaco Grand Prix.
But head west of Toulon and Marseille and you will be moving into the Languedoc, a beautifully unspoilt and diverse stretch of coastline that is characterised by large coastal salt-lake lagoons as well as long sandy beaches with traditional French seaside resorts.
Backed by the Cévennes mountains and great vine-clad plateaux, with glimpses of the Pyrenees in the west, it's a world of ancient wine estates (the Languedoc produces a third of France's wine and much more than the Bordeaux region), pretty little fishing villages on the edge of the lagoons populated by flocks of pink flamingoes and many fortified towns – the legacy of the Cathar rule in the 14th century. It's also got stylish and dynamic towns such as Montpellier, Sète, Nîmes and Narbonne as well as historic gems such as the Unesco-listed Carcassonne. 
The Lonely Planet travel guide calls the Languedoc the "Cinderella of the South" and says that it was "once overshadowed by gorgeous Provence and the brash Côte d'Azur. Now she stands as their equal, displaying a discreet charm that her more-visited siblings lost long ago." More and more property hunters are beginning to be attracted by this discreet charm, whether they are those who are priced out of the Côte d'Azur seeking southern French sunshine or the type of people who prefer the low-key authenticity of this region.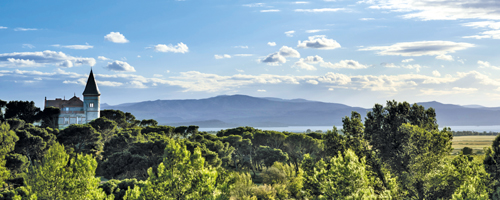 Property hunters are also driven by its accessibility (there's a choice of eight major airports within a 2.5-hour drive) and its affordable property prices. "We have seen a real surge in inquiries for Languedoc over the last 12 months," Trevor Leggett, chairman of Leggett Immobilier, says. "International buyers spend an average of €180,000 – compared with €474,000 in Paca [Provence-AlpesCôte d'Azur] – and it offers exceptional value for money if you're looking for the sun and traditional French culture.
"Last year this region attracted around 11 per cent of all overseas buyers, a figure that has been growing steadily, and from the sales and inquiries so far this year this is a trend that will continue. We have over 1,000 properties for sale in the Languedoc but are actively looking for new stock as the pricing is so attractive to buyers from the UK and further afield."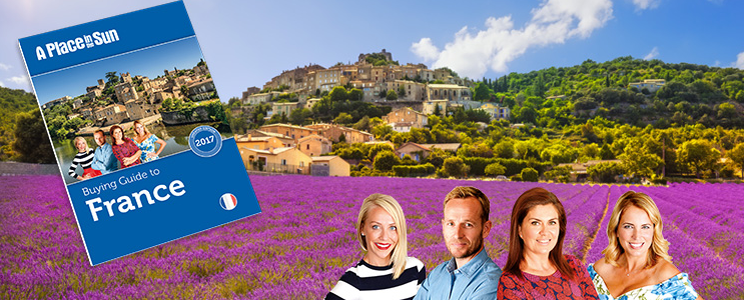 download our guide to buying a property in France

So what can you buy?
If you want to be on the coast, the attractive harbour town of Marseillan is very popular. The pretty town with buzzing seafront cafés and restaurants sits on a large lagoon, the Étang de Thau, and is at the eastern end of the Canal du Midi and is not dissimilar to the fishing village of St Tropez before it burst onto the world's radar with the arrival of Brigitte Bardot in the 1950s.
Another coastal option, where you will find a good choice of property listings in local agents' windows, is Gruissan, an attractive town with three parts: the charming old town, the marina and the beach or plage area.  Directly behind Gruissan Plage are rows of charming chalets on stilts. These used to be inhabited by fishermen but are now cute holiday homes that sell for about €170,000. One of these was used for the filming of the 1986 cult film Betty Blue, with the main character, Zorg, a handyman for this beach-house community.
These are tiny and relatively expensive for Gruissan, and you can find a bolthole near the beach for as little as €57,000 for a studio apartment or €100,000 for a one-bed apartment with a 15m2 terrace or a larger apartment (180m2) in the old town for €234,000.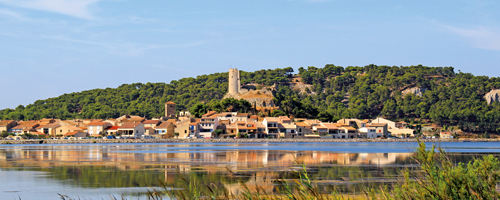 The nearby lagoonside fishing villages (villages en bordure d'étang) of Bages and Peyriac-de-Mer are small communities with all the elements of village life that home-hunters seek. There are water sports on the lagoon, great birdwatching and hiking options and the bigger town of Narbonne is only a few minutes away by car down plane tree-lined country lanes. In Peyriac you can get a four-bedroom villa on a 600m2 plot for €259,000.
Turnkey apartments on a wine estate
This region is dotted with elegant chateaux connected to vineyards that are hard work and a financial drain for their owners. So while you might be able to buy a rundown chateau relatively cheaply, you might need to spend the same again on renovating it, before annual upkeep costs.
One solution is to buy a turnkey property on a managed scheme that happens to be located in the grounds of a chateau and working winery. Thanks to one man in particular, there are opportunities to do this. In the early 2000s the management consultant Karl O'Hanlon, founder of the developer Domaine & Demeure, started renovating chateaux attached to wineries and adding high-quality holiday homes within their grounds. It coincided with the arrival of low-cost airlines in the Languedoc – with airports in Béziers, Montpellier, Carcassonne and Perpignan – while wine tourism was growing as recognition of Languedoc wines spread.
View our entire selection of French properties >>>
Château Les Carrasses, near Béziers, was the first of the projects. Completed in 2011, it consisted of 27 properties and despite the global downturn sold out (to 13 different nationalities) and was completed virtually on time. Then, on his next project, Château St Pierre de Serjac, completed last year, 36 townhouses or duplex apartments sold to 17 nationalities.
The popular formula that he has established has not changed drastically – at St Pierre double-height steel French windows open on to spacious gardens and private pools, and apartments are offered furnished down to the corkscrews, based on owner consultations with interior designers. The quietly stylish feel is a modern take on the local vernacular of reclaimed terracotta roof tiles, limestone renderings, traditional ironwork and wooden doors. Inside, the bespoke carpentry is painted in muted and elegant shades of Farrow & Ball greys or blues.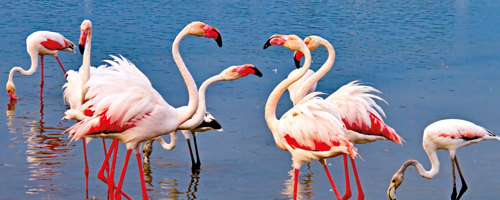 It is located on the edge of Massif de la Clape, a rocky national park of grand cru vineyards, and there is plenty of scope for hiking, biking and picnicking, Le Capitoul is a successful working winery with 60 hectares of vines producing award-winning wines. It is located an hour from Montpellier, 30 minutes from Perpignan airport and 1 hour 20 minutes from Toulouse.
On the umbrella pine-wooded 240-acre site overlooking Étang de Bages – one of the salt lakes is populated by flamingos – there will be 46 two-to-five-bedroom properties sitting in terraced gardens surrounded by Mediterranean dry-garden planting.  The townhouses start at a generous 80m2, with prices ranging from €450,000 to €1.5 million.
Inland for further value?
Around Narbonne you can get a five-bedroom villa for €449,000 but go further inland still and prices drop. You can get a quality three- to five-bedroom villa with a pool for about the €500,000 mark, but also plenty of smaller properties for around €300,000. Tapas served in restaurants and a five-day bull-fighting Feria at Béziers (this year from August 11-15) add an appealing Catalan twist to the region too. Cuxac-d'Aude on the River Aude also attracts attention from buyers. There you can buy a lovely four-bedroom character house with a garden for €250,000.
If you're looking to find yourself a cheap property in the south of France, click below to view our full selection now.