Mojacar is one of those traditional white hilltop towns – or pueblos blancos – characteristic of Andalusia and much loved by the Brits. Backed by the Sierra Nevada, it overlooks a cornflower-blue sea fringed by the white urbanisations and villas of the tourist area, Mojacar Playa. My visit this summer coincided with an annual saint's fiesta, a bizarre mix of medieval fayre and modern fun run.
Mojacar, in the province of Almería (and the region of Andalusia), is officially a desert region and it's certainly an arid part of Spain. Many pseudo-Western films were made there and there's even a fake Wild West town where you can get drunk, shot down and lynched, all in two hours.
Tourism and the building boom on the Costas have altered the character of the area, which was popular with artists and musicians – American rock star Jimi Hendrix was a fan of Mojacar – and it still attracts an off beat customer.
"Mojacar has made a virtue out of its frontier mentality. It has been attracting a more bohemian, alternative crowd ever since a mayor in the late 1950s offered abandoned houses to artists who would do them up," says Spain expert Laura Richards, of the website Property Guides (propertyguides.com).
Mojacar is not to everyone's taste. You could call it a Marmite destination and this it because of the aridity of the area, which makes it very brown and somewhat dusty, but the chief downside (depending on how you regard this) is that with fewer flights to Almería than either Alicante or Malaga it's less accessible.
But you do get a lot more for your money, with average prices of €1,300 to €1,500 per sq metre prices comparing favourably with more fashionable Spanish hotspots such as Marbella. Any property above €400,000 is considered expensive.
British expats, who largely voted Remain in the EU referendum, were naturally stunned when they woke up to the result in June; but the blogger David Jackson, (davidjackson.info), an expert on Almería, says that they don't expect life to change too much. "The administration has been making all the right noises to reassure UK expats," he says.
Estate agents are also surprisingly cheerful. Steven Howlett of VIP Almería (vipalmeria.com) says they had a "fantastic" autumn. "As the market has adjusted to Brexit, we expect to see more of a cosmopolitan mix of people in the area."
On his books is a large villa in La Parata Hills overlooking Mojacar Playa. The four-bedroom, three-bathroom property, of 233m2, has a lovely pool and a conservatory for winter use. The price is €299,000.
Stephen Garner, of Spanish Property Choice (spanishpropertychoice.com) is similarly optimistic. "The week after the referendum the phones went quiet, but after than inquiries went up by 20 per cent. He closed 11 sales in August.
His explanation: "At the moment any EU citizen has the right to buy in Spain. With Brexit they fear they may lose some rights, so they are seizing the moment right now."
All agents report a mixture of retirees, investors and second home buyers on their books, with larger numbers of French, Belgian and Dutch people entering the market.
The area has something for everyone with the combination of old town and Mojacar Playa offering a choice of traditional white Moorish cottages or modern airy apartments.
Mojacar Playa remains the most popular area, but some buyers head inland in search of value and character. Examples of places where there are lively expat communities include Cuevas del Almanzora, Arboleas, Zurgena and Albox.
On the books of Spanish Property Choice is a smart five-bedroom, six bathroom villa near the pretty village of Zurgena (which has a fiesta and a weekly market) priced at €350,000. Located within easy walking distance of bars, restaurants, shops and other amenities, it has a large terraced area, a landscaped garden and a bespoke pool.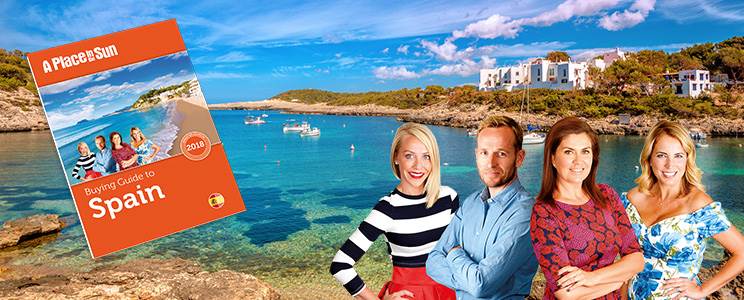 DOWNLOAD YOUR FREE SPAIN buying GUIDE HERE
Meanwhile golf aficionados can head to the thriving, award-winning Desert Springs Resort at Almanzora where properties are much cheaper than their equivalent in more tourist-dominated regions. The Cheltenham-based agent Spanish Property Overseas has two listed on its books.
In Almería you do need to beware of illegal properties, so use a good independent lawyer to make all the checks on the property and the land on which it sits that you wish to buy.
A house at Vera that belonged to British couple Helen and Len Prior which was knocked down cast an unpleasant light on the matter but their case led to some positive legislation for other homeowners facing the prospect of having their home razed to the ground. In 2015 the demolition of homes found to have been built illegally by unscrupulous developers was suspended until owners had been compensated.
"Due to corruption and turning a blind eye to permits there have been cases of illegal building," says Garner. "Now the local junta has passed a new law that allows for every property to be regularised. This applies especially to places where developers have split large parcels into smaller ones without permission."
There are plenty of bargain-hunters in the Mojacar area, but the few bank repossessions in Mojacar Playa are snapped up quickly. Peter Birkett, who runs Property Repossessions Spain (prs.gb.com), says that high rental returns are the reason. "You are looking at upwards of €700-€800 a week in high season and there's not enough stock.
"We see a lot of upmarket British, and Spanish families from Madrid and Murcia. They like the area because you are not pestered by the noise and nonsense of places like Benidorm and Torrevieja."
Property Repossessions Spain has apartments in Mojacar as well as Vera where prices tumble. "Almost all have fabulous sea views and are all only a couple of minutes' walk from the beach. They are all key-ready," says Peter.
His bestseller is an apartment complex in Mojacar Playa with a central pool and garden area. Of 67 properties given to him to sell by the banks, only 18 remain. Originally priced from €395,000, units are now available from €153,000 for a two-bedroom apartment and from €180,000 for a three-bedroom unit (pictured right).
If Mojacar and the area compares favourably pricewise with the hotspots of Marbella and Puerto Banus, how does it rate in terms of the much more affordable Costa Blanca? Certainly it is less middle-aged, less developed and even cheaper but some would argue that it also has more cachet.
"Many clients have literally fallen in love with Mojacar from their first visit," says Greg Edwards of Costa Activa (costactiva.com).
This is true of Joy Roberts-Barry who first visited in 1989 and met her business partner Jeremy Leazell in Mojacar. They run a recording studio in Surrey and plan to diversify by buying land in Mojacar and selling "eco pods".
Joy explains: "We have launched a new business called Elementary Homes to build eco pods – mobile studio rooms with shower and kitchen. We plan to sell them to retirees wanting a simple place in the sun or possibly even as a garden workshop."
Their agent, Juan Carlos Gutierrez of Remax (remax.es), has a number of tracts of land priced at €24,000 for 5,000m2 with utilities. Prices have tumbled, according to Joy, who says that the same plots would have cost €70,000 five years ago, more than offsetting the recent fall in sterling. Joy has her eye on the countryside near Vera to the north of Mojacar Playa.
"The new mayoress of Mojacar has been very busy improving the infrastructure and there's the new paseo (promenade) at Mojacar Playa which was just dunes before. I preferred it that way, it was more natural, and that's why I like Vera better these days – it's less developed," she says.
With apartment prices at Vera starting from as little as €40,000, British bohemians will still be able to afford to live the Mojacar dream.