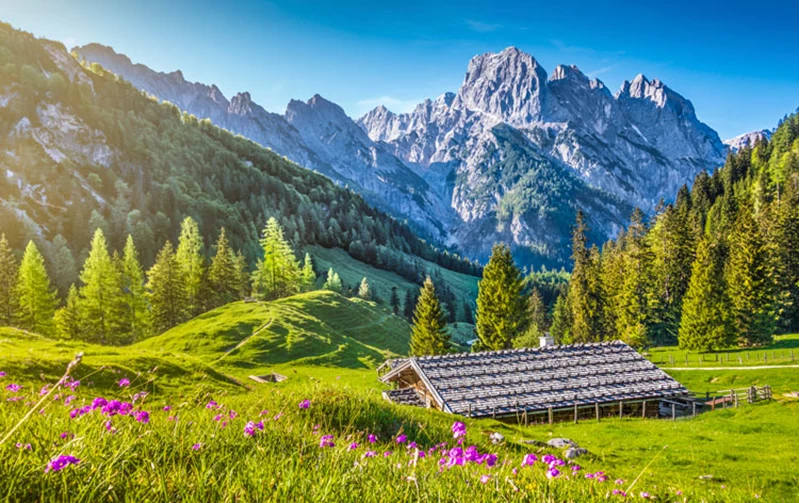 It may be famed for the baroque architecture of the elegant cities of Salzburg or Vienna but Austria is hard to beat for your-round homes in the mountains. Chocolate-box chalets dripping with scarlet geraniums by summer, or icicles glittering in the sun by winter, sitting in undulating valleys near crystal-clear lakes – what's not to like for nature lovers and active types? Ski chalets and mountain farmhouses are also offered in Switzerland, France, Andorra and Italy, but you'll find the hospitality – and the affordability – of Austria hard to beat.
The British love to ski in the resorts of St Anton, Lech, Zell am See-Kaprun and Solden, yet many other resorts remain provincial rather than international in their make-up, and that is also part of the appeal for some buyers. Often Austrian ski villages are dominated by local land-owning families who will not always sell to outsiders but the increased construction of new schemes to attract tourism has been a major change in the past decade.
The choice of offering has expanded considerably in this time and tempting new-build schemes are reaching the market in big-name and below-the-radar resorts. Alpine Marketing, one of the leading agents selling Austrian property to overseas buyers, offered a handful of schemes five years ago. Now they have 63 new developments on their books, spanning low to high ends of the market. In terms of build quality, value and year-round returns, new homes in the Austrian mountains are really worth a closer look.
The Austrian market is very predictable. Having avoided the speculative peaks and troughs of recent years, the price of ski homes has remained fairly steady, rising about 4 per cent each year. Positive economic factors underpin the housing market: with conservative lending, tourism is healthy and rental yields are good.
So what might you wish to buy?
In the Salzburg region, the agent Mark Warner Property (markwarnerproperty.com) is active in the golden triangle of Zell am See-Kaprun and Saalbach. The new ski lift link between Zell and Saalbach has transformed the lively lakeside town of Zell into a place that also offers serious skiing.
Zell am See – a positively cosmopolitan town by Austrian standards – has apartment complexes for all budgets, but demand over the past few years has pushed up prices and exhausted the supply of new homes. The agent Amazing Austria has a 54m2 one-bed resale apartment for €162,000 (amazingaustria.com).
Alternatively, there is a new development in the Schüttdorf area of Zell am See, again opposite the lifts. "It is interesting as historically this has been the cheaper area of Zell where the locals live," says Giles Gale of Mark Warner Property. "However, as supply dried up in the centre foreigners are now buying there as there is still the land for new developments and prices are 30-40 per cent cheaper."
Prices at the luxury apart-hotel of Elements Resort start at €277,000 for a 44m2 apartment. Facilities include a full-service restaurant, spa and wellness, a heated outdoor swimming pool, reception and bar area.
In next-door Kaprun, the agent has properties from €119,900 (studios in an off -plan development) or two-bed units in the Kitz residence, a traditional ready-built property, from €259,900. You can even get a new-build detached chalet for €743,150 in Kaprun. "These new little chalets are completely unique and terrifi c value," says Gale. "Ski-in ski-out property is incredibly rare in Austria and these are situated right beside the piste on the Maiskogel mountain that overlooks Kaprun. Zell am See is 10 minutes away.
"We have never had new-build chalets available for sale for under €1million before and these can be configured to a buyer's own specification to provide three or four bedrooms as required and optional wellness area."
Or in Saalbach you can get a ski-in, ski-out one-bed luxury apartment for €297,000 through Savills (savills.com).
The high life: Tyrol and Vorarlberg
As mentioned above, ski lifts play a major part in the future of resorts, and heading west this is also the case in the Arlberg area of the Vorarlberg. Here the small, but snow-sure hamlet of Warth is being linked to the chic resort of Lech this winter. This is happening with a new ski lift and with the road between the two being cleared for winter usage for the first season.
This is big news for the sleepy village of 180 people that has little more than a few shops and one bar. So if you love the shopping, the lively bars and the restaurants of glitzy Lech but can't afford to buy a home there you can invest in Warth and share the same pistes – a ten-minute drive away.
In Lech, for example, you will struggle to find a new property available right now with much change from €1million. What is available is a five-bedroom apartment for €1.575 million through Alpine Marketing (alpinemarketing.com).
In contrast, at the Apart-Hotel PURE Warth, luxury ski-in, ski-out apartments start from €385,000 (for a 60m2 property) and are serviced by the hotel to which they are associated.
Other apart-hotels under the PURE brand (such as one already open at Lermoos) are stylish yet cosy places to be. The scope and high quality of their amenities is a big selling point - something that the Dutch/Austrian developer Mountain Residences does very well indeed. In Warth the hillside location of this development (at the top of the village) is also a big draw.
Alternatively, lower down in Warth, there is also the Secret Mountain Lodge development, offering 69m2 two-bedroom apartments from €663,200. These come complete with furniture package.
Or in nearby St Anton – famed for its lively après ski – at the Mountain Spa Residences, 28 fully furnished ski-in, ski-out apartments are situated in one of the sunniest parts of the resort surrounded by alpine meadows with some of the best views in the valley.
Owners have access to extensive leisure facilities including a 600m² on-site spa with a sauna and massage rooms, and a 12-metre indoor and a 12-metre outdoor swimming pool. Other facilities include an on-site lounge bar and brasserie restaurant and parking. A fully managed, hassle-free rental programme from the experienced ski holiday specialist MW Hotels & Resorts is included.
Prices start at €635,500 for a two-bedroom, two-bathroom apartment with a large balcony. Completion date is planned for the 2016/2017 ski season (kristall-spaces.com).
Lower Austria, lower prices
For something affordable and very much off the beaten track as far as British buyers are concerned, the area west of Vienna known as Lower Austria is definitely worth a look. Not only is it a short hop from Vienna – whose airport offers more flights to the UK than Salzburg – but property prices are about 50 per cent cheaper if you are seeking a ski home close to a lake, or a business opportunity.
It's an area (which includes the Hochkar ski region) that is much more popular with German tourists and other nationalities than the British, but it shouldn't be as it has a lot of appeal – and you can find properties for under £100,000. This area includes the lovely lakeside town of Lunz am See, which is a 75-minute drive from Linz airport or just under two hours from Vienna. With a restaurant overhanging the lake and waterfront picnic spots, this is Austrian scenery at its best, and it has enough skiing for an afternoon on the slopes during the winter.
Amazing Austria has a two-bedroom house for sale for €119,500 with a loft to convert and much potential for improvement near Lunz am See. They also have an eight-bedroom guesthouse for sale for €325,000.
Something for buyers to note: non-EU citizens need to form a limited company if they wish to purchase property in Austria. This is not a complicated or expensive process but is a definite reason to buy sooner rather than later if you are keen.