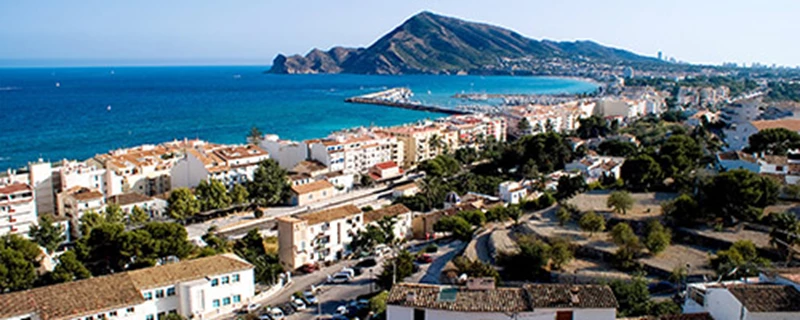 Bargain beach pads with year-round appeal are attracting British and other foreign buyers back to Spain's Costa Blanca. Recent statistics from the regional government of Valencia, home to the Costa Blanca, showed that in the first three months of 2013 foreigners bought almost as many properties as Spaniards and at a level never seen before - 3,414 compared with 3,765 respectively.
Meanwhile, annual property sales to foreigners have surged from 10,589 in 2010 to 15,573 in 2012. Inquiries on aplaceinthesun.com tell the same story, with the Costa Blanca attracting the highest number of searches out of all the global destinations listed on the site.
However, anyone about to board a flight to Alicante, the gateway to the region, should first familiarise themselves with the Costa Blanca because it's a coastline of two contrasting halves.
Head north from Alicante, as far as Moraira and beyond, and you'll follow a coastline with an imposing mountain backdrop and pine-covered hillsides, where shady villas look down on unspoilt sandy coves.
Costa Blanca North's key resorts start at Benidorm and end at Dénia, but there are also popular inland spots in the unspoilt Jalon Valley. Excluding Benidorm, with its tower blocks, controlled development in the north has maintained a level of exclusivity and prevented an oversupply of new-build.
By contrast, go south from Alicante as far as Torrevieja, with its salt pans, and the Orihuela Costa, and the landscape of Costa Blanca South is flat and arid.
Here, parts of Torrevieja and the lively resorts to the north and south have been the focus of dense development, where today you will find a large choice of affordable apartments, townhouses and villas, typically on gated complexes.
The most southern resort of the Costa Blanca is Torre de la Horadada.
Property Markets and Prices of North and South Costa Blanca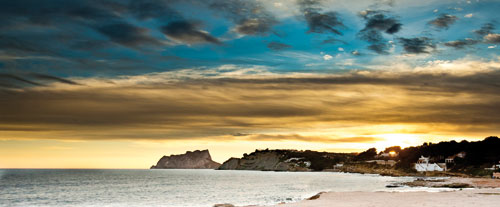 Costa Blanca North
Benidorm's skyscrapers loom large along the AP-7 motorway signalling the first major resort north of Alicante - there, Spain's tallest residential building, the Edificio Intempo, is due for completion this year.
Over the years, Benidorm has lost none of its appeal as a colourful holiday hotspot for British families and young groups. Prices of apartments vary considerably from sub-€50,000 (sub-£42,400) for a repossessed studio to around €800,000-plus for desirable new designer pads.
Calpe, with its unmissable Rock of Ifach, is next, and another popular family resort, with a range of property along its seafront and fanning out into the hills around it. Prime villas with views are priced at £500,000-plus, but something more affordable could be Taylor Wimpey Spain's Calpesol development, where three-bedroom townhouses start from €160,000.
After Calpe begins arguably the most desirable stretch of the Costa Blanca North's coastline.
As far as the picturesque resort of Moraira, pine-covered hills dotted with white villas end at the Med in low cliffs, broken up by small sandy bays, such as Cala Fustera, making this a very desirable stretch known as Benissa Costa, home to the Ifach Golf Club.
Beyond Moraira, any property in the elevated areas of Benitachell and Cumbre del Sol offers incredible panoramic sea views, and beyond this you arrive at the pretty family resort of Jávea.
"Larger Jávea is more family and tourist orientated than Moraira, and spread between three areas - the Pueblo, the Puerto and the Arenal beach area," explains Chris Garwood, a partner at the Moraira-based estate agency Select Villas.
"Moraira, by contrast, has grown in a more controlled, organic way, radiating out from its original fishing village origins, which remain its heart. Both resorts benefit from a carefully controlled, long-established policy of residential development, which includes protected Zona Verde (green belt) areas, and consequently well-balanced supply and demand for property."
Moraira's residential areas fan out up the west or east side of the wooded valley behind it. A mix of villas, and small apartments and townhouse complexes are on offer.
Download your free guide to buying a property on the Costa Blanca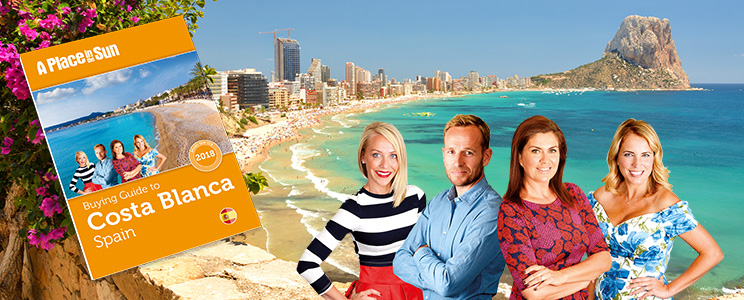 download your free Costa Blanca property guide here
"For those wishing to pay the 'proximity premium' to the beach," adds Garwood, "the most convenient areas are El Portet, with its delightful yacht anchorage and waterfront restaurants, Playa del Mar, Cometa, Pinar de l'Advocat and Cap Blanc. A little further out are Moravit, Paichi and La Sabatera. And another kilometre out are more desirable areas with their own small commercial areas, including Tabaira and Sol Park."
In terms of price, Garwood says that there is no such thing as a typical price in Moraira: "We have detached three-bed villas with pools from under €200,000 to in excess of €2,000,000."
Buying options aren't only resale in Moraira, as Paul Knott at HomeEspaña's office there points out: "Small off-plan developments are coming back. We've just taken on a boutique project of luxury semi-detached villas, with contemporary designs by leading architects Ramon Esteve and prices from €377,000."
Unlike Costa Blanca South, the attraction of the north is increasingly inland as much as coastal. The Jalon Valley offers villages that combine an authentic Spanish lifestyle with proximity to the beach.
"Popular villages are Jalon, Alcalalí, Parcent, Orba, Lliber and Tormos," says Rob Park of Premier Villas Spain, an agency based in Jalon.
"People buying enjoy the rustic environment, but also being 20 minutes from the pretty resorts of Dénia or Moraira. Typical purchases are villas on the edge of a village, south-facing, with a large plot and views. Two beds are priced €175,000-€200,000 or three-beds €200,000-€300,000."
For Brits Steve and Charmaine Arstall, who first holidayed on the Costa Blanca 20-odd years ago, the Jalon Valley was the perfect place to retire to. They bought their traditional four-bedroom finca on the edge of Lliber in March 2012, paying around €450,000 for it through Select Villas.
"We bought in the Jalon Valley because you get more for your money than nearer the coast, and it is quieter," enthuses Steve. "There is enough of a British presence here to make daily life easy without it taking over from the Spanish way of life, as in other parts of Spain.

"We wanted a working Spanish town, not a tourist destination that closes down in winter."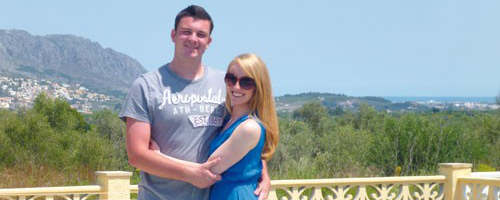 Sundowners in the hot tub or drinks at a cosy local bar - when evening comes around, the Duffield family from Wiltshire have the luxury of choosing between the two, after buying a holiday home inland in the northern Costa Blanca.
Jeremy and Janet Duffield from Devizes completed on their three-bedroom, two-bathroom villa in the Jalon Valley last October. They bought through the agent HomeEspaña, paying €225,000 (£190,800) for the property, which is part of a small urbanisation in the town of Orba, plus buying costs of around 9 per cent.
The couple, who have two children - George, aged 21 (pictured above with his girlfriend, Alice), and Jack, 18 - are looking forward to family holidays there in the short term, but hope to retire to Spain a few years down the line.
Good access from the UK, combined with the charm of an inland town that's a short drive from the beach, led the Duffields to the northern Costa Blanca.
"We didn't know the area at all," said Janet. "But we knew we wanted to be somewhere that was a working Spanish town, rather than a tourist destination that closes down in winter. We can walk into Orba, which has a lovely traditional feel, where there are bars, restaurants and shops. For flights from the UK, our villa is within an hour of Alicante and Valencia airports, both with routes to Bristol, our most convenient airport."
The Duffields' property, which they bought furnished, includes a private pool, gardens and fantastic views. There was only one thing missing, which they soon put right: "We decided to add a hot tub in December, as, despite the addition of a pool heater, we found the pool too cold."
Costa Blanca South
Guardamar del Segura is the first coastal resort of significance to the south of Alicante, with a selection of purpose-built tourist residences, predominantly apartments, many overlooking its sweeping beach.
Inland from Guardamar is the expat hotspot of Rojales, with its neighbouring urbanisation Ciudad Quesada. Here the economic downturn has resulted in an abundance of distressed sales, and, while the area might not be quintessentially Spanish, two-bedroom apartments are available for under £50,000.
The real hotspot of Costa Blanca South is Orihuela Costa, which describes the 10-kilometre string of resorts that run south from Torrevieja along the N-332 main road, namely: Punta Prima, Playa Flamenca, La Zenia, Cabo Roig, Dehesa de Campoamor and the inland areas of Los Dolses and Villamartín.
"This area is more developed and arguably less Spanish than the northern Costa Blanca, but it has everything you'd want from a fun family holiday home," said Kieran Byrne, who runs the estate agency HomeEspaña (homeespana.co.uk), which has shops in La Zenia and Los Dolses, as well as Moraira in the north.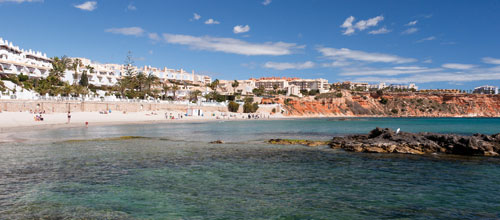 "To be really close to one of the beaches, you need to be the coastal side of the N-332. However, you can be the other side of the main road and still be within walking distance of the beach and lively strip, which basically runs along the beachside of the N-332. Villamartín and Los Dolses are a bit further back, beyond the motorway, so are more tranquil, ideal for permanent residents as well as holiday homeowners."
Byrne adds that, in the past two years, buyers have become more international, and discounted resale properties have been in favour, although this year he has noticed growing demand for new-build property - maybe in light of the recent hike from 7 to 10 per cent in property transfer tax on resales (Impuesto de Transmisiones Patrimoniales - ITP).
"We have only four apartments left at Las Calitas, a seafront key-ready complex in Cabo Roig, where units have ranged from €92,000 to €179,000. We're now taking on more new-build, with smart key-ready properties available in Oasis Beach in La Zenia, Linnea Sol in Villamartín and at Vistabella Golf, inland of Torrevieja."
Paul Sayers of the agency Solmar Estates, which also sells on Orihuela Costa, adds: "We're selling properties for 50 per cent less than they were priced five years ago. What we're selling most of are apartments from €50,000 to €75,000, townhouses from €75,000 to €120,000, and villas with pools for around €190,000."
Typical of today's second homeowners in Orihuela Costa are Andy and Vicky Radhanauth from West Sussex. The couple featured in A Place in the Sun magazine last September, and the same month completed on a two-bedroom apartment in Cabo Roig, for which they paid around €60,000.
They have since visited several times, and this August enjoyed their first family break there with their teenage children, Thomas and Ana.
"The location is ideal for holidays," said Andy. "We're a 10-minute walk from Cabo Roig's strip, with its selection of pubs and restaurants, we can walk to Cabo Roig beach - although if we have a car we often nip to Campoamor, and we have great views from our solarium. Our neighbours are mainly Irish, but we have Spanish below us and there are French in the road too. We did notice when we were there this summer how many Spaniards come to the area for their summer holiday too."
Other highlights of Orihuela Costa are the proximity of four quality golf courses in the Villamartín area, three within five minutes of each other, and the landmark shopping centre Zenia Boulevard, which sells everything from international designer brands to household goods.
It's where many new homeowners find themselves when adding the finishing touches to their property, or they fancy a break from the beach.

"Close to the action - perfect for my seven kids!"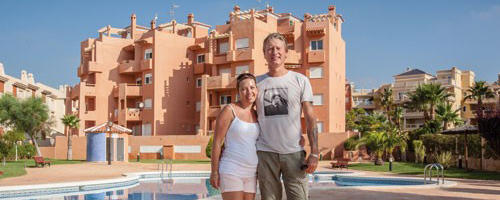 Brian and Angela Butterworth are looking forward to impromptu holidays on the Costa Blanca, after snapping up an apartment in Cabo Roig in July. The Essex couple, who run The Lodge Country Inn near Battlesbridge, have bought a two-bedroom duplex apartment at the new seafront Las Calitas complex.
Their property cost them €160,000 (£135,600), excluding taxes and fees, and comes with underground parking, storage and access to a communal pool and garden area.
"We used to have a villa down the road in La Zenia, but sold that a couple of years ago," said Brian. "This time we wanted a convenient lock-up-and-leave pad we can use for holidays. I have seven children, ranging in age from three to 30, so it'll get a lot of use from them too. I'm also looking at getting another boat, which I would keep in one of the marinas here. Buying was easy through HomeEspaña - we completed three weeks after putting down our deposit."
Ongoing costs for their property will include annual council tax of around €150 and the complex's annual community fees of €1,220.
Getting out to Spain is a cinch for Brian and Angela, now that easyJet flies to Alicante from Southend. "We're just 15-20 minutes from Southend airport, making last-minute weekend breaks a real possibility," says Brian.