The Silver Coast
Portugal's Silver Coast, a stretch of spectacular coastline that runs for approx 150 km north of Lisbon up towards the fishing town of Nazare, is now a popular second home destination for British buyers in search of 'the real Portugal', since this area offers exceptional value in terms of property prices, a low cost of living and a growing expat community.
It took off with overseas buyers in 1998/99 when the A8 motorway made the journey from Lisbon to the medieval walled village of Obidos (the most well-known town) a neat 45-50 minutes.
Buyers who end up there have often rejected the Algarve first, finding this "newer" area more authentic even though the infrastructure and expat community is not so highly evolved.
The climate might not be quite so good - on the Silver Coast the Atlantic currents cool the summer heat (temperatures are 5-7 degrees lower than the Algarve) but does provide spectacular waves for surfing and water sports on the long sandy beaches.
These days it's as well-served by flights as Faro - it's reached by fast motorway in under 70 minutes from either Porto or Lisbon airports, (the region is a three hour drive from Faro airport - with TAP, BA, Easyjet and Ryanair flights too choose from.
Obidos aside, highlights of the area include the bustling market town of Caldas da Rainha, the go-to surfing destinations of Baleal and Peniche, and the beautiful Obidos lagoon, with its wide safe sandy beaches, good value fish restaurants and watersports.
Patchworked with fields, small farms, vineyards, windmills and fruit trees, this region is traditionally home to prosperous small farmers cultivating soft fruits, grapes, melons, pumpkins and maize, who use the regional town of Caldas da Rainha as their main centre for business and shopping.
Lunch for two might be nearer €15 instead of the €25 more typically found on the Algarve.
Dot Norton, of Portugal Friends, the area's best-known networking group (portugalfriends.com), says: "We now have more than 500 people in our network, with new businesses and new residents joining all the time. Our members are well informed people living locally who can provide other members with support in the early stages of buying a new home here or building a new life".
What does the Silver Coast offer property buyers?
There is less supply in this area than in the Algarve, and it's generally about 20 per cent cheaper - but that's a very broad brushstroke.
The best-known resort on the Silver Coast lies on the southern shores of the Obidos lagoon. Praia D'El Rey Golf & Beach Resort - the region's highest quality resort - attracts over 250,000 visitors a year to its golf course and five star Marriott hotel and has over 1,000 property owners.
Prices there have fallen off 20 per cent since 2008 - homes range from €250,000 to €1m - with good rental returns and a steady resales market. This compares with one-off beach houses in the region (without the resort amenities and thus harder to rent) where prices have fallen by 30 per cent.
Two other 18-hole golf courses are next door to Praia D'El Rey, at the Bom Sucesso Design Resort (bomsucesso.net) - where prices have fallen 30 per cent - and the Royal Obidos Golf Resort (royalobidos.com), and seven other 18 hole courses others are all within 30 minutes drive.
Also worth a look are the well-priced properties to be found on the northern shores of the Obidos lagoon, where Caldas da Rainha and the nearby beach towns of Salir do Porto and Foz do Arelho offer spectacular views across the lagoon and out across the Atlantic. Here you can still find homes at very sensible prices with beautiful views of the lagoon, and fish, sail and birdwatch to your heart's content.
If you want to be in the centre of things, in Caldas town itself there are a range of newly built and older apartments for sale, starting from €70,000 for a two-bedroom apartment.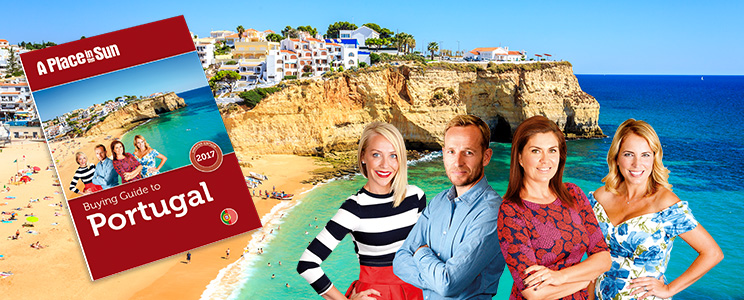 download our free guide to buying a property in Portugal
If it's countryside views you want, and rural peace, then you can buy a countryside ruin near Caldas da Rainha for restoration for as little as €35,000 - 30 per cent less than in the Algarve - although you'd need to spend the same again on renovating.
Kayt Ziadi, of LoKayt Portugal Properties says: "Foreign buyers are seeking properties in semi-rural locations offering peace and quiet - and to take advantage of the recently introduced tax benefits. I highly recommend the inland costal areas where the views are phenomenal and the prices are reasonable."
And if its world-class views you're after, then properties on the hills over looking the Obidos lagoon and Foz do Arelho are worth exploring.
Steve Bennett from Buy Portugal (buyportugal.com) says: "Many investors are keen to generate useful additional income from holiday rentals so property in and around the major holiday destinations, such as Foz do Arelho and Sao Martinho do Porto, command slightly higher prices."
---
Case Study: Bill and Carole Watson in Caldas da Rainha
Bill Watson, 66, and his wife Carole, 62, discovered the Caldas da Rainha area a few years ago. As they approached retirement the Glasgow couple considered France, but then started exploring northern Portugal, around Porto, Coimbra and Fatima.
"We wanted to be near a motorway, and close to beaches and a large town," says Bill. "We narrowed our search down to the villages around Caldas da Rainha, and we fell in love with the views and the village of Chao da Parada."
They bought the property and moved to Portugal in 2007.The house was already split into two apartments, one with three bedrooms, the other with two - needing extensive renovation.
All this space was perfect to accommodate family visits, since Bill and Carole have three children and several grandchildren between them.
A keen handyman, Bill was determined to partly renovate the property himself - which, though tiring, had one unexpected benefit. "I've made lots of new friends in the local DIY stores!" he says. "It's amazing how many foreigners are in the area now doing up houses - I reckon it's doubled in the last two years."
click to search property on the silver coast
The Algarve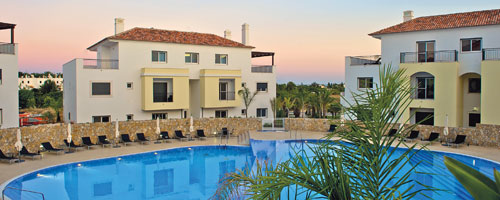 One of Europe's top golfing destinations, with over thirty 18 hole courses dotted along its 120 km length, the Algarve is equally famous for its sweeping, golden-sand beaches and picturesque rocky coves.
With 300 days of sunshine a year, stunning beaches, excellent restaurants and top-class golf courses to boot, it's no wonder British golfers and second home owners still flock to the Algarve (while those who want rural peace and less golf prefer the Silver Coast).
A short 2-hour flight from the UK, the region's accessibility is part of its appeal, along with its outstanding natural beauty and colourful culture.
Temperatures are approx 6-8 degrees higher year round than in the Silver Coast, although its cost of living is about 20 per cent more expensive.
You get less bang for your buck in property terms, but you get all the top infastructure and services, and the Portuguese government is investing millions trying to turn the Algarve into the "California of Europe" offering the over-fifties a great quality of life for a fraction of the cost in Northern Europe.
Prices have fallen by up to 40 per cent on the Algarve since the onset of the downturn, although prices have held better in the prime locations with the top resorts, that are micromarkets in themselves: plots have recently been released at Quinta do Lago for €2m, but tired, outdated properties will have come down in price.
But after a slow 2012 Robert Edwards, of well-established Algarve agents Cerro Novo (cerronovo.com), sees an upturn on the way. "There are more sales going through. Property prices are firming up as supply drops in high demand areas near the beaches and key coastal towns."
John Carter of Portugal Dream Homes (portugaldreamhomes.co.uk) agrees. "We are seeing a substantial increase in enquiries compared to this time last year and the number of actual visitors on viewing trips has increased dramatically."
What does the Algarve offer property buyers?
So why are buyers finally taking the plunge? Peter Rexstrew from currency experts Premier FX (premfx.com) says: "In 2012 the euro weakened, meaning for British buyers property in Portugal was excellent value. In 2013 the euro is becoming a little stronger, but there are still some excellent properties out there that are good long-term investments, when you consider the fairly buoyant rental market and the lifestyle benefits."
While the coastline around Faro airport and down to Albufeira is characterised by long wide sandy beaches, lagoons and nature reserves, west of Albufeira towards Portimao and Lagos the coastline is studded with sandstone coves, shorter beaches and the green landscapes of vineyards and fields.
The resorts and villages on the Algarve coast range from the laid-back small beach towns in the west at Burgau and Salema to the historic towns of Faro, Albufeira [a rental hotspot], Silves and Lagos, where many of the locals live.
The marinas at Vilamoura and Lagos offer a lively nightlife of bars and restaurants, while the millionaires playground of Quinta do Lago and Vale do Lobo offers a low key and exclusive lifestyle of shops, international restaurants and quiet bars.
Along the coast there are excellent restaurants serving freshly-caught fish, grilled meats and local country cooking, while culture vultures have plenty to explore, from the Roman ruins dating back to 1 AD at Vilamoura to the ancient ducal palace at Estoi, near Faro, now a government pousada, and the medieval castle at Silves.
Year-round sunshine and mild winters mean you can enjoy your home there, with the Atlantic sparkling through fragrant olive and pine trees, all year round, although the most favourable months are February-June and September-November.
David Rowat of PortugalProperty.com points to the hotspot of Vilamoura.
"In terms of proximity to the airport, the local amenities and the golf, the central Algarve region around Vilamoura is still the most popular with our buyers. Plus there is real value for money at the moment - you can pick up a large modern villa with frontline golf views for €600,000."
Dominic Murch of the Old Village Property Centre in Vilamoura (oldvillageproperty.com) agrees - "Vilamoura continues to be popular for year-round rentals, due to the amenities and the golf courses".
---
Case Study: Steve and Vicky Carr-Rickwood in Vilamoura
Steve and Vicky Carr-Rickwood are now the proud owners of a villa in Vale de Judeu, near Vilamoura. Steve, 49, and Vicky, 44, had been on the look-out for a bargain holiday home for many years. Vicky, a property developer, and Steve who is an aero engineer at Rolls Royce in Derbyshire, had spotted the villa on the internet, but before they could act it had been reserved and Vicky couldn't believe she had been pipped at the post.
"But then, a few days later the agents called me back to say that the sale had fallen through and we had another opportunity to buy it. We jumped on a plane to Faro and met an agent for portugalproperty.com, who joked that it wasn't very often he sells the same villa twice in a week," says Vicky.
Vicky and Steve had a strict budget of €250,000, and for that they got a three-bedroom detached villa with a pool two minutes drive from Vilamoura marina. They love their new lifestyle. "For us, living in the Algarve seems it was meant to be," says Vicky.