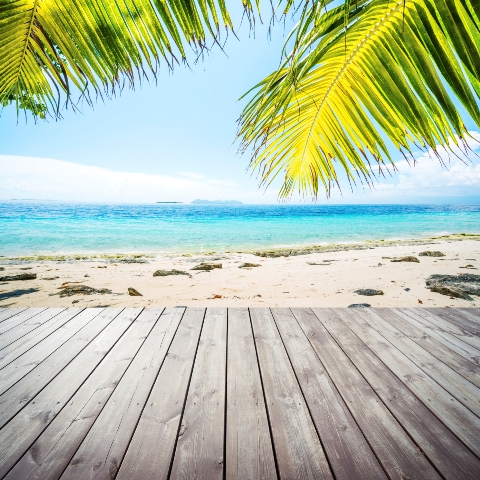 For Jenny and Dave Cooper, last Christmas was an exciting mix of the traditional and exotic. Like many of us, they tucked into roast turkey, but when they did they were in shorts and flip-flops and a stone's throw from the beach.
Since 2007 the Coopers have lived in El Gouna, a self-contained resort 25 kilometres north of Hurghada on the Red Sea. Part of the 10,000-plus international population, the couple live in an apartment in the heart of the resort, an area known as Downtown, or Kafr El Gouna.

"In our complex of 16 homes, our neighbours are Egyptian, English, Russian, Thai, Brazilian, German and Italian," says Jenny. "This Christmas, eight of us – six English, a Russian and Thai – decided to have a traditional lunch of roast turkey and all the trimmings. Everything was locally produced, except for the Paxo, parsnips and mincemeat!"

Like many "goonies" (El Gouna residents or regulars to the resort), it was diving that first brought Jenny and Dave, both in their fifties and originally from Yarmouth, to El Gouna in 1998. A few years later they returned, by then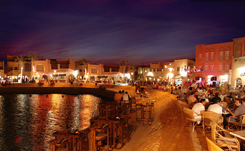 keen kitesurfers, and spent four months looking after a friend's kitesurfing school.
"Spending the whole summer in Egypt made us realise we could live abroad permanently. We had considered Malta and France previously but we decided El Gouna was ideal for us," says Jenny. "We still keep a home in the UK, on Portland in Dorset, another coastal beauty spot and a nice contrast to Egypt." While Dave and Jenny are both retired from full-time jobs, Dave does freelance photography (www.redseamonkeys.com) and Jenny some writing.
The Coopers bought their apartment, a resale purchase, in 2007. Since then they have completely renovated the property, which now includes two double bedrooms, an open-plan kitchen/living/dining area, a new bathroom, new floors, vaulted ceilings, underfloor speaker cables and two terraces.
The couple pay a quarterly service charge of around EG£600 (£66), which pays for their rubbish collection, internal phone calls and pest control.
For day-to-day living, Jenny reveals that one way residents can save money is with an El Gouna Owner's Card: "With it you get discounts at various hotels, shops, bars and restaurants."
And for moving around, Jenny and Dave invested in a three-wheeler tuk-tuk – most people use the minibuses or taxis. "We had it shipped directly from India," says Jenny. "It's a great way to get around the resort."

Not just any old resort
The Coopers are just two out of a large crowd of British and international owners in El Gouna. (A good place to meet others is at the Smuggler's bar behind the marina – it's run by a Brit, Richard, with the help of fellow
expat Georgina behind the bar).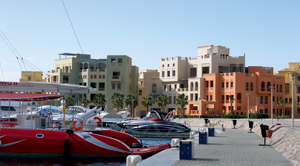 So what attracts them, besides the year-round sun and water sports? In short, it's that El Gouna is more than a holiday resort. It's a self-sufficient community built around man-made lagoons (it's often called the "Venice of the Red Sea"), with all the amenities you need for day-to-day living combined with facilities that make it a world-class tourist destination. Practical amenities include a hospital (with decompression chamber), library, international school, a church and mosque, and a whole range of shops, bars and restaurants.
The leisure facilities include marinas, an 18-hole golf course (with another under construction) and golf clubhouse with Angsana Spa (www.angsanaspa.com), beaches and all types of water sports, with diving and kitesurfing especially popular (see www.orange-elgouna.com). Holidaymakers have 14 hotels to choose from, including 5-star resort hotels, such as the Steigenberger.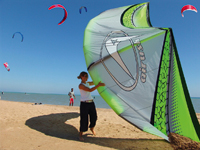 What's unusual compared with most other resorts around the world is that El Gouna is essentially a private town – that's to say it's built on land owned by its creator, Orascom Development, which also controls the town's communal infrastructure and services. Orascom also retains some control over its real estate market and while private resale transactions can take place, Orascom must be made aware of them. Some may find this a bit "big brother" but it has clear benefits.
"People buy in El Gouna with the full knowledge that it is owned and run by one company," comments Edward Hill, International sales and marketing director at Ancient Sands, a new phase that Orascom is developing with IFB Resorts and which will include a second golf course.
"They take all the management, planning and maintenance decisions, and for that reason there are proper and rigidly enforced building restrictions in place. There are no corrupt mayors and the buildings, unlike the haphazard 'community of owners' system in, for example, Spain, are professionally run."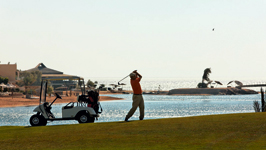 Another attraction for buying in Egypt is the low purchase tax. "A paltry $1,400 per property regardless of size," adds Hill. "In the Eurozone the cost of buying a property can be as much as 11-12 per cent of the purchase price. Also, ongoing taxation on a second home in Spain, Portugal and France are absurdly high and make many owners hate their properties as all they seem to do is sort out bills, visit notaries and pay out when they should be enjoying their holidays."
Certainly for the Coopers, less hassle looking after their property and saving money on living costs leaves them more time to do the things they love best – kitesurfing and, for Dave, taking photos. Not a bad life, really.

Where to buy in El Gouna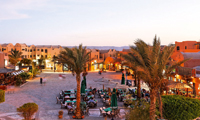 Kafr (Downtown) and Abu Tig marina
If you want to be close to the shops and nightlife look for a resale apartment or villa in Downtown or around the main (south) basin of Abu Tig marina, where a one-bedroom property overlooking the water will cost around $200K (£193K).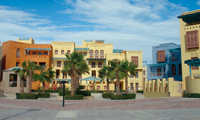 New Marina
The Abu Tig marina has recently been extended to include a second (north) basin able to accommodate mega yachts of up to 60 metres. Around this new section are apartments, starting at around $500K (£323K) for a two-bedroom property. These come with a kitchen and bathroom. This area of the marina is purely residential.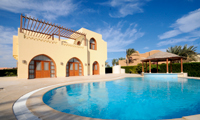 Golf
The Golf Villas, which look across lagoons to El Gouna's golf course combine Arab and modern architecture. This three-bed, three-bath villa is on the market for $850K (£548K). Golf apartments are also available – expect to pay around $200K (£129K) for a two-bed property.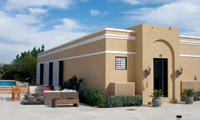 The Hill
This is arguably the most exclusive residential area of El Gouna and consists of chic villas, designed by Italian architect Alfredo Freda, on waterside plots and with typical purchase prices of around $1million (£645K). Apartments are available too. All have views of the sea on one side and a panorama of El Gouna on the other. Pictured is an example of a villa on The Hill, so not for sale.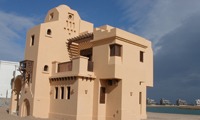 Fanadir Lagoon
Another exclusive residential area taking shape around a set of lagoons directly in front of Ancient Sands and its golf course, Fanadir has a choice of large villas on waterside plots. The pictured property is a 252-square-metre, three-bed, three-bath villa on the market for $1.135million (£732K).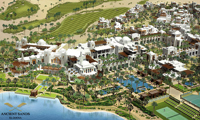 Ancient Sands
The focal point of this mini resort will be the Ocean Heights Hilltop Village, which will include a main square, restaurants, bars and shops. Here apartments start from £120K for a studio, £181K for a one-bed and £286K for a two-bed, and two-bed townhouses from £365K. Around the Karl Litten championship golf course and overlooking lagoons will be villas priced at £386K and £436,875. Other facilities at Ancient Sands, the bulk of which is due to open in December 2012, will include a golf clubhouse and pro-shop, a 5-star hotel, spa and wellness centre, gym and fitness centre, kids club and play area swimming pools and tennis academy. Buyers will be able to choose from a selection of payment plans and opt into a rental management programme.

www.orascomrealestate.com, www.ancientsandsresort.com



Words: Richard Way