Florida Webinars
Over six sessions focusing on everything you need to know about purchasing your next Florida property and making the move to Florida, we speak to a range of experts on topics such as the buying process, securing a mortgage, area guides, estate agents, and many more!
This list also includes a programme of webinars hosted as part as A Place in the Sun Digital Event 2020's Florida Masterclass explores the key issues surrounding buying and owning property in Florida and also covers what you need to consider if planning a permanent move. 
If you would like to watch our webinars live and have the chance to ask your questions to our panels, register for an upcoming webinar at aplaceinthesun.com/webinars
Property hunting in Florida with Homes of America Realty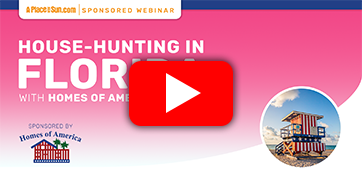 Broadcast: March 09, 2021
Join us as we chat with Howard Thorne, an experienced and licensed broker with Homes of America Realty and Management, as he shares a selection of different properties currently on the central Florida market with A Place in the Sun Editor, Liz Rowlinson.
Mortgage availability for Florida Property
Broadcast: September 20, 2020
Join us for the inside track on the latest loan-to-value deals, qualification criteria and application process.
How to buy property in Florida
Broadcast: September 20, 2020
Meet the agents selling sunshine and understand key differences between the search and purchase processes in the US and the UK.
Destination Florida
Broadcast: September 20, 2020
An overview of the most popular destinations to ensure you know your gulf coast from your space coast - and all points in between.
Currency transfer explained
Broadcast: September 20, 2020
Key strategies to save yourself money when buying or selling your Florida home.
Owning and letting a Florida home
Broadcast: September 20, 2020
Managing your holiday home - lettings, costs and responsibilities explained.
Where and what to buy in Florida
Broadcast: September 09, 2020
We take a virtual tour of the Sunshine State to see the locations that float your boat and get the latest information on the property market. If you are looking for a property in Florida, head along to the event and book a private consultation with any of our exhibitors...
Ask the Experts Buying in Florida
Broadcast: June 24, 2020
From the world-famous theme parks and holiday communities of Orlando to the white beaches and resorts of its Gulf and Atlantic coasts, Florida is one of the world's most exciting and busiest tourist destinations.
Ask the Experts The Florida property market how and where to buy
Broadcast: May 18, 2020
Join our panel of experts to discuss all things Florida property from the buying process through to visas.