Free Downloadable Guide on How & Where to Buy a
Property in Florida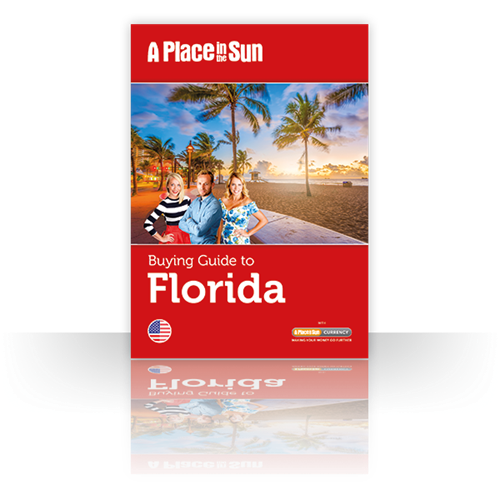 Florida, otherwise referred to the Sunshine State in the US has many appeals for tourists and homeowners alike. Year-round sunshine, Disneyworld, Universal Studios and most importantly, moderate property prices with a big all-American return. It's no wonder why the area is popular with house hunters from the other side of the Atlantic and is currently seventh in our 'Top 10 Best Places to Buy Abroad' index.
However, if you're looking to buy a house, villa or any other type of property in Florida, this requires much thought and consideration. The Florida real estate process works much differently to that in the UK and Europe, meaning you should have the correct guidance and information throughout the process.
Therefore, we've produced and annually update our FREE and independently-researched Florida property guide, where you can find information on:
An up to date report on the current property market in Florida
A run-down of the popular areas to find a property for sale in Florida, including Orlando, Davenport, Kissimmee, Reunion, Sarasota and Hains City
Success stories from individuals who bought holiday home properties in Florida and/or moved there for good
How to effectively begin your property search in Florida
Five things that every Florida property buyer should ask
Essential tax checklist for buying in the region
Healthcare, education and visas in Florida
Our Florida property guide also features insights from the current and past presenters of the popular TV show, A Place in the Sun,  Jasmine Harman, Jonnie Irwin and Laura Hamilton. They'll be on hand to share their experiences of helping aspiring house hunters just like yourselves.
To grab your free digital copy, all you need to do is fill out the form on the right-hand side of your screen!
Enjoy!
Other useful links and resources:
SEARCH: Find a property for sale in Florida
READ: Articles and news stories on buying in Florida
MEET: Florida property agents and experts at our next Live show