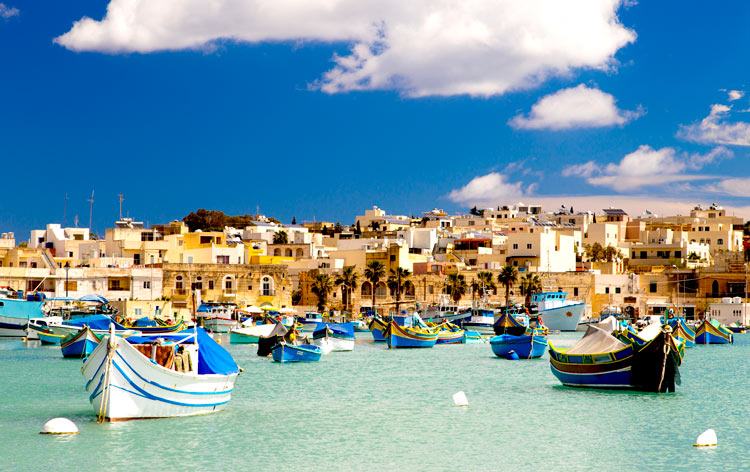 Malta is handily placed between North Africa, the Middle East and southern Europe and is becoming increasingly fashionable.
Traditionally a small, plucky offshoot of the British Empire, this affluent island has got the climate, regular year-round flights, buckets of culture and world-class amenities. Combined with excellent investment opportunities, top quality new developments and "houses of character", it's unsurprising that Malta remains a firm fixture in our annual list of Top Ten Places to Buy.
In a survey entitled 'The Best and Worst places for expats in 2016' by Expat Insider, Malta ranked second-best in the world for foreigners to live. Many British buyers looking for retirement in the sun would agree Malta - and its sister island Gozo - are compact and easy to navigate with a residual Britishness:  English is widely spoken.
Malta has some tempting residence programmes including the Malta Retirement Plan and the Malta Residence Programme, both offering EU nationals the opportunity to take up residence in Malta and enjoy a tax rate of 15 per cent.
Where to Buy Property in Malta
Malta's major hotspot is arguably the hub of St Julian's and Sliema and the adjoining "Three Cities" off the Grand Harbour  (Vittoriosa, Senglea and Cospicua) and the capital Valetta.
This whole waterfront area is the sought-after and cosmopolitan place to live, with all amenities such as shopping, bars, cafes and nightlife along the seafront. Prices vary depending on the property's proximity to the seafront, but a one-bedroom apartment here is likely to be €150,000 plus, and a two-bedroom unit nearer €200,000. Rental returns in this hub also tend to be the best because they are close to both the commercial and historic areas loved by tourists.
In this area there are also two landmark new developments on historic waterfront sites that have proved very popular with buyers: Tigne Pointe and Fort Cambridge.
Valetta is a lovely city – it's going to be European City of Culture for 2018 – and you can buy a small apartment in one of the older apartment blocks for less than €150,000, although there is a complete range of prices, running up to converted palazzos nearer €1 million. Some people find this area a little too urban or congested so for a laid-back holiday atmosphere you may prefer heading to a seaside resort – or an inland town or village. 
A couple of miles east is the seaside town of Marsascala, set around a gorgeous inlet and offering apartments from around €100,000. Further down the cost is the pretty fishing village of Marsaxlokk, where some of the best seafood restaurants on the island can be found.
Heading west instead along the northern coast of Malta is the resort of Mellieha, popular with every kind of buyer, including British holidaymakers and retirees, because of its lovely beaches, but also its picturesque tranquility that's a reminder of old-style Malta. It's also handily the point from which regular ferries run across to Gozo.
There's a good choice of affordable apartments there, both older properties and a couple of new developments. Nice, entry-level apartments go for between €150,000 and €200,000. Nearby Bugibba and St Paul's Bay are also quite popular and offer coastal apartments for under €130,000.
Once you head inland from the northern part of the island where the bulk of the island's population reside then there's a distinctly sleepier and rural feel. There are plenty of lovely Maltese "houses of character" in the villages and towns – often not the most affordable option due to their rarity value – but check out Mgarr, Zebbug, Siggiewi and little Qrendi where entry level for one is around €175,000.
The fact that the mainland Maltese buy weekend homes on the neighbouring island of Gozo should be an indication of the laid-back charm of Malta's smaller neighbour. A short ferry ride from the north coast, Gozo offers clean air and a traditional rustic way of life along with some of the Mediterranean's best diving. Popular areas of Gozo include Marsalforn, Xlendi and the historic capital Victoria.
Like Malta, Gozo's property offering is no longer limited to centuries-old properties, tucked away in sleepy farming villages. A handful of new projects combine the island's stunning scenery with the convenience of modern, highly spec'ed apartments, including the new Fort Chambray renovation, an SDA overlooking the harbour at Mgarr (not be confused with the Mgarr in Malta). 
How to Buy Property in Malta 
Under Maltese Law, foreign nationals are allowed to purchase properties on various counts. If purchased as a holiday or second home, the property must satisfy a certain minimum value which changes periodically and which currently stands as: €110,469 for apartments and maisonettes and €184,064 for villas, townhouses and other property.
These thresholds do not apply, however, to either European Union citizens buying the property as their main residence i.e. living there permanently, or if the property is located in a Special Designated Areas (SDAs).
Once you find the perfect property and engage an (independent) lawyer, the preliminary contract, called a convenium, is signed and you pay a 10 per cent deposit. This is binding on both parties. While your lawyer is doing the necessary title and credit checks, the notary will be checking your status.
If you are from overseas and the property will not be your main residence, or is outside an SDA, he or she will apply for permission from the Ministry of Finance.
When all permissions and checks are in place you sign the final contract and pay the balance of the asking price - along with all taxes and fees. This whole process should not take longer than three months.
Buyers should budget for around 5 per cent stamp duty, 1 to 3 per cent notarial fee and a little more for legal fees and searches etc.
When buying a new property, you'll need to factor in the cost of a new kitchen too, as in Malta they're usually not included unless the property is a resale.