Interactive Map of Italian Regions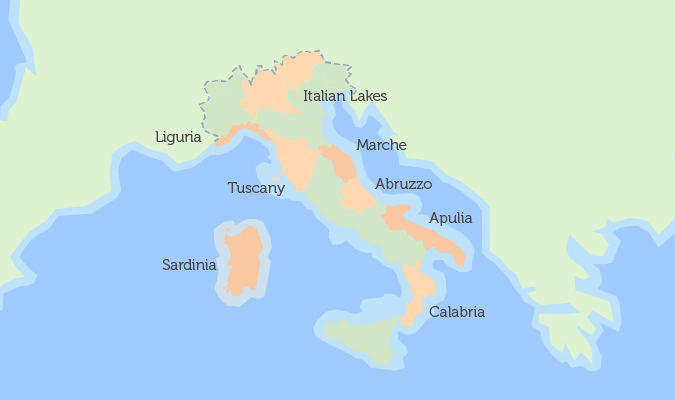 Where Should You Buy Property in Italy?

If you have decided that you would like to own a property in Italy, it can be difficult to narrow down the huge variety of culture, attractions and lifestyle to fit your budget.

That's where this interactive guide to Italy comes in. We help you to compare the most popular areas of Italy from North to South - exploring what's on offer for property hunters in each region.

To begin just click your the area of choice on the map above

Sardinia - the Family Friendly One

Along with Sicily, Elba and Capri, Sardinia is one of Italy's fashionable islands. It is a wonderfully relaxed summer holiday location and combines superb beaches with amazingly turquoise blue waters. In fact the most exclusive part, the Costa Smeralda, or 'Emerald Coast', is a magnet for the super-rich and their yachts every summer, although the rest of the island remains charmingly rustic.

A popular second-home location since the 1960s with the international jet set, and very popular with Italians (who call it Sardegna), it has been attracting an ever wider range on nationalities and has properties to suit all budgets. Historically viewed as a slightly "safer" investment option than the other major Italian island, Sicily, it is also well served by airlines to its three international airports, Alghero and Olbia (in the north) and Cagliari in the south - plus several more private airfields.

The Sardinian lifestyle is hard to beat - wonderful local cuisine, great wineries to visit, a mountainous green interior to explore and some historic towns (Alghero and Cagliari are both worth a visit). Prices remain refreshingly affordable outside the Costa Smeralda.

What is the biggest selling point?

Superb family-friendly beaches and a feeling of complete escape - yet easy to reach.

Who will love Sardinia?

Celebrities, yachties and people on all sorts of budgets who love spending their summers in Italy (but don't need all the art and culture of many of the Italian hot spots).

What can you buy?

Starting at the very top you can buy a multi-million euro waterfront villa in Porto Cervo, the hub of the Costa Smeralda. Prices here can compare with parts of the Cote d'Azur or Portofino. However, drive 10 minutes away from this glitzy hub and prices drop and you can find a villa for a fraction of the cost - say €750,000 for a five-bed villa, or €300,000 to €400,000 for a smaller one. Sea views always add a premium of course.

The west coast is very popular, especially around Alghero for the easy access, and also Villasimius in the south-east. In the latter you can buy a large new villa for €800,000 but 20 minutes inland in pretty villages such as Olia Speciosa and Castiadas, prices start from €200,000.

Another ten minutes inland and the prices drop to €150,000. There are plenty of rundown little farmhouses or modern apartments across the island for around €200,000. For great value, the lovely little town of Valledoria is worth a look, or the Costa Paradiso.

The capital Cagliari is best for year-round living, and also handy for the airport. Apartments in its historical centre will cost more than modern ones on the outskirts.

Liguria - the Chic One

Tucked between the glamorous Cote d'Azur and Tuscany in a boomerang around the Mediterranean Sea, Liguria is a stunning little part of Italy. With Monaco at its western end and the fashionable Italian beach resort of Forte dei Marmi close to its eastern tip, it is also highly popular for its accessibility. Easily reached from Nice, Genoa, Pisa or Florence airports, it has been a holiday area for the rich and famous for over a century.

The chic resort of Portofino with its picturesque harbour of ice-cream coloured homes is at the heart of a stretch that is known as the Italian Riviera, but other famous spots are San Remo, Imperia, Lerici and Ventimiglia. The most rugged and dramatic stretches of Liguria is the "Cinque Terre", a UNESCO World Heritage site of five ancient fishing villages. It has more Blue Flag beaches than any other Italian regions.

Backed by mountains, the whole coastline offers Roman ruins, Renaissance buildings and easy access to ski resorts as well as beaches. Belle Époque beachfront villas add glamour, as do the speedboats stopping by from nearby Monaco and Cannes.

What's so special about Liguria?

It's stylish, easy to reach, and more affordable than the French Riviera next door.

Who does it suit?

Sporty types who want to bike, ski and enjoy the beach, glamour seekers who want a summer playground that is easier to reach than Puglia or Sardinia. The French like it for its proximity.

What and where to buy?

The region's centre, Genoa, is at the centre of the region, and well worth a visit in itself. Western Liguria is popular with Italian buyers as well as UK, French and also Russian and Middle Eastern investors in recent years.

You can often find ideal lock-and-leave apartments within elegant Belle Epoque villas that have been converted - something you won't find in more modern or rustic beach locations within Italy.

In Eastern Liguria prices tend to be a bit less than the west and the popular spots are San Remo and Imperia. In the historic centre of San Remo you can get a studio apartment for a rustic little house for €50,000 to €100,000 or a property with a little more period charm for nearer €150,000.

Other popular areas are Bordighera where you might find a larger property with a garden for €250,000 (or a little one-bedroom house for €150,000 if you are lucky) but you'll pay considerably more for one with a sea view. In one of the elegant period buildings mentioned above, a large one-bed apartment with access to shared pool and concierge might be around €450,000. The nearby areas of Ventimiglia and Ospedaletti are also very sought-after.

Prices drop obviously if you go inland but the coast is Liguria's finest asset.

Italian Lakes - the Romantic One

The Italian lakes occupying the northern tranche of Italy where the Alps dip down towards Milan and Bergamo remain as popular as ever for international second-home owners. Not just beautifully tranquil lakes edged with elegant villas beneath dramatic peaks, they are also ideally positioned for access to ski resorts such as St Moritz, the shopping and cafe life of Milan and three well-served airports.

The most famous lakes are Lake Como, Lake Maggiore and Lake Garda, whilst Lake Lugano is shared with Switzerland, and the smaller ones are Lake Iseo and Lake Orta. On the lakes themselves there are watersports of various kinds (especially on Garda), along with elegant lakeside towns, Belle Epoque mansions, little islands and also beautiful gardens (Como is the best for these).

Property prices between the various lakes but also more drastically between locations on the same lake, and any property hunter needs to understand this. In the same way, the lakes all have their particular charms so it's best to spend a good while exploring them before you pick your spot (what a lovely trip that would be).

What is the biggest selling point?

They offer a fabulous quality of life and stunning scenery easily accessed for weekends from Milan's airports.

Who will love the Italian Lakes?

George Clooney, the international jet set in need of R&R, wealthy Milanese but also active types who love walking, skiing, biking and watersports.

What can you buy?

Starting with the lake that has grabbed all the headlines during the last few years due to the presence of one particular Hollywood actor mentioned above, on Lake Como you can really spend anything from €50,000 to €5 million plus.

For a lakefront villa like George on the sunny and sought-after west leg of Como, you'll pay even more, but head away from the lake (lake views cost more) or head up lake Como to the wilder north and €200,000 will give you a good choice of small apartments. In the north a lovely detached villa with lake views can cost much less than €1 million.

On Lake Maggiore, prices don't vary that much from Lake Como for all those elegant lakefront houses but, again, prices vary with access (south is better) and are lower on the east side of the lake (less sun). Entry level is again around €100,000 for a studio apartment.

eanwhile on Lake Garda and Iseobuildings tend to be more modern and are a completely different market to Como/Maggiore. Iseo is better for lower budgets (you will get an apartment with good lake views for €200,000); whilst Orta is small but not less expensive for being less well-known. On the Swiss side of Lake Lugano there will be restrictions on ownership (and steep prices).

Tuscany - the Favourite

There is perhaps no other region of Italy that needs so little introduction for the international market as Tuscany, or Toscana. Rolling hills covered in vineyards, beautiful honey coloured farmhouses, cypress trees and beautiful little medieval hill-top towns are all part of the quintessential landscape that offers the "dolce vita". Then there are its elegant Renaissance cities and towns: Florence, Pisa, Siena, Arezzo to name but four of the most popular, all with breath-taking architecture.

But that is only part of Tuscany, if the most sought-after tranche of the central Italian region. Further north, around Lucca and above, the terrain gets a bit wilder and more dramatic (whilst property prices tend to drop).

Or there's the Tuscan coast that is tremendously fashionable amongst Italians - from the summer playground of Forte de Marmi to the mini 'St Tropez' of Porto Santo Stefano and the historic island of Elba. You have also got national parks and ski resorts in the Apennines too.

Tuscany is still the most popular area for British buyers, despite interest growing in many other regions in recent years. It helps that the region is well-supplied with flights from the UK to the two international airports of Pisa and Florence.

What is the biggest selling point?

Beautiful rural scenery or hard to beat art, architecture and history or some might argue the superb food and wine.

Who will love Tuscany?

Art buffs, foodies, wine connoisseurs, celebrities such as Sting and Trudie Styler.

What can you buy?

The traditional Tuscan bolt-hole for many pioneering British buyers was a farmhouse surrounded by an olive grove and a few other fruit trees, and a swimming pool to cool down during those sun-drenched summers. This can cost anything from €800,000 to €8 million in popular parts of central/southern Tuscany in the "golden triangle" area that is close to Florence and many of the great Chianti wineries and towns. Here you can buy apartments in converted borgos or historic buildings that are geared up for lock up and go buyers and/or investors.

Drop outside this hot spot areas and you'll pay much less - for example, head up to far north-west to Lunigiana and you might get a three-bed converted farmhouse with a pool for €200,000. Close to Bagni di Lucca, a popular spa town, you might get a Tuscan townhouse with two or three bedrooms in need of TLC for not that much more than €100,000.

Prices there are about half of the "Chiantishire" area. On the coast prices rise again, as they do within cities - you might pay €300,000 for a one-bed apartment in central Florence, or double that for one near the famous Duomo cathedral.

Le Marche - the Rising Star

The verdant region of Le Marche in central Italy has never enjoyed the celebrity status of its neighbours Tuscany and Umbria, yet it is being slowly discovered by an increasing number of buyers who realise that it shares many of the same advantages.

Are you looking for lovely hilltop towns? Check out Urbino, the birthplace of Renaissance painter Raphael. Seek art and architecture? Go to Ascoli Piceno where the piazza is especially beautiful. And for a seaside town that ticks all the boxes, try Benedetto delTronto on the Adriatic Coast. Even the port town of Ancona oozes history with its lively little squares and boulevards.

Inland there are olives groves, vineyards, food festivals, and all of those great things that people seek in Tuscany - but the property prices are lower. There are also rugged, wilder landscapes that are not quite as gently rolling as the "Chiantishire" heartlands.

The region is served by flights from the UK to Ancona, Bologna and (until October 2016) Pescara airports. Florence is also only two hours away, or Perugia (Umbria) 90 minutes.

What is the biggest selling point?

In many ways it's a more affordable version of Tuscany or Umbria. Plenty of wrecks still ripe for renovation.

Who will love Le Marche?

Those who want to escape the crowds; Scandinavians (the coastline especially), anyone too poor to buy in Tuscany.

What can you buy?

You can get an apartment in the historic centre of a town for around €150,000, or above €500,000 for a palazzo type property. Both these types of property will rent out better than rural homes, as a general rule.

A quality restored farmhouse might be €250,000 to €600,000 - bear in mind that one with a swimming pool will help attract rentals. Around Ascoli Piceno a budget of €100,000 will offer a good choice of options - two-bedroom apartments, small houses or even those with four or five bedrooms that need work. €40,000 to €60,000 will get you a house in need of a lot of TLC in many rural areas.

By the coast, as ever, prices rise and Benedetto del Tronto you could get a one-bedroom apartment for less than €150,000, a small house for €350,000 to €400,000.

Abruzzo - the Affordable One

Often called the "green heart of Italy" the Abruzzo, or Abruzzi, is the region bordering the Adriatic east of Rome. It may not have the picture-postcode beauty of the Italian lakes or be as fashionable as Tuscany, but it is a dramatically beautiful region that should not be missed.

Not really viewed by Italians as part of either northern or southern Italy, this sparsely populated region with the Apennines running down its middle is in the main beautifully green with peaks and wild valleys, three national parks, nature reserves galore and dozens of medieval hilltop villages. Its national symbol is the brown bear that roams through the forests of the Gran Sasso national park.

The regional centre, L'Aquila, was badly damaged in an earthquake of 2009 (it is still being repaired) but there are many beautiful Renaissance and medieval cities that are within easy reach of ski resorts and the coast resorts around Pescara.

From the ski areas of Majelletta and Passo di Lanciano, you can view the Adriatic while whizzing down a red run - though it might be a bit cold for a dip. Just beware the Ryanair stops flying to Pescara at the end of October 2016 so you will need to fly (direct) from the UK to either Ancona or Rome after that.

What is the biggest selling point?

There are three major ones.Affordability of the property, stunning natural scenery and a feeling of going off the beaten track and away from the tourist trail.

Who will love Abruzzo?

Outdoorsy types who love the idea of a home near both lake and mountains, beach and miles of national parkland. Also those who love historic little hill-top villages steeped in tradition.

What can you buy?

There aren't many Italian regions where £30,000 to £50,000 can still go a long way but the Abruzzo and adjacent Molise (part of the Abruzzo until 1963) are two of the best choices. Hardly surprising it is very popular with British buyers right now! Villages around Chieti, Teramo and the historic town of L'Aquila are popular and there you can get a two-bedroom or three-bedroom property with change from €20,000.

As ever, location is key, and the very rural locations from which the locals are moving are the most affordable, and on the coast prices go up - a decent house with sea views towards Pescara will be nearer €200,000, in the lovely hilltop town of Citta Sant'Angelo for example. In the same town you might pay nearer €500,000 for a large apartment stylishly renovated. The hilltop town of Penne is also popular, a bit further inland.

In popular ski resorts such as Roccaraso prices are also higher because of de-mand from the local market - but within half an hour of them, they drop and you might get a three-bed detached house with great views for around €230,000.

Puglia - the Fashionable One

As far south as you can get, Puglia (or Apulia) in the heel of Italy has always been a rural and rustic slice region with sun-drenched summers, renowned olive oil and superb wine too. It's got historic cities, fabulous beaches and an increasing selection of fashionable boutique hotels and restaurants.

Whilst the south of Italy has historically been the "last" to have been discovered by international buyers, it is fast catching up as investors are attracted to its affordable property, superb climate, laid-back lifestyle and wonderful cuisine. A recent slew of celebrities have visited or bought homes - including our own Amanda Lamb - and it's much more popular than the other southern regions of next-door Basilicata and Calabria in the 'toe' of Italy.

Access is one thing that can put a few people off - especially if you detest Ryanair. The two main airports are Brindisi and Bari, both on the Adriatic coast side, and flights are not as frequent as those to Florence or Rome, for example.

What is its biggest selling point?

Homes close to the beach that are far more affordable than those in other Italian summer holiday hot spots such as the Costa Smeralda, Tuscan coast or Liguria.

Who will love Puglia?

Foodies, sun-worshippers and those seeking a farmhouse with plenty of land as a summer bolt-hole. Holiday rentals can be lucrative for investors because there is still a lack of nicely renovated, stylish homes compared to demand.

What can you buy?

The most traditionally Puglian property is either a trullo or a masseria. The former are those distinct-looking beehive shaped stone houses that are protected due to their historical importance, and especially dense around Alberobello. With huge thick walls, these homes are cool during the sweltering summers but are not easy or cheap to alter/extend. You might find one for around €50,000 that is rundown, or you might pay €200,000 plus for one that is nicely renovated.

Masserie are low-sling farmhouses, often around a central courtyard. They usually come with land such as olive groves so are not the cheapest property to buy, but can make stylish B&B properties. You can also get more modern villas on much smaller plots that you might pay €150,000 to €200,000 for.

The hot spots are around the historic city of Lecce (the 'Florence of the south'), and aroundOstuni, Martina Franca, CeglieMessapica and Francavilla Fontana - within a handy hour of Brindisi airport and the coast. Further south, around Nardo and Galatina are popular - some people suggest that the coastline is more attractive around the Mediterranean coast than between the airports on the Adriatic where there is some industry.

Calabria - the Rustic One

Part of the sun-drenched south of Italy, Calabria, like next-door Basilicata and Puglia over in the heel, has been discovered relatively late by mainstream international property hunters.

In the toe of Italy, just a slither of sea away from Sicily, this vast region of dramatic mountains, national parks and over 500 miles of coastline is still very authentic Italy.

Reaching a sweltering 40 degrees in summer, it is very popular with Italian sun-worshippers, who will be relaxing check by jowl in popular resorts such as Praia a Mare on the Tyrrhenian (west) coast's Riviera dei Cedri. Cliff-top Tropea, Pizzo and Capo Vaticano are three of Calabria's most well-known seaside resort, and this also translates into them being hot spots for second-home owners.

During the last boom, off-plan properties were marketed heavily in this region and there were a few issues with building licences - it is a very poor region with an active mafia so, as always, buyers must protect themselves by using an independent lawyer.

Calabria is reached by Ryanair flights to Lamezia Terme, or by indirect flights into Reggio Calabria, an attractive town with designer shopping. More flights from the UK would help buyers!

What's so special about Calabria?

Breath-taking coastal scenery, history, fabulous food - all the great advantages of southern Italy, with its wonderfully slow pace of life.

Who does it suit?

Sun-worshippers on a budget. It doesn't have the fashionable edge of Puglia, and the infrastructure can be poor in both, but is more affordable as a result.

What and where to buy?

Property buyers in Calabria tend to be Italian, British, American and a mix of other nationalities. The region attracts second-home owners rather than full-time relocators, and there are plenty of options for an affordable bolthole near the beach.

In Tropea, mentioned above, you might pay €100,000 for a small apartment in the historical centre with a partial view of the sea. One with more outdoor space might be €150,000; a detached villa will be double this.

In the popular fishing town area of Pizzo you can get a beachfront apartment for €300,000, or a simple one-bed unit within a beach club development for around €60,000. An advantage of Pizzo is that it is only 15 minutes from Lamezia Terme airport, which is directly north up the coast.

Scalea, on the northwest coast, is also a lovely coastal resort with a beautiful old town and long sandy beaches that is very popular with property-hunters. There your money does even further - you can get a studio apartment with sea view for less than €50,000 and a good choice of traditional and modern apartments if you have a budget of €150,000.