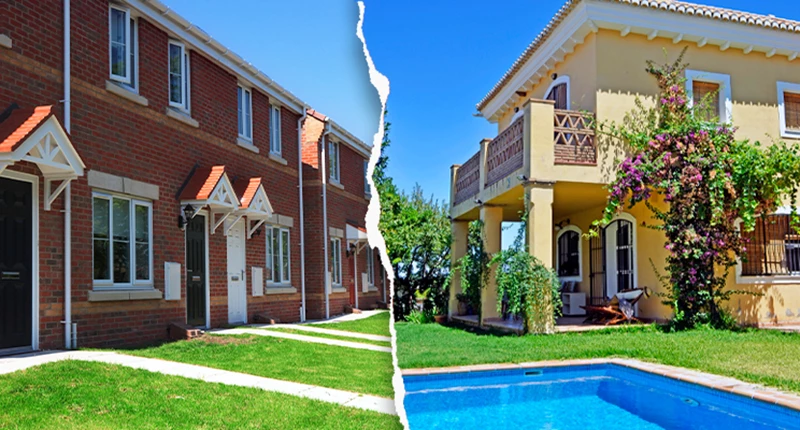 So after the pandemic induced property boom in the UK it's official – the average house price in the UK has reached its highest level ever: £360,101, according to Rightmove. Despite the economic uncertainty and the rising cost of living, houses just keep selling, it seems.
But with the average property only taking 33 days to sell – perhaps it is a better time to sell up – or downsize? - and get that place in the sun. But what does £360,000 buy you abroad? We have trawled our listings to find a delightful dozen. Which one would you go for?
Six-bedroom chateau in the Dordogne
, £357k
A castle with towers and turrets in the most popular area of France for British buyers - for the same price as a terraced house in Thamesmead. Enough said?
Three-bedroom
detached villa with private swimming pool, Mar
Menor
, £367k
Located in the really popular beach town of Alcazarez in the Murcia area of Spain; and this comes with €7k of furniture.
Five-bedroom house in
Tavira
, eastern Algarve, with separate apartment
, £366k
In this lovely historic Portuguese town, it's becoming unusual to get this much house for our budget, and there's potential to add value here, with Portugal so in vogue.
Five-bedroom stone villa in Crete (with yoga deck and outdoor shower)
, £316k
In a traditional village 10 minutes inland from the beach in the Chania area, this property has been beautifully renovated for tranquil living (and downward dogs).
Six-bedroom house in Vienne, with library, private
pool
and home office
, £366k
With high-speed internet too, could this charming traditional French house be better designed for remote working? This area of western France has been one to watch.
Dreamy Tuscan farmhouse in Lucca, with olive grove and vines
, £316k
Well under budget, you can live the (Italian) dream in this great property – look at that terrace – and the view! Lucca has been getting increasingly popular so a good place to invest.
New-build three-bedroom villa
with roof garden
in
popular area of
Peyia
, Cyprus
, £334k
Slick, new and stylish, this property in the Paphos area of western Cyprus would make a great rental too.
Four-bedroom detached
resort style
villa
in Davenport, Florida
, £331k
With kerb appeal and a walk-in closet this grabbed our attention – everything in this villa is just BIG. Has the usual Floridian style covered swimming pool and prominent double garage.
Spanish
duplex
penthouse
with sea views
, £358k
In Altea, a very popular area on the Northern Costa Blanca, this classy two-bedroom, two-bathroom apartment is larger than some houses.
Five-bedroom Italian stone-built country villa with swimming pool on eight acres
, £373k
Slightly over budget but this Abruzzo property even advertises that it is "price negotiable" (and maybe they'll thrown in that vino). An under-rated area of central Italy.
Eight-bedroom house in the
Limousin
with direct river access and fishing
, £356k
It's in fact two houses, with a swimming pool too – the Haute-Vienne really is good value – you could live in one and rent out the other.
Four-bedroom villa in popular Turkish holiday town
, £320k
In the classy town of Kalkan on the southwest coast this property has a large pool surrounded by terraces that look perfect for relaxing in private by day and night.
Find more properties for sale