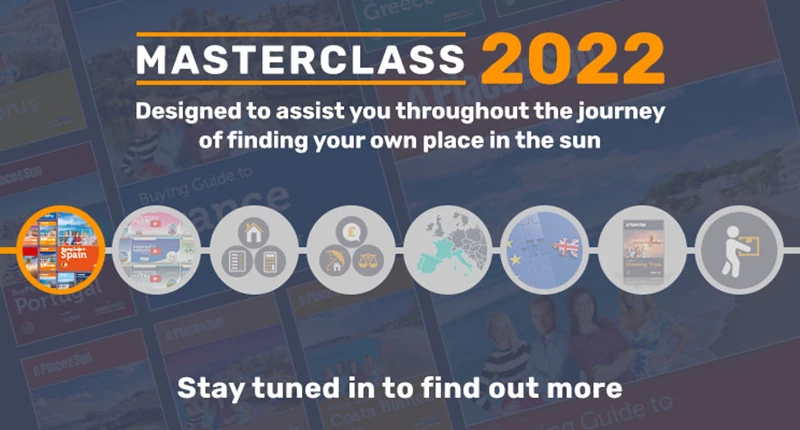 On most people's journey to a place in the sun, finding the perfect location for your purchase is the first port of call. We have designed our Masterclass to assist throughout your journey. 
Our free Buying Guides and Area Guides are independently researched and produced.
We update our Buying guides regularly to help you buy a property overseas, no matter where you are in the process, your price range or specific requirements. Each guide covers how to work with estate agents overseas, mortgage, tax and legal considerations, and what to expect post-purchase and get up-to-date with all the latest changes with regard to Brexit. 
To assist you with narrowing down where to buy as well as what kind of property you can get in specific locations, we have looked into some areas in detail and broken this down for you.  
We appreciate the value of a shared story, so in our buying guides we do just that - case studies of couples, families and friends who have been where you are can be found in our buying guides, sharing the processes that they have gone through to get to where they are now, with A Place in the Sun! 
Once downloaded, you can refer back to the guide for the future and know that you have a reliable source of information on hand. 
Download your free buying guide
We have area guides covering over 20 of the most popular destinations worldwide for people purchasing property overseas. With details on how, what, where and who you need to talk too, to make the dream of buying your place in the sun a reality! You can look at all the various locations and information we have here.
take a look at our area guides here
Take a look throughout the whole Masterclass programme by clicking on each of the links below!
Masterclass 2. Finding your perfect property
Masterclass 3. Let's get the ball rolling!
Masterclass 4. Get the conversations going
Masterclass 5. Are you making a permanent move?
Masterclass 6. Make the most of our Webinars
Masterclass 7. Planning your viewing trip