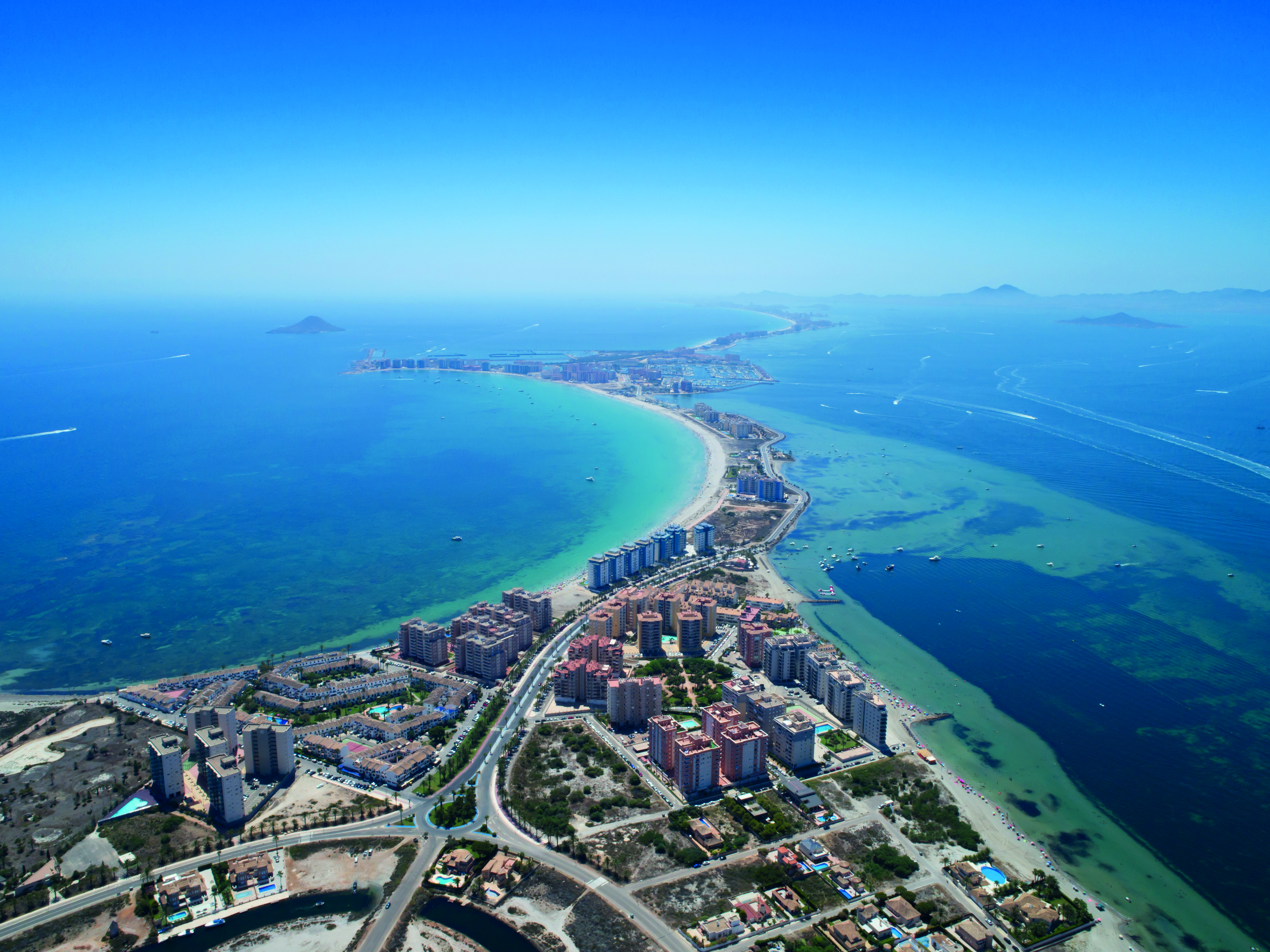 There is nowhere in Spain quite like the Mar Menor in the southern region of Murcia. This 170-square kilometre shallow saltwater lagoon is without doubt one of the most impressive natural marvels to be found anywhere along the country's eastern sea front.
Virtually cut off from the rest of the Mediterranean Sea by a narrow, 22-kilometre-long sand bar called La Manga (literally 'the sleeve'), the lagoon's internal coastline has given rise to a cluster of charming small villages and towns, from San Pedro del Pinatar in the north to the Mar de Cristal – named after the lagoon's still, mirror-like waters - down south.
And with more than 300 days of sunshine throughout the year, there are few better locations to practice all sorts of outdoor activities, such as golf and sailing.
It's also long been a popular spot with property-hunters and expats, especially since the now world-famous resort of La Manga opened in 1972 - the first resort in Spain with two golf courses. Loved for its affordability, family-friendly waters and flat coastal landscapes (by retirees), it is a great place to buy a home if you have €100,000 or less.
Less developed than the Costa del Sol to its south, and the Southern Costa Blanca to its immediate north, some might say that its low-key authenticity is part of its charm.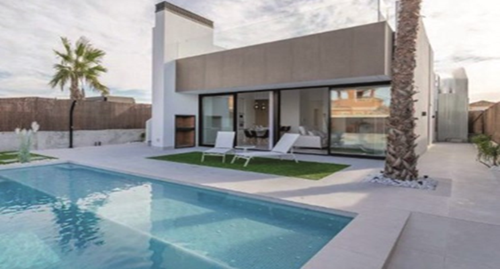 Getting there
The opening in 2019 of the modern, purpose-built Corvera airport has given a boost to the region by replacing the old San Javier aerodrome and air force base. However Alicante's international airport is only an hour's drive north, providing more extensive flight options.
If you're driving down, there is superb access north to south thanks to the modern AP-7 toll road and the A-7 motorway, and from west to east along the RM-19 and RM-1 Santomera-San Javier dual carriageways, both of which join Murcia city to the Mar Menor area. In addition, Spain's high-speed AVE train, which is currently under construction, will eventually link Murcia to Madrid and to myriad destinations across Europe.
Buying a home
Understandably, the area is becoming an increasingly attractive proposition for Brits in search of an ideal retirement home or holiday destination. In contrast to other, more heavily developed areas such as the Costa Blanca and the Costa del Sol, the Mar Menor offers property buyers exceptional value for money, according to Medland sales consultant Roy Howitt. "The cost of land is a lot lower like-for-like, and you're nearer the beach," he says. "Buyers are getting a lot more. The Costa Calida is around 25% less than Costa Blanca South, for for so example a new villa at €250,000 - a typical price - would be closer to €330k around La Zenia area in the Costa Blanca. 
"In the Costa Calida you get a much bigger plot for your money with a villa: on the Costa Blanca it is around 150m2 on a villa, Costa Calida 250m2 is the norm which then gives bigger pool. Lots of Costa Calida villas include garages as part if the build." He says that €160,000 is a the typical spend for a new apartment, or €190,000 for a three-bedroom one. "The most sought-after areas are those directly around the Mar Menor so Lo Pagan, San Pedro Del Pinatar, San Blas, Los Alcazares and Mar de Crystal," he says.
If new-builds are not what you're looking for, there's still plenty of choice. Mark Rawlings, from agency Your Dream Home, deals largely in resale properties. "In La Manga Club we have some exclusive stuff from some of the leading investment banks, and bank repossessions are going for 40 per cent below what the market value was." Expect to pay around €80,000 for a studio apartment, €140,000 for a one-bedroom townhouse, or €160,000 for a two-bedroom apartment, although luxury ones might equally be €215,000.
The appeal of the Mar Menor is down to its novelty value, adds Rawlings. "It's a new region. It's an unspoilt low-rise area, and the price and the new airport has given it a boost." The quality of primary health care is also very good in Murcia. The Los Arcos del Mar in the Mar Menor is a modern hospital that opened in 2011. There are two more in nearby Cartagena as well as the Virgen de la Arrixaca hospital in Murcia, only a half-an-hour drive from the Mar Menor.
Golf, waterspouts and wine
Golf-mad enthusiasts can relish playing on any of the 22 top-level courses found in Murcia. Two in particular stand out - the 18-hole course in Roda Golf and Beach Resort between Murcia and Cartagena, just a five-minute drive from the beach, and La Torre Golf Resort, close to Corvera airport and boasting an 18-hole course designed by golf legend, Jack Nicklaus.
Water sports are naturally de rigueur and there's a plethora of sailing clubs in the area. For the more adventurous and supple-limbed there's kite-surfing in Los Alcázares as well as traditional sailing for those who prefer a more sedate experience. As you would expect sea food restaurants abound, and traditional fish stews are a specialty in the region and a welcome alternative for those keen to explore local fare instead of the more mundane fish and chips. 
The star dish is 'arroz caldero', made in a cauldron with tomatoes, sea food, rice and 'ñora', a unique small pepper that's grown only in the region. And you can wash all that down with any of three locally produced and internationally renown wines - Bullas, Jumilla and Yecla. Shopaholics will also be pleased to know that Murcia's shops have less restrictive Sunday opening hours compared to neighbouring Alicante.
search properties in mar menor
After the floods...
It is probably not something advertised by local agents or the tourism office, but in 2017 the beaches of the Mar Menor were stripped of their Blue Flag status due to their polluted condition. Then, in October 2019, many dead fish could be seen washed up on the shores of the Mar Menor, apparently due to pollutants washed in there by the September's gota fria (three days of torrential storms). 
So is there a long-term problem? Few people know the Mar Menor better than Spanish lawyer Pedro Rivera, who grew up along its shores and was until recently the region's minister for public works. I asked him about the occasional flooding in parts of Los Alcázares and pollution in the Mar Menor, caused mostly by intensive farming and over-development.
Mr Rivera told me that the water in the Mar Menor was regularly tested and deemed apt for bathing. "Everyone's very aware that the Mar Menor is a jewel we have to protect, so a lot of hard work is being done now to return it to its former glory," he pointed out.
Mr Rivera stressed that work was underway to develop new flood defences. "We're working on a project to contain and re-channel flood waters. In any case, not all of Los Alcázares is affected, only in certain areas." He encouraged potential property buyers to seek proper advice and to check whether the area they were interested in was prone to flooding before handing over their cash.
Where to go -
The name comes from the Arabic Al-Kazar, meaning 'the palace'. The Romans knew about the health benefits of the Mar Menor's brackish waters, as evidenced by the remains of a 2,000-year-old spa. If you want to pamper yourself, you can take a dip in the famous mud baths of Las Charcas in San Pedro del Pinatar, while Los Narejos and Las Palmeras are two of the best beaches in the area. There's also a fine aeronautical museum, documenting the country's first ever seaplanes that were stationed here in the 1930s.
This former fishing village on the southern tip of the Mar Menor and facing the Med is also one of the most upmarket and exclusive areas. Just 30 minutes from Cartagena and thanks to its protected status, there's Calblanque - one of the most pristine and unspoilt beaches in the region.
If you're an experienced diver you may want to explore the well preserved wreck of the cargo ship El Naranjito, which sank in 1946 and now lies under 30 metres of water in the marine reserve of Cabo de Palos e Islas Hormigas. The August Habaneras Cuban music festival also provides a welcome respite from traditional seaside tourism.
The beaches have been hailed as some of the best in the region, having obtained numerous Q for Quality and Blue Flag awards for their fine golden sand, water quality and the high standard of services.
This village is fast becoming a prime location for Brits as it's well connected, just a half-hour drive from Corver airport and within easy reach of the coast along the Santomera-San Javier dual carriageway. Its flat landscape has also made it ideal for practicing golf.
Nowhere else in Europe can you swim in two separate bodies of water – the Mar Menor and the Mediterranean Sea - and enjoy beaches within such a short distance, separated by only a thin stretch of land as narrow as 100 metres in parts and no wider than 1.2 kilometres at most. The de la Barraca Quemada is famous for being one of the few beaches with palm trees, offering a welcome shade close to the shoreline.