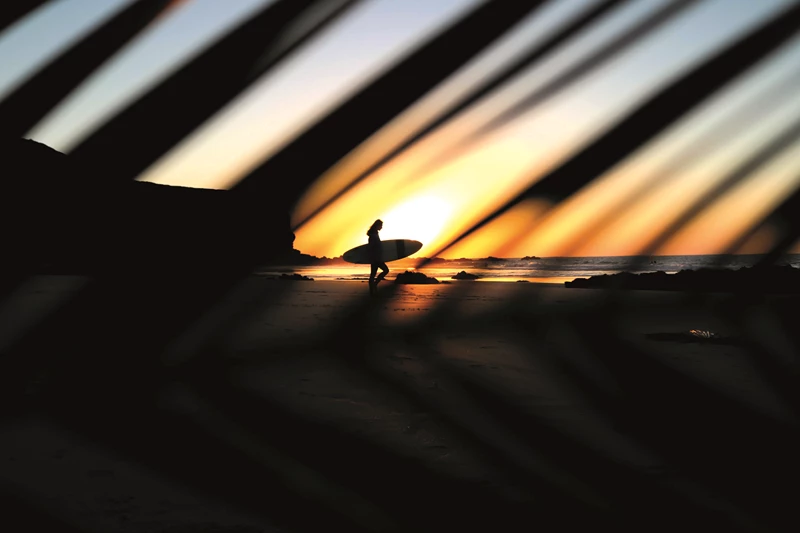 Situated 62 miles off the coast of north Africa, Fuerteventura -whose name means "strong wind" -is reachable from Britain in just over four hours. Ryanair, easyJet and Jet2 are among the carriers that fly to its airport, centrally located on the east coast, three miles south of the capital, Puerto del Rosario. 
While Fuerteventurais second in size to Tenerife, its 117,000 residents represent less than 6 per cent of the 2.2 million Canarian population, giving it a population density similar to Scotland. The island was declared a biosphere reserve - an internationally designated conservation area - by UNESCO in 2009 and it has a calm, untroubled aura.
Its semi-desert areas, infrequent rain, well-maintained asphalt roads and off-road paths attract many cyclists. The north of the island tends to be a bit windier than the south and has enjoyed an influx of Italians in recent years, with an estimated 7,000 living and working there.
Search for properties in fuerteventura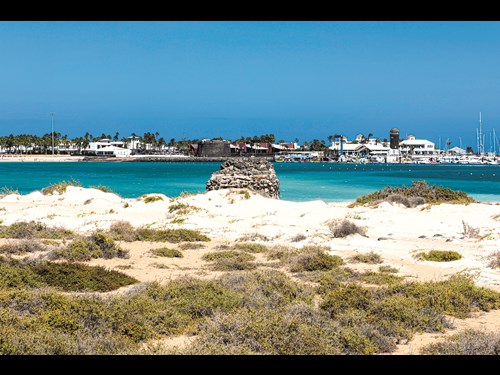 Corralejo: the big draw?
The main resort, Corralejo - or "Corritalia", as many Britons call it - is a former fishing village that has become rather built-up and commercialised over the past 50 years to capitalise on tourism. Yet it retains a warm, welcoming atmosphere with a more traditional feeling in its casco viejo (old town) area. Corralejo is home to the 25,000 sqm Acua water park - the only one on the island - and several shopping centres including the popular Centro Comercial El Campanario, which hosts the El Rastro flea market every Saturday and a craft market on Thursdays and Sundays, with live hish music. There's also live music at night in several bars and clubs. 
The Parque Natural de Corralejo, an area of six miles of golden sandy dunes, huge, unspoilt beaches and turquoise waters running south along the east coast, attracts tour buses, fashion shoots and film sets: Wonder Woman 1984, due for release in June, and part of the 2018 film Solo:A Star Wars Story were both shot there.
If you fancy popping over to Lanzarote eight miles to the north, three companies operate a Corralejo-to-Playa Blanca ferry (which takes about 25 minutes) and there is a glass-bottomed boat to the uninhabited Los Lobos island a mile north-east of Corralejo. John Goldacre, founder and managing director of Goldacre Estates, has a 20-strong English-speaking team operating from two offices in Corralejo. He said: "It's a town with a heart. Here you have a nice balance between tourism and local living.
There's some fabulous beaches and the dunas area, which is a colossal area of natural beauty."Mr Goldacre, 62, has been living in the Canary Islands for 25 years, moving from Rochester in Kent to Tenerife for seven years before settling in Fuerteventura. The company, whose sales director is his son Alexander, 32, has 450 properties across the island on its books.
"What drives people here the most is the tranquillity: the pace of life is more balanced than the UK and some of the bigger islands such as Tenerife and Gran Canaria. We have less traffic here: we never have traffic jams. We have the dual carriageway, but no motorway," Mr Goldacre said."Youngsters come for the sea and the surfing. You don't have a big party scene. It's a very safe place to be. There's very low crime. [For young families] you don't have to worry about the children. "Corralejo, owing to its size and diversity, is high on the list for his clients, almost half of whom are British, with French, Belgian, Swiss, Dutch and hish speakers also prominent.
"Corralejo is a whole mix of properties. You can find a one-bed apartment for €90,000, slightly out a little bit, and apartments for €140,000 to €300,000 in the town. A seafront two-bed apartment would go for €350,000."A front-line villa will start, if you can find one, at€750,000, going up to a couple of million. Villas on plots in the Parque Natural area will start at about €200,000, going up to€500,000."
download buying guide to spain
El Cotillo: soporific fishing village
On the northwest coast, El Cotillo is still a working fishing village whose port has become a seaside resort. Away from its compact harbour where waves crash against a volcanic black pebbly beach, it has some superb sandy stretches. These include Piedra Playa, known as the "wild beach", which nestles beneath a dramatic cliff and is a magnet for surfers, kite-surfers and windsurfers, and Playa de la Concha, whose rocky reefs act as natural breakwaters, giving it a calmer surface that appeals to families with young children. 
El Cotillo verges on the soporific away from the main tourist strip by the Coral Cotillo Beach hotel and has more of a small town feeling than Corralejo with several fish restaurants. About 150 metres inland from the harbour, Jordy Berra, 40, originally from Verona in Italy, rents out La Marea hostel from its Brazilian owner. It has three private rooms, one shared room and two bathrooms, and can take up to ten people. The fee of €1,000 per month has doubled since he took it on six years ago, a testament to its popularity. It was full when I arrived in early February.
"The last three to four years were amazing. But last summer Ryanair removed some sites and Thomas Cook [went bust]. It [the rental market] was super low. The low-season is mid-May to mid-July, because it is hot in northern Europe. In that time, we have only three or four people here," Mr Berra said."El Cotillo is only apartments. One or two villas are scattered about," Mr Goldacre said. "If you are looking for a villa, the places are Corralejo, Lajares, Tindaya, El Roque, Villaverde and La Oliva, the mayoral seat of the municipality."
Lajares: Laidback inland village 
Lajares, inland almost midway between Corralejo and El Cotillo and south of the fishing village of Majanicho, is a laidback "pueblito", whose shops include Artesania Lajares, where you can watch local women making lace and embroidering. Among the hangouts is the Fuerte Vida fruit bar and surf centre where customers snack and drink cocktails againsta backdrop of reggae music, near by a dirt path tothe 277m-high Calderón Hondo volcano. Italians, Germans and Slovenians looking to surf milled around. 
Susanna Perazzone, 44, is one of four Italians who run the guesthouse, which accommodates up to 16 people. They have been 80 per cent full since opening last June. "Lajares keeps the authentic lifestyle," Ms Perazzone said, adding that it appealed to those"who like the calm and not commercial atmosphere like in Corralejo".The island's road infrastructure is good and getting around by car is inexpensive. Paula Quintana, 33, a Chilean studying in Dublin, who was staying at the guesthouse, hired a Citroen C4 for €70 for a week.However, Andrea Puddu, 28, from Sardinia, who was looking for work, said how difficult it was to find a one- or two-bed apartment to rent in an inland village. "I love the tranquillity of the small villages. Is not the case in Corralejo and Puerto del Rosario, which are more touristic,".

Bargin bank repossessions
A few miles north of Lajares, near to Majanicho, Goldacre is selling several hundred repossessed properties for Aliseda bank, which is part of Santander. "We have one-bed villas starting at€89,900, close to Majanicho; two-beds at€123,700 and three-beds from€170,200," Mr Goldacre said. "Three hundred villas with front and rear gardens, so that's quite an exciting opportunity."Most properties have views to the sea, walking distance to the beaches. It's a very pretty drive, with [volcanic] lagoons to the west of Majanicho, driving to El Cotillo.
There's lots of windsurfing and kite-surfing between Majanicho and El Cotillo and more board surfers between Majanicho and Corallejo."Corralejo, El Cotillo, Majanicho are very good from a rental point of view. Hotels tend to be on the front line ...most apartments are five to ten minutes from the sea. This is the beauty: nowhere is far from the sea."In the quiet rural village of Villaverde, seven miles south of Lajares, where Mr Goldacre and his wife, Artemis, 50, the company's administration director, live,villas start from €230,000, rising to €1 million. Other residents include a member of the glam-rock band Slade."For €230,000, you would get a three-bed duplex in a 1,000 sq m plot with a pool in Villa verde.

For €1 million, it would be a 4,000 sq m plot, a perfect view of Lanzarote and the whole of the north: five beds, a sprawling modern villa and the ability to make additional accommodation," Mr Goldacre said. A couple of miles to the west is the traditionally agricultural town of La Oliva, which was the political centre of Fuerteventura from the 17th to 19th centuries and nowadays is the seat of the local council. Its buildings include the colonel's house, an 18th-century building with crenellated towers, while its main church has a square bell tower, a baroque altar and a mudejar ceiling. 
Mr Goldacre said: "La Oliva has a nice mix of properties. Small townhouses start at €180,000. One or two apartments come up occasionally. Starting prices are €110,000 to €120,000. Villas range from €230,000 to about €750,000. "In Tindaya, a goat-farming village three-and-a-half miles southwest of La Oliva, Goldacre has three building plots for sale, including one for €106,000 on 3,800m2, which has panoramic views across natural parkland and open views to the sea. "Brexit has slowed people down because they weren't sure what was going to happen, but it hasn't stopped the inquiry level. There is an appetite for moving. In January, we had up to 320 inquiries for buying properties from the UK, so there's a lot of pent-up demand. Two months before the [December] election, it was about 100 down on that number."

DOWNLOAD YOUR SPANISH PROPERTY GUIDE HERE

East and south Fuerteventura
The east coast resort of Caleta de Fuste, five miles south of the airport, has three golf clubs nearby and a sheltered beach in a cove by the marina. Nadia Hafidi, administrator of Fuerteventura Residences, which is based in the town, said it was popular with Britons and cheaper than Corralejo. However, Brexit-related uncertainty and the collapse of Thomas Cook had taken its toll, she said. "For two years I have had a waiting list of clients. We have lost more than we have won. It is a problem for pensioners. If they want to come and live here I don't know how they are going to organise their seguridad social [social security]. For non-pensioners I don't see a problem."Thank god we don't have only British [clients].
People are waiting to buy. They don't know how it would affect the exchange rate, though it has been stable in the last few months."The southwest of the island includes the hotel-driven resort of Costa Calma, Sotavento beach five miles further south where the 35th windsurfing and kite-surfing world championships start in July, and the harbour town of Morro Jable, among whose beaches are the huge Playa de Matorral.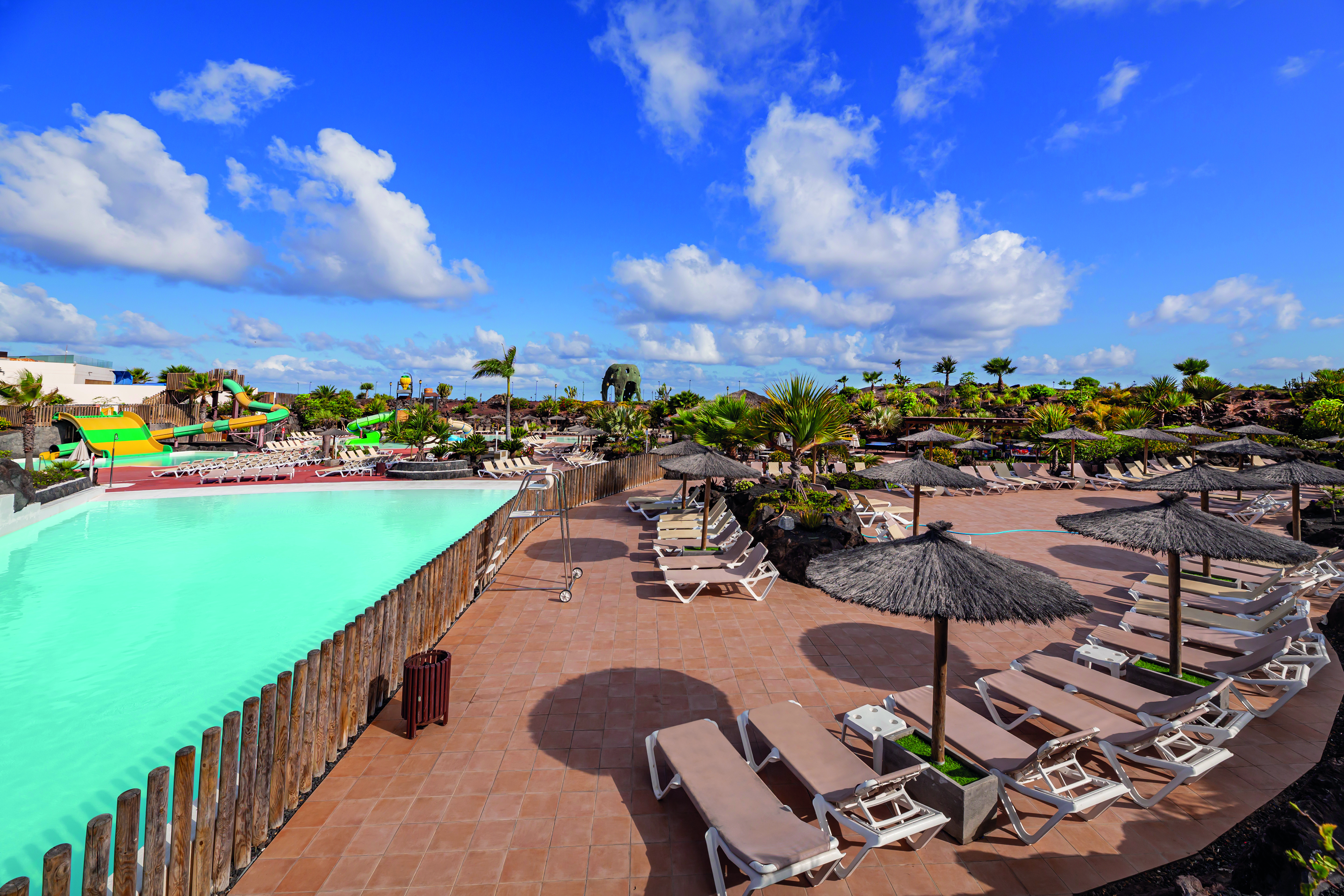 To the north of Morro Jable is the Jandia natural park which features dunes, volcanic peaks and rich bird life. Property-wise, the area attracts a lot of long wintertime holiday-lets and overseas buyers seeking to relocate.Why, then, would, someone opt for the north rather than the south, given that the price of property is fairly balanced throughout the island?"In a nutshell, there's more on your doorstep," Mr Goldacre said. 
"Corralejo to Puerto del Rosario is a 30-minute drive. From Villaverde, it's 10 minutes to Corralejo, 12 minutes to El Cotillo, 15 minutes to Puerto del Rosario. In this section you have accessibility to a whole myriad of things: the lagoons of El Cotillo and the dunas area of Corralejo. Whereas from Costa Calma to Puerto del Rosario it takes an hour's drive.
"More generally, he said: "We're pretty much autonomous, though under the auspices of Spain. We're a special tax zone within Europe, called Zec (Zona Especial Canaria), which gives companies a tax advantage. VAT is 7 per cent."Mr Goldacre said he believed there was "exceptional value today", with property prices up to 40 per cent below the peak of 2005-2006, having increased by about 5 per cent per year for the past five years. "Putting it [your money] into property you'd win every time and get a lot of enjoyment." We'll all need a bit of that after coronavirus.