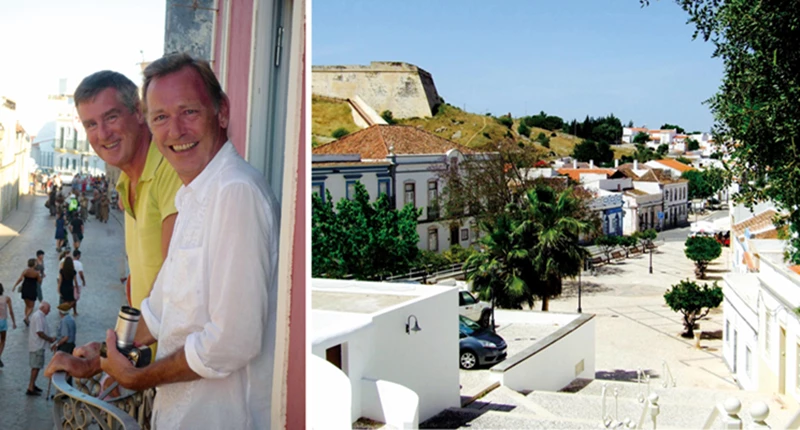 Andrew Roberts and Rupert Kirby moved to rural, eastern Algarve after 25 years holidaying there to set up a B&B
If the mention of the Algarve immediately conjures up images of luxury golf courses and rows of holiday villas, family resorts and modern marinas, then you've probably never travelled east from Faro airport.
Head back along the Portuguese coast towards the Spanish border and the landscape couldn't be more different, for here you will find a stranger, wilder version of southern Portugal.
Gone is the Algarve's visual shorthand of bays ringed by ochre-coloured sands, replaced by a chiffon stretch of trailing sandbars sheltering the shoreline waters from the brusque Atlantic, where flamingos fly languidly over wide salt pans and chains of umbrella pines whisper through the empty marshlands.
Rupert Kirby and Andrew Roberts, however, are no strangers to this part of the world. They've been visiting annually since the mid-1980s, and although they've seen much of the Algarve transition beyond recognition during that time, they've also witnessed the landscape, and people, of this special region endure and prevail.

DOWNLOAD YOUR FREE PORTUGUESE PROPERTY GUIDE HERE
Up until 2006 the couple were living in east London, amid the hustle and bustle of Hackney, where Andrew, 65, worked as a picture editor for a publishing company, while Rupert, 67, plied his craft as a trained chef.
"We'd come here each year to decompress from life in the capital; and each year it was getting harder to leave," Andrew recalls. "Eventually, we decide to halt our ritual of sitting outside some charming restaurant or taverna, saying 'wouldn't it be nice if…' and do something about it. We were ready for a gentler lifestyle, plus we already loved the Portuguese people, not to mention the climate and had an intimate knowledge of the area we'd be moving to."
Nevertheless, the couple, then in their early fifties, certainly weren't about to leave London just to put themselves out to pasture in the sunshine.
"We were getting older, but we still felt ready for a new challenge," Rupert explains. "What we wanted ideally was a life that would keep us busy and engaged, without overwhelming us."
To achieve this balance, they decided to search for a property they could open as a guesthouse, small and exclusive, offering a luxurious yet authentically Portuguese experience, serving meals inspired by the region and using the best local ingredients. To some, that might sound like proposition more daunting than a nine-to-five in London. However, Andrew and Rupert, once again, had their combined skill set to rely on. "It was more than just using our shared experience in the hospitality industry," explains Rupert, "This was the fulfilment of a mutual dream, something we'd both always said we wanted to do together."
Tavira
So the couple began their search in Tavira, a picturesque town studded with graceful 18th-century white stucco mansions and straddling the broad Rio Gilão, 17 miles east of Faro.
"It's where we'd always come, so we knew the area, the town, lots of locals and it simply seemed the obvious place to start," Andrew says. "But it became clear pretty quickly that we weren't going to get what we wanted here; which was a spacious, preferably historic property, with three generously sized extra rooms to turn into guest suites, plus some garden. Although Tavira wasn't, and still isn't, on the mass-tourism radar, the properties of the size we needed were all pretty grand historic houses, and they were frankly out of our budget back then, which was £300,000, max."
On top of this, Rupert and Andrew had unanimously agreed that they didn't want to purchase an affordable property that met their stipulations because it was in need of major renovation and refurbishment. The only option was to extend their search a little further afield, and travelling 20 minutes further east led them to Castro Marim, a small, rural town of 7,000 inhabitants, where tourism had made no mark.
Here Andrew and Rupert found a property comfortably within their budget that not only delivered on all their requirements but exceeded expectations. Casa Rosada, as their guesthouse is known today, is a stunning six-bedroom historic townhouse with large, airy rooms, a wonderful terraced garden bursting with well-established citrus trees and vibrant swathes of bougainvillea, and bags of personality.
"It's a former girls' school and many local residents still remember attending," says Andrew. "When we came to view, it had just been refurbished and converted to a residential dwelling by a guy from South Africa, who simply wanted to sell it on." They bought it for €350,000 (£240,000 at the time) and believe it is worth about double that today. We pretty much knew it would be perfect once we stepped inside and by the time we were standing on the back terrace looking at the view of a medieval castle directly behind, the deal was done." So in 2006 the couple relocated full-time, and having found their feet and put their own stylish stamp on the property they were open for business the following year.
"At that point we were still the only non-Portuguese living in Castro Marim," Rupert recalls, "so naturally our neighbours and fellow townsfolk were inquisitive about the new estrangeiros in their midst, but gladly that manifested itself as warm curiosity and the friendliest of welcomes." Since then, Andrew and Rupert have become proactive members of the local community, with friends across the breadth of Castro Marim.
Their natural flair for hospitality and personal charm, not to mention the super meals created daily by Rupert using exciting super-fresh ingredients handpicked from the local markets, has resulted in their guesthouse business going from strength to strength, winning plaudits on the way. They are fully booked every July and August and 50 per cent during the rest of the year.
Even the spectre of Brexit has, so far, failed to cast its shadow over this sunny little corner of Portugal. "Rather than a diminishing number of British guests and tourists, what we've noticed in the last couple of years is a major upsurge in French ones." Andrew observes. "It's as if they've suddenly discovered the Algarve, and the ones who've ventured east as far as us have been truly enchanted. Some are even staying and setting up shops and new businesses just as we did.
I didn't really think this part of the world could get much better,' laughs Rupert, "but a couple of local French patisseries will certainly do the trick."
To find out more, visit casarosada-algarve.com