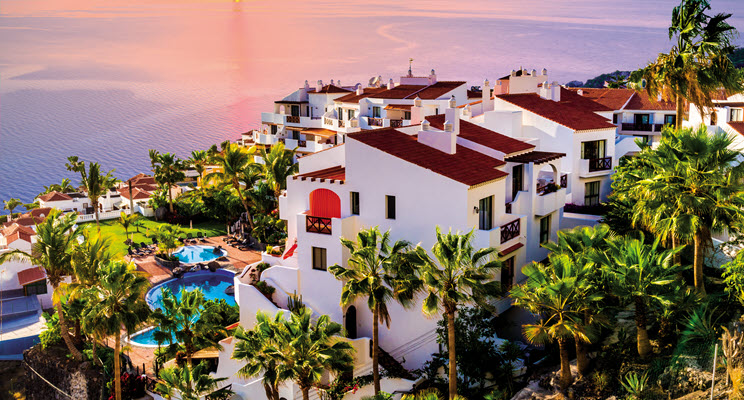 Top for Affordable Winter Sun Boltholes
Package-holiday favourite the Canaries hasn't escaped the blight of Brexit or the fallout from Thomas Cook's collapse, but the Spanish archipelago is one of the few European destinations that can rely on year-round sun to keep the punters coming back.
Geographically located in Africa, the Canary Islands remain the go-to beach option for British and European property-owners who prioritise winter sun. Even in January typical temperatures don't dip below 15C and reach comfortably into the 20s, while the summer months see the mercury linger in the high 20s.
The busiest of the seven main islands is Tenerife, which received 2.5 million visitors between November and March, followed by Gran Canaria, Lanzarote and Fuerteventura.
For property, Tenerife is the most popular with British buyers, followed by Lanzarote and Fuerteventura.
Download our free guide to buying a property in Spain

Buying in Tenerife: big-volume tourism (and prices)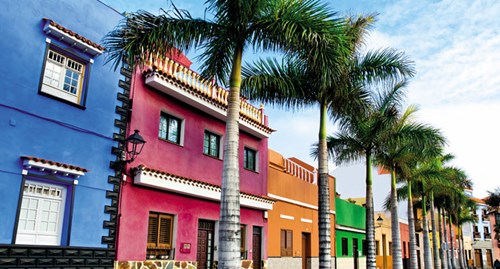 Average prices are the highest in Tenerife, where property values have been buoyant in recent years, rising in the more desirable areas.
"This is due to its popularity with both Britons and Northern Europeans, combined with its infrastructure and facilities and the fact that it really does have a mix of locations offering something for everyone," said Alan Dennett at Salamanca Spanish Villas.
And don't expect Tenerife to be cheaper than the popular costas on the Spanish mainland. "If you want location, one-bedroom apartments start around £150,000 and two-bedroom apartments at around £250,000," said  Nicky Wragg at Los Gigantes Properties, who highlights Los Gigantes and Puerto Santiago on the west coast as up-andcoming areas where you get more for your money. "These areas offer a more relaxed way of life and are only 30 minutes from the South's airport."
The default option for most buyers is Tenerife's developed south, which enjoys the best climate, is home to most of the leisure facilities and golf courses and attracts four fifths of the island's annual visitors. There, apartments within easy reach of the sea and lively, bar-fringed promenades are the staple in beach resorts, the most popular being Los Cristianos and Playa de las Américas.
Head ten minutes west into the Adeje municipality and things soon step up a level. The stretch between Costa Adeje and Los Gigantes is home to the most exclusive addresses in the Canaries, specifically around La Caleta, Guía de Isora and Golf Costa Adeje.
PROPERTIES FOR SALE IN TENERIFE
Buying in Lanzarote: laid-back boho chic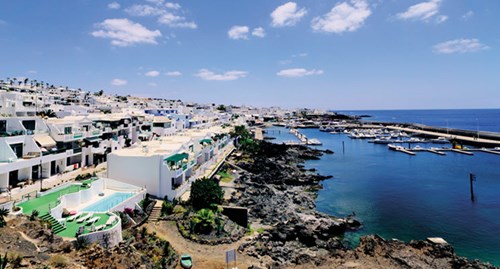 Distinctive for its lunar landscape, Lanzarote can't match Tenerife for diversity of locations and all-round leisure amenities. But the less-developed island offers more affordable beach resorts, superb water sports and a chilled, arty edget.
"Buyers with budgets of £100,000- £200,000 tend to buy apartments on complexes with pools," said Ms Cox. "Property prices in Lanzarote have increased in the last couple of years. Therefore, this budget will buy a one or two-bedroom apartment in one of the resorts."
The island's three principal resorts are equally attractive to British buyers depending on their requirements. "Puerto del Carmen is the most popular and liveliest, attracting 60 per cent of all visitors," said Mr Dennett.
"Then north of Arrecife, still on the east coast, is the family-oriented Costa Teguise, where you find lots of apartments within holiday complexes. For those with slightly larger budgets there is Playa Blanca, offering more villas and chalets."
Outside of the main resorts, Ms Cox highlights the fishing village of Punta Mujeres as somewhere that is becoming increasingly popular, thanks to its natural sea pools and more traditional lifestyle. "We have a lovely ground-floor, three-bedroom apartment for sale there for €220,000: it is as near front-line as you can get and would make an ideal holiday home".
PROPERTIES FOR SALE IN LANZAROTE
Buying in Fuerteventura: best for beaches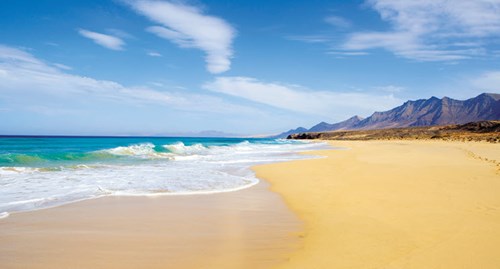 Far less developed, Fuerteventura's resorts might be quieter and for some less exciting than those of its neighbours but they offer access to unspoilt beaches that are considered among the best not only in the Canaries but all of Europe.
The island has Unesco Biosphere Reserve status and many of its 152 beaches are within protected areas or flanked by dunes. Thanks to the prevailing breeze, the island is an international windsurfing and kitesurfing destination.
"Fuerteventura is still best value for money," said Mr Dennett. "But it's not for everyone's taste in terms of residential property and locations."
According to Mr Goldacre, the most popular price bracket in Fuerteventura is £100,000 to £200,000. Depending on location, properties within this bracket range from one-bedroom apartments with gardens and shared pools to three-bedroom detached bungalow villas with private pools.