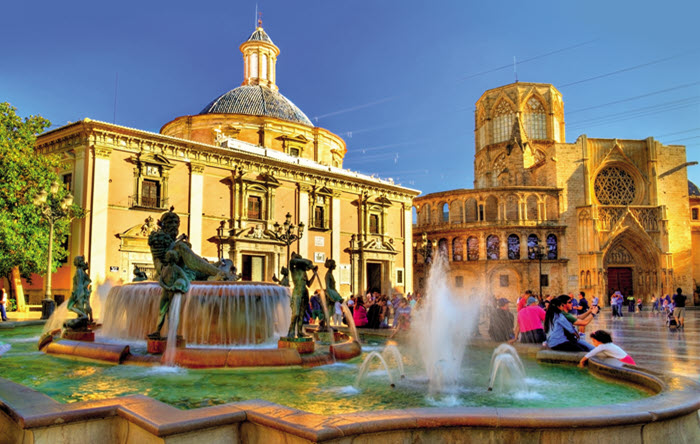 What is it?
Valencia is the third largest regional capital city in Spain after Madrid and Barcelona and closely followed by Seville. Sitting within the autonomous Community of the same name, it is a city that sits on a gulf of the Mediterranean Sea while its vast mountainous ranges circle it and the river Turia crosses it. Once occupied by the Romans and invaded by the Moors, only to be freed by Jaime I of Aragon who conquered the city. Rich in citrus and rice agriculture closer to the city, the valleys beyond offer a bounty of vines and produce typical of Mediterranean soil and it is of course home of the real paella.
How to get there?
There are 18 UK airports that carry flights to Valencia every week. Valencia's Manises airport is small but easy to manage, with direct metro into the city centre, pristine trains both long distance, and regional rail. The A7 and AP7 roads enter straight into it either by toll or motorway and direction north from Alicante airport you are in the city in 90 minutes.
How to move around?
Valencia has many ways to get about, traffic is not especially hectic for a city of its size, however there are great alternatives, prize-winning cycle lanes let you get around with a hired bike for a few euros, as well as scooter or moped hire. An animal-cruelty free city, there are no horse and carriage rides however you can travel around the main monuments with a rickshaw or tour bus. Great punctual bus services all around the city to from the centre to the beaches.

DOWNLOAD YOUR SPANISH PROPERTY GUIDE HERE
A festival protected UNESCO
Winter Solstice is celebrated all over the world to welcome Spring, but there's few places that celebrate this end of season quite like Valencia. Months and months of work go into Fallas Fiestas. The Valencian Community almost as a whole celebrates the end of a year's work to make this beautiful artistic ephemeral festival possible. From the 15th of March the official Plantà to the night of the 19th La Nit del Foc where the gigantic statues made of paper are burned, the days pass as in a dream of noise, marching bands, explosions and beautiful artisanal work. Jewellers, seamstresses, shoemakers and artists of many forms come together to see their finished work come to life parading the streets of Valencia. At 2 pm every day hearts stop as the city centre smells of bubbling paellas expecting the Mascletà to end so people will sit down to eat drink and be merry in the sunshine. So, if you are looking for a winter holiday to enjoy, food, sunshine, and culture Valencia no doubt is the place to go.
A super eight beaches?
There are eight beaches along 25km of coast in the city, 19.5 km of these are Blue Flag beaches and are prize-winning locations, only one is a preserved wild beach. All of these have public transport access, toilets and bars, lifeguards and many have disabled access. Number one favourite is El Saler, especially for surfing. More commercial and fun is Malvarosa, full of bars restaurants, live music and discos. It's a 24-hour beach location.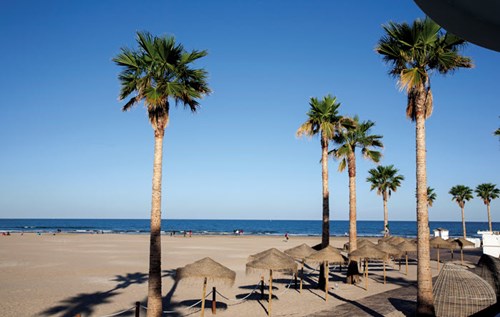 Sports and activities
With five golf courses and vast number of horse riding clubs, tennis clubs and of course plenty of football, Valencia is also known as the city of running, with races almost on a weekly bases the most important one being the Marathon in November.
What properties can you buy?
Valencia has a great choice of country areas from traditional builds and lovely large plots of land, protected woodlands all around to modern luxurious residentials nestled in thick green hill tops. The city has wonderful family apartments with views of the skyline, to the marina and the beaches, all the way to the one and only mini Venice in Port Saplaya north of the city. The prices of apartments are lower than comparables in Barcelona. From the most luxury neighbourhoods like Mestalla and Avenida de Francia to the chicest vintage reformed barrio like Carmen and Ciutat Vella, or beachside neighbourhoods, there is plenty of choice. Properties are available from as low as €35,000 for rental investments in the city, or reform properties in the country, to high-end luxurious villas and penthouses.
SEARCH PROPERTIES FOR SALE IN VALENCIA CITY
Find out more: Deborah Reale – Hola Spain +34 647 479 090 [email protected]