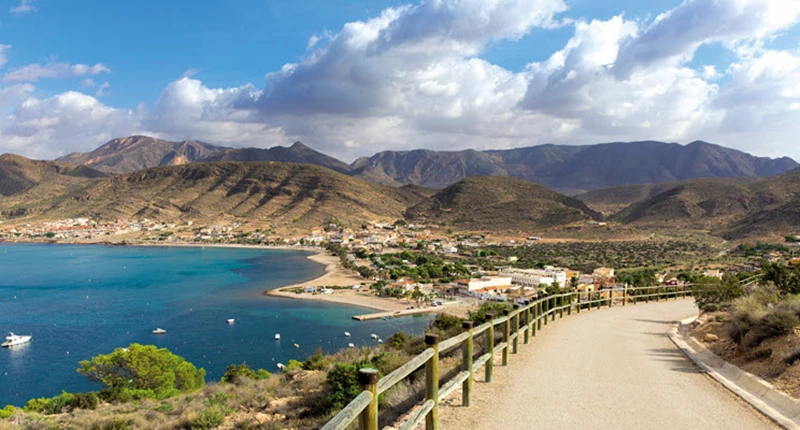 Where is it?
Cartagena and Puerto de Mazarron are in the Costa Calida area in the region of Murcia in southeast of Spain. The annual average daytime temperatures in the Costa Calida region is 54-81F.
Puerto de Mazarron is a seaside resort located to the west of the historic city of Cartagena. The coastline of Puerto de Mazarron stretches from Bolnuevo to La Azohia.
Puerto de Mazarron has a new marina and paseo which houses a wide variety of bars, shops, restaurants, bus station, large Sunday market, fresh fish and vegetable market which is open seven days per week, retail outlets, boat trips, scuba diving, regional fiestas and is not heavily built up like some other tourist areas.
Puerto de Mazarron: Hidden gem?
You rarely see Puerto de Mazarron advertised in holiday brochures. The population is mainly Spanish but other nationalities live there and also holiday there. The coastline is called the 'Gold Coast' and has a wide variety of Blue Flag beaches.
The bus service operates daily to the new Murcia International Airport, Cartagena city as well as Murcia city, passing through local towns along the way. Mazarron Town is only a fiveminute drive away or a short bus ride and has a large range of bars, shops, restaurants plus the town hall for both regions.
Puerto de Mazarron is a seaside resort located in the south-eastern region of Spain, to the west of the historic city of Cartagena.
SEARCH FOR A PROPERTY FOR SALE IN PUERTO DE MAZARRON
Cartagena: History buff's dream
Cartagena is a city with more than 2,500 years of history. Each corner, street and square of the city offers travellers monumental examples of its splendorous historical past. This large city houses lots of historical monuments, has a large working harbour where cruise ships dock and has a whole host of bars, shops and restaurants. It is also a working naval port.
SEARCH FOR A PROPERTY FOR SALE IN CARTAGENA
How do I get there?
Murcia International Airport is a 25-minute drive to Cartagena and a 48-minute drive to Puerto de Mazarron. You can get local buses from the airport to both Puerto de Mazarron and Cartagena.
Download our free guide to buying a property in Spain

Why go, and what is there to do?
The Costa Calida region is full of history, has a stunning coastline offering a wide variety of sandy beaches and coves and is also surrounded by the most spectacular mountain ranges.
Things to do or places to visit in Puerto de Mazarron are topped by the Bolnuevo Erosions – spectacular eroded rock formations, that have been carved and sculpted by wind and water. The beaches stretch from Bolnuevo to Mojon and are all Blue Flag rated with water sports, including diving. The Bateria de Castillitos (the gun battery) located near La Azohia, has an altitude of about 800 feet, and was built to prevent enemy ships entering the bay to attack the important port and military arsenal at Cartagena. The guns themselves are a massive 381mm with 17m long barrels each mounted in an enormous turret.
In Cartagena, on the top of one of the five hills of the city, in the Concepción Castle, is a good starting point to visit this millenary city. The Roman Theatre Museum is the city's undeniable symbol. The old Carthago Nova's Roman Forum district is also a real privilege to visit after being hidden underground for more than 20 centuries. The underwater Archaeology National Museum is definitely worth a visit. Take a boat trip around the inner harbour and see the old defensive architecture. There are also charming beaches, hiking trails, diving and many regional festivals that take place here.
Great local produce
Obviously, Cartagena and Puerto de Mazarron are renowned for their daily freshly-caught fish and locally grown fruit and vegetables. In both places you will find a whole host of restaurants offering local tapas to high-end restaurants to suit all tastes.
What kind of properties can I buy there?
There are a wide variety of properties available in the Costa Calida area ranging from country fincas, farmhouses, apartments, villas as well as coastal apartments, properties on golf resorts. An apartment in Puerto de Mazarron will cost from €70,000 upwards or a detached villa/finca from €140,000. An apartment in Cartagena town will cost from €120,000, or a detached villa/ finca will cost from €160,000, depending on build size and land space. Properties within a short walk to the beach or amenities demand a higher price. If you are looking for something on a golf resort you can get a two/ three-bedroom apartment from €70,000 and these properties are normally subject to community charges payable to the resort.