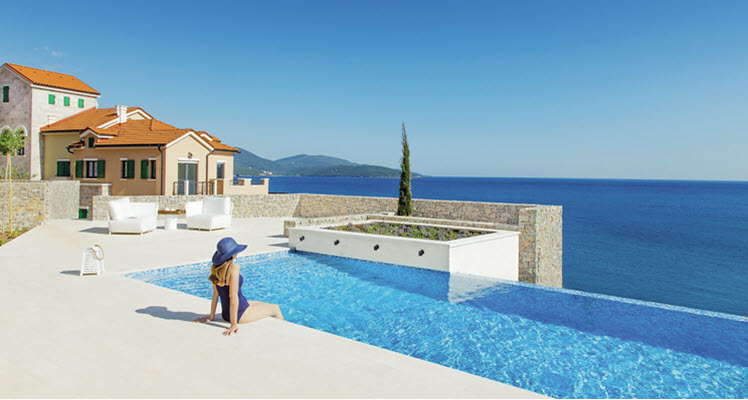 Montenegro emerged as Europe's newest country in 2006 when it gained independence from Serbia. 
It's a small country with a small population - 650,000 in an area barely bigger than Yorkshire - but with one of Europe's fastest growing tourism markets.
The rugged, biodiverse and mountainous interior has deep river gorges and glacial lakes but it is the narrow and mostly pebbly coastline on the Adriatic Sea where most interest is focused and especially the majestic tranquillity of Boka Bay. Kotor Town at the southern edge is a UNESCO World Heritage Site but throughout it is a place of extraordinary beauty, low-level stone houses backed by steep wooded and limestone mountains all reflected in the calm water.
Montenegro's coastline is also the site of some of Europe's newest and most ambitious leisure resorts, a focus for five-star hotel brands and glossy marinas berthing super-sleek yachts. Wealthy global investors have arrived and the country's property market is rapidly maturing. Yet while the developers of these large resorts appear sensitive to the staggering natural beauty all around them, would-be buyers should remember that Montenegro is still a youthful marketplace.
SEARCH FOR A PROPERTY FOR SALE IN MONTENEGRO
LUSTICA BAY: BEST FOR YEAR-ROUND LIVING AND GOLFERS
Lustica Bay is the largest and most ambitious of all the developments, with 690 hectares of glorious green hills outside of the bay. The €1.1 billion project is a joint venture between the Montenegro government and developers Orascom who have a gold-plated reputation for creating entire towns in resorts from Egypt to Switzerland. Their detailed and long-term masterplan for Lustica Bay has over 1,500 homes, seven hotels, two marinas taking boats up to 45 metres and a Gary Player-designed championship golf course.
Residents will have their own school and medical centre, supermarket and shops and good leisure and cultural facilities and this along with well-priced property from €139,000 (£125k) should encourage plenty of local, full-time residents as well as second home owners.
Around 300 homes have been sold to people from 35 different nationalities with 50 full-time residents. The first of Lustica Bay's communities to open is Marina Village with a light and airy five-star Chedi Hotel, restaurants and small shops. Attractive architecture of local stone and red tiled roofs is designed to imitate traditional Montenegrin fishing villages and paths meander through carefully planted landscaping.
Homes at the Marina Village start from €315,000 (£283k) for a fully furnished 44m2 Chedi Residence at the hotel and from €336,000 for a studio. Two and three-bedroom townhouses with private gardens, pools and garages start from €845,000 (£759k).
"Potential buyers who come to Montenegro will look at all the main developments," acknowledges CEO Darren Gibson. "However we believe Lustica Bay is the leading light in sales numbers delivering over €110 million of sales so far. It is the quality of the build combined with the price point that resonates with our buyers. The direct access to the sea, plans for Montenegro's only golf course and the open-space of the development, building on only 10 per cent of our land are what sets us apart."
PORTONOVI: BESTFOR GLAMOUR OR CELEB-SPOTTING?
The cranes are working overtime at Portonovi where the first owners will move in this autumn. This project also has a headline spend of €1billion but is far more boutique in scale: 275 homes in total, a 288-berth fully-serviced marina taking boats up to 120 metres, a 113-room One & Only Hotel, the first in Europe, spa and two sandy beaches, (this a rarity as most beaches around Boka Bay have pebbles). Residents can enjoy two parks, beach clubs, gyms, a lifestyle concierge and on-site rental management.
Portonovi's developers Azmont Investments launched sales last year and are keeping exact figures under wraps, saying only that they are "very happy with sales to date". Stand-out features include the exceptional quality of the build (Italian kitchens and Miele appliances as standard) and the south-facing location on 26 hectares at the entrance to the Bay, 10 minutes from the flower-filled town of Herceg Novi.
Portonovi will have the Adriatic's first branded residences, One & Only villas, substantial waterfront homes priced from €10m. This hotel brand has some high-profile fans, the Beckhams for example, and that star-fuelled celebrity glamour is reflected across Portonovi from the waterfront helipad to its top-flight international restaurants: Locatelli and Tapasake.
Property starts from €400,000 (£360k) for spacious one to four-bedroom apartments, duplexes and penthouses. Homes are large, an average two-bedroom apartment is 150m2 some with private pools and others sharing communal pools, and in traditional stone and contemporary buildings.
LAVENDER BAY: BEST FOR AFFORDABILITY?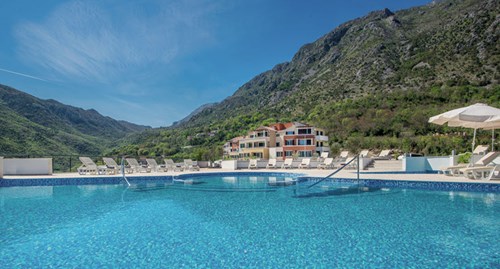 For buyers less concerned about marinas and cutting-edge facilities there are smaller, niche developments that still capitalise on dramatic bay views. Lavender Bay, high above Boka Bay, is a good example. One and two-bedroom apartments around an infinity pool and communal gardens with a gym, café and playground start from €109,246 (£101k) through Savills (savills.com). The views are wonderful, across the bay to the stone homes and waterfront restaurants of Perast.
"The market has settled with a healthy range of international buyers," says Kieran Kelleher of Dream Estates, Savills' local associate. "Each project has its own identity. Buyers like the superior services, prestige and perceived safety of the branded resorts as well as the turnkey option and professional management. There are numerous new schemes in the pipeline, buoyed also by the recent announcement of the Citizenship by Investment Programme which will offer 2,000 passports to carefully vetted purchasers of property over €450,000 (£417k)."
PORTO MONTENEGRO: BEST FOR TOWN LIVING
Porto Montenegro was the first large-scale, luxury development in Montenegro and the one that set the benchmark when it opened on the water directly adjacent to the town of Tivat in 2009. Today it proudly claims to be the Med's leading luxury yacht homeport and marina village and its state-of-the-art facilities attract exceptional craft up to 250 metres.
There's a smart five-star Regent Hotel and a 461-berth marina (with plans to reach 850 eventually) lined with palm trees and filled with gleaming super-sized boats. The marina is open to the public, a handsome and popular place to eat and eye up dream superyachts. There's also an international boarding school, yacht and beach clubs and upmarket boutiques and restaurants.
By the end of this summer Porto Montenegro will have 442 completed residences with buyers coming from the Balkans, Russia, Western Europe, Scandinavia, Turkey and Australia. Prices start from around €500,000 (£464k) for good quality and attractive one- to four-bedroom luxury homes.
"Porto Montenegro has a wealth of benefits for homeowners aside from the obvious amazing views, vibrant lifestyle and events and safe and secure environment," says Danilo Kalezic from the resort. "It also retains a home-from-home ambience which our homeowners perceive as a true community. All essential amenities are close by and we really strive to provide excellence in the aftercare of our owners."