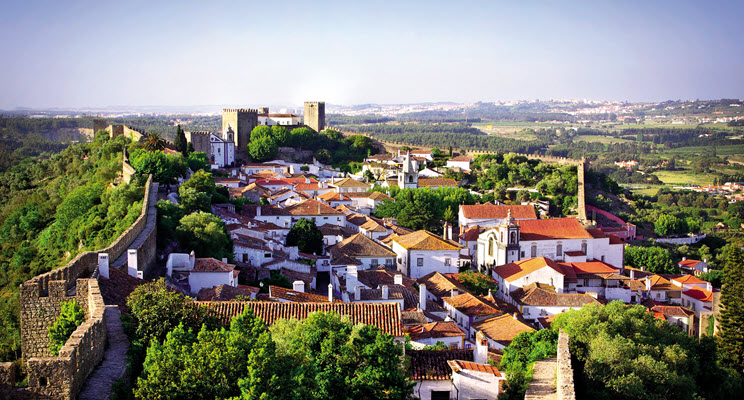 Over the past few years there has been heightened interest in property in Central Portugal from UK buyers. The majority are looking for holiday homes, some are looking to relocate permanently, and the rest for investment opportunities, as Portugal continues to be third most popular country to purchase abroad.
Where is it?
Central Portugal is often referred to as the 'Green Heart' of the country due to its abundance of pine and eucalyptus forests and lush green valleys on offer. The districts of Santarem, Portalegre and Castelo Branco to the south and Leiria, Aveiro, Viseu and Guarda to the north are regarded to make up 'central Portugal', although governmental changes down the years has blurred this.
How to get there?
Central Portugal is now more accessible than ever by air, rail and car, and better road conditions has allowed buyers to access more areas via airports and the country's coastline.
Why go there?
The main reason foreigners opt for Portugal is for its climate, which is far warmer than its European counterparts. The property market also continues to be stable too, and the cost of living is far less than United Kingdom.
Download our free guide to buying a property in Portugal

DOWNLOAD YOUR FREE PORTUGUESE PROPERTY GUIDE HERE
Culinary delights
Portuguese take gastronomy seriously. In the central region there are many excellent restaurants and cafés, which serve a variety of regional traditional dishes including roasted kid and bacalhau com natas (cod with cream), along with superb locally produced wines. Eating out in central Portugal is inexpensive and it is not unusual for a restaurant to offer a three-course lunch with wine for €8. If you have a sweet tooth, you can enjoy the large selection of regional cakes and desserts too.
Did you know?
Castelo do Bode lake is the second largest body of fresh water in Portugal. It follows the path of the River Zezêre through the region of the Ribatejo. Construction of the dam began in 1945 and was completed in 1951, measuring 115 metres. Surrounded by forests of pine and eucalyptus trees, the lake is a favourite with locals and tourists alike. It stretches 60km and is a haven for leisure and entertainment. Whether you enjoy fishing, water skiing, sailing, swimming, canoeing or simply breathtaking scenery, Castelo do Bode has something for everyone.
What type of property can I buy?
Properties in central Portugal are far less expensive than similar ones in the Algarve or Silver Coast regions, where you can get real value for money. Although not well known to many, the towns of Tomar, Abrantes, Alvaiázere, Ferreira do Zêzere, Figueiro dos Vinhos and Ansião are becoming increasingly popular, and well worth a visit. Not only are the towns attractive, but so are the property prices, with character and rustic stone cottages available from as little as €22,000. However, if you are not looking for a renovation project, don't worry there are a wealth of restored country properties such as new-build villas that start from as low as €160,000.
Some additional tips
Adapting to the way of life in Central Portugal may take some time. Away from the big cities, life is slower paced than that of Britain. You may find things such as paperwork take longer to complete when dealing with authorities etc., yet, the people in Central Portugal are friendly and there is a real sense of community, so you'll feel far away from home. Before coming to Portugal, it is certainly advantageous to try grasping some of the local language, even if it's just enough to say hello to your neighbours or to order your lunch. You will have fun learning the language and this will help you feel at home quicker. The majority of the younger generation learn English as school and are happy to practise their language skills.