Janine Marsh reports on the best-kept secret beach towns of the Charente-Maritime region in France.
Do you hanker for some pine tree-backed beaches and lovely laid-back fishing towns with homes for as little as £200,000? You will struggle to find homes for this budget (and as much sunshine) in either North Norfolk or southwest England.
So, here's a suggestion, why not check out the Charente-Maritime in southwest France? Less high-profile than the French Riviera and easier to reach (you could even drive at a push) it's an area that quietly prospers and has become a favourite in recent years with Britons who want to be near to fine sandy beaches and have beautiful countryside as well. The slow pace of life, year-round mild climate and great gastronomy (oysters and the freshest of fish) are also big draws.
In the region of Nouvelle Aquitaine, which encompasses the departments of Dordogne and Charente – popular with British buyers – it is the second sunniest place in France. With three airports it is within easy reach, serviced by budget airlines that fly to the UK and has access to fast TGV trains to Paris.
The capital of the department is La Rochelle, a bustling coastal town and a centre of marine commerce (with an airport too). With a pretty harbour surrounded by cafés and stalls, historic twin towers which stand watch and usher in the Atlantic, ancient covered arcades and narrow streets, La Rochelle has an effortless southern style in a western corner of France. Long popular with the French as well as Britons, it has a reputation for highly-priced properties.
Not, though, as expensive as its island neighbour Île de Réle de Ré, the chichi enclave adored by Parisians. So in demand has property become on the picturesque island with its whitewashed houses and pastel green shutters (the colour palette is strictly controlled), that new-builds are all but banned. At about €4,000 per square metre, it's more than twice the price of mainland property which averages €1,500 per square metre.
If La Rochelle is the place you want to be, expect to pay a premium, says David Crook at the agent Leggett Immobilier, and also to be shown a lot of apartment-style new-builds. "But 30 minutes or so away from La Rochelle, you'll find lovely coastal and countryside towns where your budget will go much further. Prices here just can't be compared to the UK. For €250,000 you can get a stunning property, lots of land, a super quality of life and you don't need to earn so much to live: the emphasis is on living your life to the full."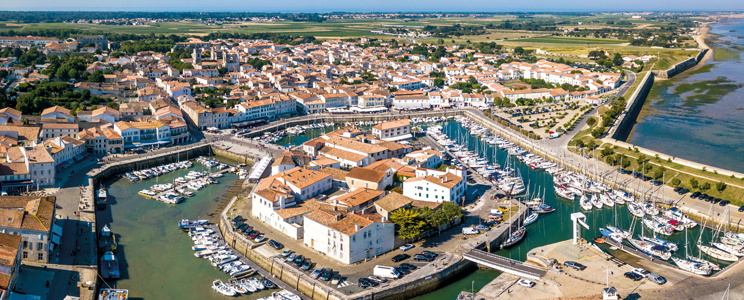 If you yearn for seaside living and don't fancy forking out for an island pad on the Île de Ré, Mr Crook recommends the Île d'Oléron, France's second-largest island after Corsica which is little known to British visitors. As the crow flies, Oléron (typically more than 25 per cent cheaper). Head inland 40 minutes or so from the capital, says Mr Crook, and you'll discover picturesque villages, rolling hills and property at a much better price. 
Saint-Jean-d'Angély, named after Saint John the Baptist – as it was claimed his skull was once kept in the abbey – is a classic French town with everything to hand. "There's a new spa being built,  a town square and weekly market. 
There are mostly old townhouses, three storeys high, but on the outskirts of the town there are more traditional Charentais-style houses." 
With a wide range of property from chateaux to townhouses, apartments and rural buildings on offer, buyers are spoilt for choice if they search inland.
"I recently sold a small house with a brand new kitchen, bathroom and new roof for £25k. There's everything here," says Mr Crook. 
His clientele is around half British (and half French). As with other agents in the area, he's seen an increase in British buyers investing in property before retirement. "With favourable mortgage rates available currently, many are taking advantage to release relatively small amounts of money from their UK properties, say between €100-200k. 
"Tending to be in their forties and fifties, they have a ten-year retirement plan. This trend is the same for French buyers who are increasingly prepared to take on project homes where work needs doing, a change from the traditional French buyer." 
Lynn Wright of Wright's French Property is also seeing an increase in younger buyers looking for a permanent move to a better quality of life. "Often they'll want a gîte or B&B, combined with working away from home, even commuting to the UK as flights from Bordeaux airport are so handy. With prices cheaper than Dordogne and even Normandy and Brittany when you look inland, this area is ideal for a second home, holiday rental, retirement, investment and permanent move."
Download our free guide to buying a French property below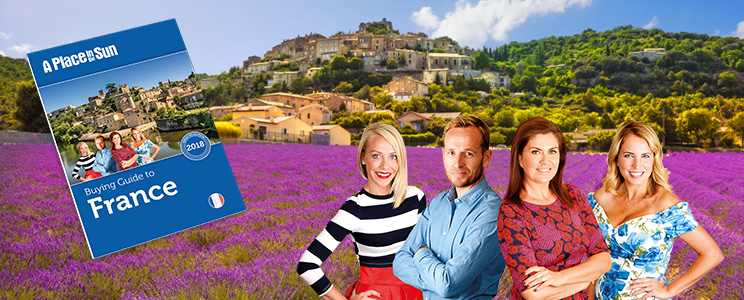 download our french property guide here
Trisha Mason of the agent Healey Fox says: "Beach lovers should consider Pointe Espagnole on the Côte Sauvage, south of Rochefort, and look for homes in  La Tremblade. Stunning beaches backed by sand dunes and pine forests are one of the best-kept secrets of the Charente-Maritime.
"Rochefort is particularly good for retirement homes. Being upstaged by La Rochelle has spared this market town major development but it has everything you need: beautiful buildings, a huge range of shops and restaurants  and plenty going on year-round." 
Purpose-built to house the military dockyards of the 17th century, the town is firmly on the tourist map thanks to the Corderie Royale (royal rope factory). You'll find apartments for sale at less than €100,000, while on the outskirts of town traditional houses with four bedrooms can be found for just over €200,000.
Further inland, Port d'Envaux, once a strategic commercial port, now a vibrant village on the banks of the River Charente, offers a peaceful setting with a river beach and water activities galore. "Great for families or retirees for either holidays or full-time living," says Ms Mason. "There are magnificent manors once owned by shipowners as well as new-builds and traditional houses." 
If you seek city life within easy distance of the sea, then the city of Saintes is worth considering. "It's only just being discovered by the Brits really," says Mr Crook. "The French too are rediscovering it. It's a town that offers everything but the left bank is more popular with French buyers, with more choice in the range  of properties available."
A ville d'art et d'histoire (a town recognised by the French government for a rich heritage), Saintes boasts some of the finest Roman ruins in France and is on the pilgrimage route south to Santiago de Compostela. 
Famous in France for its annual classical music festival held at the monumental 11th-century Abbaye aux Dames, Saintes attracts buyers who want town facilities, access to the glorious surrounding countryside and which is less than an hour from the coast, with properties that are very good value. With some  463 communes in Charente-Maritime spanning seaside towns, cities, villages and hamlets, searching for your dream home in one of the sunniest departments in France could reap rich rewards.