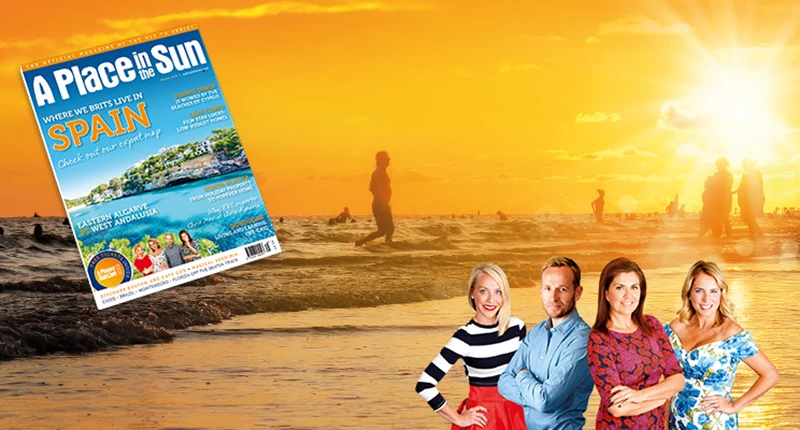 The cold, dark and wet days are drawing in here in the UK, making it the perfect time to start thinking about sunnier climes! Cue our new autumn issue of the A Place in the Sun magazine.
As always, our magazine is jam-packed full of features, top tips and buyer case studies to help with your property search. No matter where you're looking to buy abroad, from southern Spain to the Sunshine State of Florida, we're here for you! And with Brexit imminent, we provide you with valuable information to help you on your way. 
In this edition, you'll find...
- The most popular regions in Spain for British expats: Spanish property commentator Mark Stucklin analyses statistics to find out where the Brit hot spots are
- Jonnie Irwin in Cyprus: our TV presenter recently visited the country and realised there's a beautiful coastline around the infamous resort of Ayia Napa (believe it or not!)
- Eastern Algarve vs west Andalusia: southern Iberia offers a great climate, but do you choose Portugal or Spain?
- Buyer case studies: Dordogne (France), Almeria (Spain) and the Costa Blanca (Spain)
- Lake Como for all budgets: not just for Hollywood actors and Italian football stars
- Hidden Florida: a local resident provides a snapshot of the Sunshine State outside the theme parks and big golf resorts
- Montenegro: a beginner's guide to the little Balkan beauty's big new resorts
- Plus a lot more...
Where to buy
Simply purchase the magazine online by clicking below.
Alternatively, visit your nearest WHSmith high street, rail station or airport store, large Tesco or Asda supermarket, or local newsagent to receive your copy today.