Carrie-Marie Bratley lives on the Algarve and asks why an increasing number of buyers are heading for the hills.
For most people looking to buy a slice of life in the sun, a sea view will probably be at the very top of their wish-list. Portugal's sunny southern Algarve region, thanks to its rainbow of resorts, bars and restaurants on the doorstep of some of Europe's finest beaches, has long been among the top destinations for northern European holiday-home hunters.
Frontline views come at a premium, particularly in popular havens such as the Algarve, where the real estate market is booming. Head inland, though, and you'll find the region's scenic countryside gives the coast a real run for its money, not least because it still offers more square metres for your Euros.
While the Algarve shoreline is a holidaymakers' magnet, the unspoilt rural interior provides refuge from the hustle and bustle of the seaside, particularly in the summer, when the region's population triples.
Located at the foot of Portugal, the Algarve is dissected lengthwise by two main roads: the EN125 national highway and the A22/Via do Infante motorway. Typically, holiday-home hunters in search of the dream-sea view head south of these roads, to the Algarve's golden shoreline.
However, with property prices rising steadily in the Algarve – and some other cities and resort areas of Portugal – savvy house-hunters are turning their attention north of the highways, as properties located away from the coast generally offer more space and can be significantly cheaper than their counterparts on the developed oceanfront.
Enveloped in the Algarve's hardy countryside are traditional towns and whitewashed hamlets, whose authenticity and unhurried pace of life remain mostly untouched by the hands of tourism.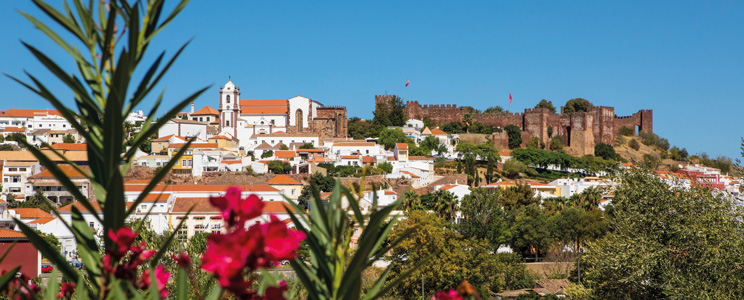 Offering quaint cottages, grand old townhouses and sprawling farm estates, inland is the place to head if you want the choice of an authentic Portuguese property served with a slice of the good life, yet still be a short drive from the allure of the region's main coastal attractions.
As Paula Bennett, of the property consultants Buy Portugal, says: "Buying in the countryside gives you the best of both worlds. Typically, you can enjoy a peaceful setting and still be within 30 minutes of the coast.
"Properties inland tend to be cheaper and the lifestyle is more relaxed," she elaborates. "A short journey away from the coast doesn't necessarily mean having to compromise on amenities, plus you get to see the Portuguese way of life and you are actively encouraged to mix with the locals and participate in community events such as walking groups, traditional fêtes and farming activities like orange-picking and harvesting."
Her views are echoed by Angela Worral, director of Ideal Homes Portugal, who says: "You do still get more for your money inland and it varies depending on how far in you go. You definitely get more ground out in the country because there's more space and land is cheaper."
As an example, she says a three bedroom property that might cost in the region of €425,000 along the coast will come in at about €350,000 a short drive inland.
Another advantage of country living, Angela says, is that "the scenery changes all year round. Every month; it's never boring." 
She also notes the consistency of living in the countryside compared with the coast, as the former is less affected by the seasonality of tourism. "Unlike along the coast, where it's busy and buzzing in summer and quiet in winter, in the country, there's a nice happy medium of it being the same all year round. Nothing closes down. It's definitely a great option for those looking to live for longer periods in the Algarve," she says.
This tranquillity, spaciousness, affordability and immunity to the seasonality that tourism brings, all within a stone's throw of the Algarve's main attractions, make inland Algarve popular among those looking to spend longer periods of time, or to live, abroad as well as for tenants in search of cheaper rents.
However, countryside living might not be for everyone, especially those looking for a holiday home within walking distance of beaches and bars. Rental properties along the coast, particularly those on the seafront, can generally command higher fees while staying in a countryside property might require having a car to get around. Furthermore, the rural lifestyle is usually less of an option for those wanting a low maintenance, lock-up-and-leave property.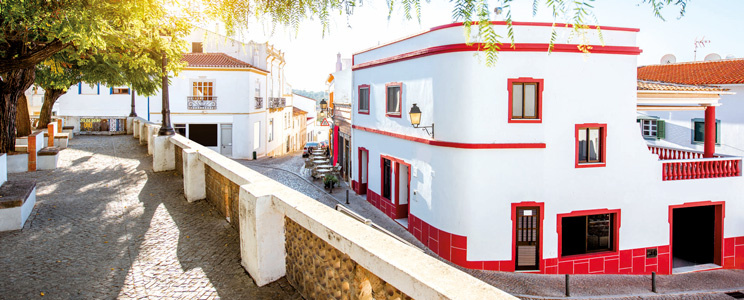 Here we look at two of the central Algarve's largest inland cities, Silves and Loulé, whose fringes are peppered with charming villages and hamlets,  which could be ideal for those who want to enjoy a countryside lifestyle without feeling isolated and might even offer up a bargain.
Silves
Dominated by its historic hilltop castle, the riverside city of Silves lies about 15 kilometres north of the coast, a 45-minute drive west of Faro airport and a 10-minute drive north of the coastal municipality of Lagoa, which features the beachy village of Carvoeiro, the fishermen's village of Ferragudo and the stunning Marinha beach.
Known as the "orange capital of the Algarve", Silves is lined with unfussy restaurants and every Saturday locals flock to the farmers' market. A 20-minute drive to the nearest international school and the closest beaches and a 10-minute drive to the local golf course, Silves has an active community, with the local council regularly organising activities for residents, young and old, such as open-air aerobics, walking tours and culinary workshops and competitions.
It has a burgeoning foreign community and its own microclimate, which can often be markedly hotter in the summer than the rest of the Algarve and chillier in winter. With properties here still offering the opportunity to buy land at a better value than on the coast, installing air conditioning – or even a swimming pool – shouldn't be too much of a stretch.
São Bartolomeu de Messines
Approximately 20km northeast of Silves is São Bartolomeu de Messines, or simply Messines as it is commonly referred to. It is a bustling rural Algarve town within Silves's municipality, a 25-minute drive north of the holiday hotspot of Albufeira, with its shopping centres, neon bars and a plethora of international restaurants and hotels. 
The older part of Messines centres around a whitewashed 16th-century church, next to which is a small museum dedicated to Messines' most famous son, the 19th-century poet João de Deus. 
The main streets are lined with impressive townhouses, with their elaborate wrought-iron balconies, and taper off into quieter cobbled back streets. However, the buzz of new construction is a clear sign that interest in the town is growing.
Silves and Messines are linked by the N124 road, which is dotted either side by a string of hamlets that have welcomed a growing number of foreign residents in recent times. Among the most popular are Enxerim, Pinheiro e Garrado, Canhestros, Cumeada, Torre and Amorosa. These little communities are clusters of traditional whitewashed village houses and working farms, where life unfurls as it did decades ago.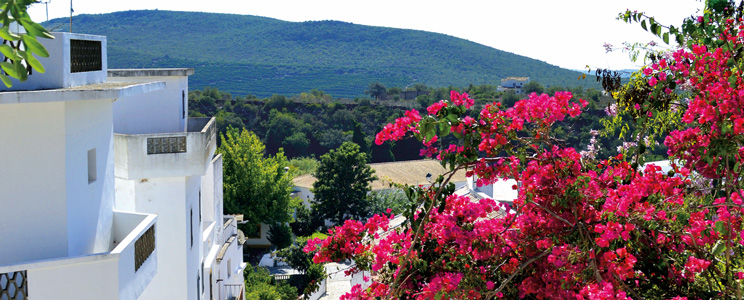 Loulé
Fifty kilometres east of Silves is Loulé. Home to the affluent 'golden triangle' and some of the Algarve's most exclusive resorts such as Vale do Lobo, Quinta do Lago and Vilamoura with its well-heeled marina, the municipality of Loulé comprises two very different halves. Whereas its coastline is one of the most cosmopolitan in Europe, its interior off ers genuine Portuguese towns and villages.
Situated 15 minutes' drive north of Faro airport, Loulé city is a rustic gem, a traditional market town packed with genuine Portuguese charm whose historic centre incorporates the remnants of an ancient castle. The city's exotic-looking Arabic market is its centrepiece and its medieval back streets are lined with traditional arts and crafts shops. Loulé is home to one of Portugal's biggest and oldest carnivals as well as a bustling Saturday-morning gypsy market and its outskirts are dotted with authentic towns and villages.
Among the most popular villages is the busy parish of Boliqueime (15km west of Loulé city), which oozes authentic Portuguese charm despite housing a growing number of international eateries.
The picturesque spa village of Alte (26km north of Loulé), with its pretty natural springs, nestled in the foothills of the Caldeirão mountain range, is another popular haunt, as is Salir (15km north of Loulé), an authentically Algarvian village famous for its castle. Boliqueime, Alte and Salir centre around whitewashed churches and cobbled central squares, where locals swap gossip in cafés and go about their daily business at a leisurely pace.
Download our free guide to buying a property in Portugal