Over 116 million people visited the state of Florida in 2017 - another record year - so it must have an awful lot to attract people. It 's not called the Sunshine State for anything, and it's where thousands of inhabitants of the Northern hemisphere head every winter - including plenty of British families, retirees and golfers.
It's not just the theme parks of central Orlando that are the big pull - although 60 million alone visit that area every year - but all the other things that the state offers, from Championship golf courses and superb sports training facilities to some of the US's best beaches.
From the Kennedy Space Center to racing at Daytona Beach to the burgeoning arts scene of Miami, or the boating scene of the Intracoastal waterway running from Boston to Key West, or the alligators of the Everglades - the attractions are too legion to list here.
Despite such diversity, the biggest share of British buyers by some mile head to the Orlando area, the most visited tourist destination in the US. It's the core market for British families that seek a four-bedroom with a pool for a couple of holidays a year and some good rental returns to pay the bills. Add the two together and you get the vibrant holiday rentals market that exists there.
Most second homes around Disney are in the so-called 'Golden Triangle' or 'Four Corners' areas of central Florida. Fanning northwards from Haines City to the edges of Disney, these include the metropolitan hubs of Davenport, Kissimmee and ChampionsGate where short-term rentals are allowed, and being bisected by Interstate 4 (I4) means fast access to Orlando city and the airport. Established communities (also called resorts) that combine easy access to the theme parks and golf typically offer the best rental returns.
The property market in Central Florida peaked there in 2007 and then fell hard, bottomed out in 2011 and has been rising steadily since. The good news for buyers is that property still hasn't got back to pre-crisis levels, and it remains pretty affordable when compared to European locations where space comes at a much higher premium.
Download our free buying property in Florida guide below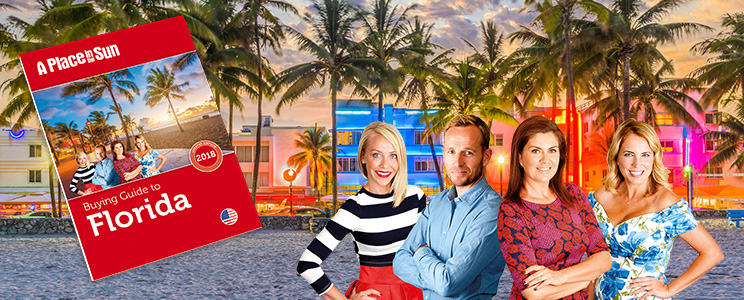 download your free buying guide here
The buying process is however relatively transparent, the taxation comparatively low – both purchase costs and income tax - and agents (known as realtors) are very well geared up to selling to British buyers.
Most British buyers in Orlando spend $220,000 to $280,000, which is roughly £165,000 to £212,00 at the time of writing, and although sterling went further three years ago, for these sums of money you can still buy a four-bedroom villa (or single-family home) with a pool on a popular community within 15 minutes of Disney World.
In fact, the median price for a property in Orlando is around $224,000 - 10 per cent more than the year before - and moderate growth is predicted going forward. Condos for sale in Florida will set you back around $125,250 - with more modest growth, of around 6 per cent year-on-year.
The Florida real estate market is not without any problems whatsoever - there are still foreclosures and an oversupply of homes in some areas, whilst some of the older properties are hard to sell now that the very latest spec new homes are being built again. Agents report an appetite for larger homes to accommodate multi-generational holidays or two-family vacations.
But the fundamentals are all there for investors - population growth, a great economy, tourist levels at record levels as already mentioned, and a slowly reducing stock of homes that is squeezing prices upward. It really is a buyer's market so a wonderful time to buy a home in Orlando.
Other popular areas of Florida include the coastal areas – Miami, Fort Lauderdale, Palm Beach, Boca Raton and St Augustine on the East Coast and Cape Coral/Fort Myers, Sarasota and Tampa Bay area on the Gulf Coast. The micro-markets for these areas are all very different but typically prices have picked up since the global economic crisis and tourism is vibrant too.
Prices by the coast also tend to be higher where space is much more limited – the average property price in Miami is around $300,000, fuelled by strong interest from a diverse array of buyers from around the world.