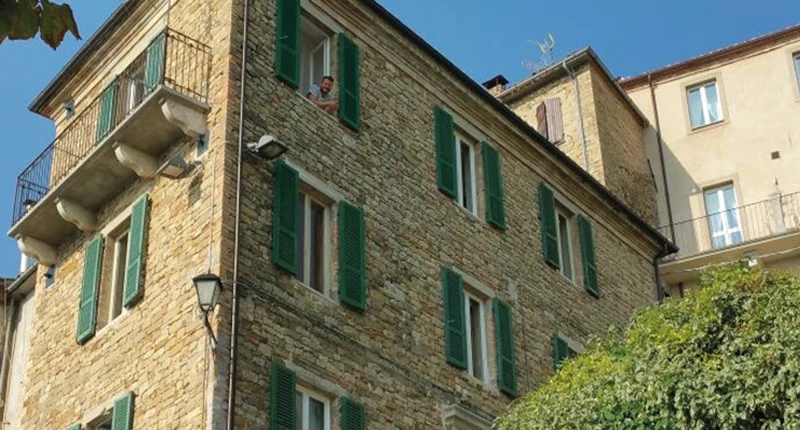 Bath-based interior designer, Gary Edwards and his business partner David Duscom bought a property in Le Marche as a project and investment. He learnt so much he has written a new e-book about his experience and has set up a new service helping others do the same. Here are some highlights and expert tips.
It may sound clichèd, but we fell in love with Le Marche on sight. Not only because there were so many tiny towns and villages to explore, or for the beautiful countryside and golden beaches, but because it also offers great potential for tourists who want to immerse themselves into an authentic Italian experience.
Tucked away on the eastern central coast of the country, south of Venice, northeast of Rome and facing the azure waters of the Adriatic, Le Marche's capital, Ancona, is serviced by daily flights from London Stansted, while a two-hour drive to Bologna or two and a half to Rome makes it conveniently accessible from regional UK airports too.
Cliff lined bays scatter the Adriatic coast with an abundance of white pebble and golden sandy beaches, while inland there are sloped hill towns and the high-rise mountain ranges of Monti Sibillini, complete with numerous hiking trails and cycle routes, ski resorts, freshwater lakes and rivers and great local cuisine. This part of Italy has just as many take-your-breath-away sights as its rivals, but with the added value of a stunning coastline and Blue Flag beaches too.
David is of Italian heritage so we holiday in Italy as much as we can, between breaks from our restoration projects in the UK, which we have been doing for 20 years. We are property restorers and love renovating old Georgian homes in Bath and redesigning the interiors for our clients. Whilst visiting Le Marche for the first time in 2015 we were astounded by not only the beauty of the region but the abundance of run-down, abandoned houses that were for sale, at significantly lower prices than we had previously seen in areas such as Tuscany.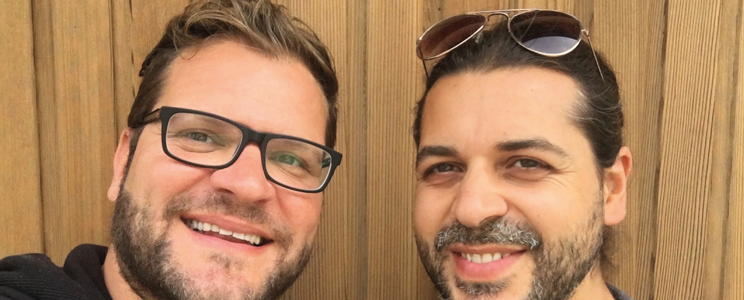 We had been thinking of buying a fixer-upper in Italy for some time, a place where we could stay when visiting David's family and friends, but also as an investment opportunity that we could rent out while we worked back in the UK.
Driving through a medieval hilltop town one day, we took a wrong turn and ended up facing the most beautiful old townhouse that was crying out to be restored. You find the most fascinating hidden gems in Italy when you are lost! Taking down the number on the 'In Vendita' (for sale) sign that hung from one of its crumbling walls, David later called the owner directly and enquired. Yes, it seemed as though it would need a fair amount of work, some that we could do ourselves and some that we would need to find builders to do, but at three floors and located in the heart of a medieval town lined with narrow cobbled streets, a handful of shops, a bar and a picturesque piazza - we could see the potential that this old house offered both for ourselves and for the rental market.
This stone brick, four-bedroom, a two-bathroom house in the hilltop town of Force (pronounced for-chay) had been neglected for years. Built just before 1900, it had once been a family home, its last owner being a priest. The house had stood empty and been on the market for around five years. Time and neglect had taken its toll. The roof was made of asbestos and leaked, the walls had weeds and moss growing out of them, pigeons were nesting on the balcony.
Many people had viewed the property but had been put off of buying it because of the large amount of work they would need to do. In its current state, it was on the market for a bargain price of €49,000, worth it alone for the views of the valleys and mountains that it offered. 
Being designers we can see a house stripped bare, repaired, and redecorated in our minds, which is what we did with this property. It would take a great deal of work, but we were confident that we could bring this beautiful home back to life.  We took some advice from a local Ingegnere Civile (civil engineer) that the owner had recommend we contact before purchasing, and learned that we would need around €25,000 for the restoration work.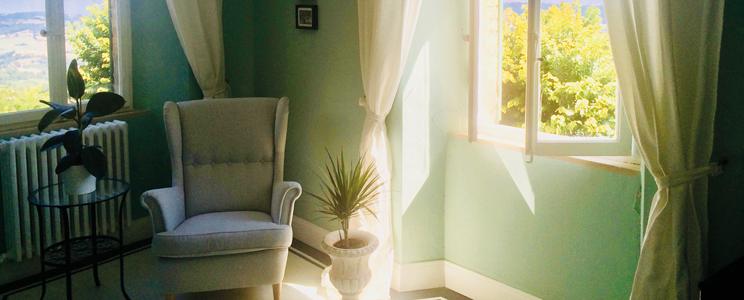 Le Marche has many hilltop towns like ours, Force, each nestled into the mountain with buildings literally stacked higher and higher behind each other, and the entire town is usually surrounded by an ancient wall. This house is a traditional Italian stone house, a good solid structure built with hundreds of sand-coloured bricks, presumably by hand.
Once we had bought the house, we soon set about planning the interiors but we needed builders to fit a new roof and pin the property to offer it extra support. We hired the civil engineer (a legal requirement for anyone having major restoration works done in Italy) and he obtained quotes from three local building companies and gave us his opinions on all of them, which was invaluable. Together, we chose the best-priced building company to carry out the work. The engineer would ensure that the work was being carried out correctly and was fairly priced, and he himself would charge us a fee of 10% of the total cost of the work.
We would stay at the house while the builders did their work (always good to be on site and know exactly everything that is going on) and during that time we would work on the interiors ourselves. Being at the property to project manage was great for us, as we were able to liaise with the builders and our engineer should we encounter any difficulties or have any questions. We had a three-month plan in which, aside from the structural repairs, we would tackle the kitchen, living room, hallway, a bedroom and a bathroom.  We would make these rooms liveable and complete the remaining rooms, landings and staircase during phase two.
The kitchen: exposed stone but not the whole hog
We both love country kitchens, they have so much character and are usually warm inviting spaces. This old house needed a country kitchen. After all, it had views of rolling hills, tiny cobbled stone streets and field upon field of cattle, horses and flowers so it made sense to try to replicate the type of kitchen you would find in an old farmhouse.
To achieve this, a panel of 1970s dark tongue and groove wooden cladding had to go - we hoped it was hiding a beautiful stone wall (we were right, it was!), oh and did I mention that the whole kitchen needed rewiring?
Beautiful stone walls are a typical feature in Italian vacation homes, but mainly in country farmhouses where the whole structure is built using stone bricks, mortared together to create walls. Many of the medieval towns in Le Marche, such as Force, have used this technique to build houses. Inside, the walls are plastered over so that they are solid and retain heat.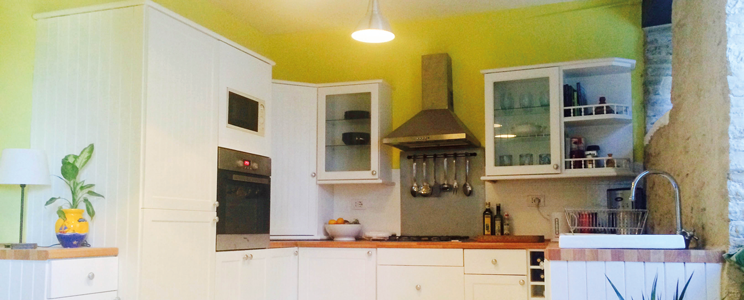 Even in Italian farmhouses, these internal stone walls were not traditionally exposed, it was only in barns and stables that the stone remained uncovered. We wanted our kitchen wall to be a feature wall - just this one, as although stone looks beautiful it does not reflect the light. 
I have stayed in some Greek villas where all four walls have been completely made of stone and although it looks authentic and rustic, it can create the feeling of coldness, and the room ends up dark and feeling damp. It's like sleeping in a stable.
Restoring a sense of arrival
The first time we visited the house, we were struck by the beautiful entryway with its original oak front doors and gorgeous marble tiled staircase. 
Unfortunately, years of the house being closed off had taken their toll.  The cement work that surrounded the doors was swollen, blown and cracked and the bottom of the doorframe was damp. The doors needed repairing, one had lost a hinge and the bottom sections of both had been eaten by woodworm.
The marble floor was in excellent condition and just needed was needed cleaning. The stair bannister was a dark wood and beautifully carved, and again in great condition.
As with the kitchen wall, we took our hammers and chisels and took off the cement that surrounded the front doors, exposing the beautiful stone beneath.  We would repoint and repair it and keep it the same colour as the kitchen wall,  to instantly transform the entryway. 
The front doors took a huge amount of work. These are the original doors that were added when the house was built,  and although they had some damage, they would be able to be restored. Taking them off their hinges, we fixed these with our new neighbour Mauro, who restores old furniture. Mauro, like many people in Le Marche, was incredibly welcoming and he and his family offered us help throughout the project. They probably took pity on these two crazy Brits and cooked for us, helped us move old furniture, and would even deliver us organic fruit and vegetables from the local farm!
Download our free guide to buying a property in Italy
Sitting room: much sanding and painting worked wonders
The sitting room is a large space with two beautiful windows and a very loose floor. The tiles were cracked and when we walked across the floor the whole room rattled and shook. The walls were dirty and cracked and swollen cement surrounded the windows. In damp areas, the walls literally seemed to be crumbling away. Years of neglect and earthquake tremors had caused this.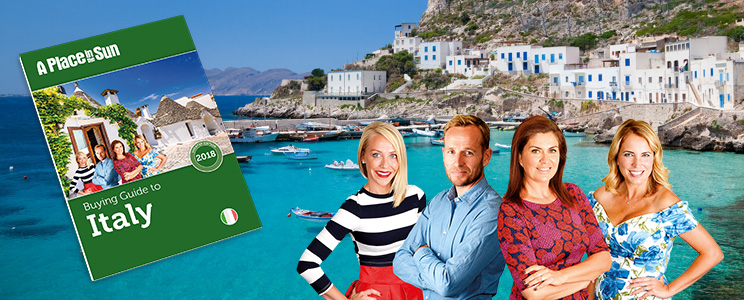 DOWNLOAD YOUR FREE ITALY GUIDE HERE
There are two large windows in the sitting room. The frames were in good condition as the shutters had been closed for years (the condition of the shutters was a different story). We sanded the wooden frames and gave them a couple of coats of brilliant white paint which made the world of difference. The flaky latches were sanded too. We also gave the door a makeover with new panes of glass for a modern look.
Master bedroom: a quick fix
The master bedroom has an en-suite bathroom that luckily was fully functioning so did not need too much attention, apart from a lot of deep cleaning and some fresh paint. We bought a new cistern and some porcelain spray to colour the suite white, tile paint for the floor and wall tiles and got to work.
The main feature in the master bedroom is the balcony that looks out over a deep valley and the mountains and sea in the distance. Our builders reinforced the balcony, and apart from broken doors and pigeon-damage, it wasn't actually in bad shape. We took the shutters off for sanding, filling and repainting, as we did the doors - a gleaming white.
The end result?
Once the interior of the house is completely finished and furnished, we expect to fetch €140,000 should we put it on the market. In the meantime, we will rent out the property to holidaymakers. After our experience of restoring a house in Italy, we realised how difficult it is for non-Italian speakers to buy a property through a private seller. Internet searches will display homes for sale that are listed by estate agents, but a drive through the hills of the region will show you numerous restoration projects at bargain prices.
So that is the background of why we set up a business, D&G Design, to offer prospective buyers examples of private homes for sale and provide trustworthy tradespeople to complete any work. We put buyers in touch with the owners, translating where needed, recommending notaries and solicitors, and offer advice. Once the purchase is made, we stay on site and project-manage the restoration, as well as working with our clients to bring their new home's ideal interior and exterior to life, keeping them updated through every step of the journey. After all, we have been there and done it, and feel very rewarded that buyers can now benefi t from our own experiences.