Janine Marsh met the brave young couple who took on a €1 million 'project' in Mayenne, northern France – something many of us can only dream about.
How many of us dream of escaping our daily routines and heading to France to live in a chateau? Almost everyone, it seems, and the success of TV programmes such as Escape to the Chateau and Escape to the Chateau: DIY is stoking up those dreams.
It started with the larger-than-life couple Angel Adoree and Dick Strawbridge who swapped a two-bedroom flat in Southend, Essex, for the fairytale-like Chateau de la Motte Husson in Mayenne, Pays de la Loire. The chateau came with a moat and pointy turrets and cost them £280,000. It needed a lot of work and the couple set about a major restoration project. Millions watched enthralled as Dick and Angel transformed the rundown 45-room castle into a stylish dream home and successful business as an events and vintage wedding destination.
After four popular series (series 5 of Escape to the Chateau returns to Channel 4 this autumn), Dick and Angel fronted up a spin-off series called Escape to the Chateau: DIY, helping Brits renovating and running a chateau business in France. This show too had a huge audience reaction. When each programme ended, "viewers were literally switching off the TV, firing up their iPads and looking at what is available", said Jane Berry, head of estate agent Leggett Immobilier's Prestige division. "We have seen a huge jump in website visitor numbers straight after each episode, indeed our dedicated 'chateau page' shows an 800 per cent increase in traffic  cover the past month compared to the same period last year."
The young chateau owners
One of the couples featured on the show became firm favourites with the viewing public. Billy Petherick, formerly a builder with a passion for restoring antique furniture, and Gwendoline Mouchel, who was an assistant manager in retail, were 27 and 24 when they bought the 18th- century Chateau de la Basmaignée in Mayenne, Pays de la Loire, for €1,050,000 in 2016, not far from Dick and Angel's chateau. Billy is originally from Greenwich, south east London, and Gwendoline is from Cherbourg, in Normandy. Billy's parents had moved to France and while staying with them he'd fallen in love with France – and Gwendoline.
"We were looking for a project, we thought perhaps a grand house, manoir, Maison de maître or small chateau, but then we stumbled across a listing for this chateau online," says Gwendoline. "We thought that even if it was bigger than what we were looking for, it was so beautiful that it was definitely worth a look. At least we could dream for an afternoon. But we fell in love with the place straight away. It made us rethink our plans because after seeing Basmaignée we couldn't really see ourselves anywhere else. And finally, after months of figuring out a way to pursue this crazy adventure, we got the keys to our beautiful chateau."
Funding came from a legacy from Gwendoline's late mother and bank loans.
Set in 60 acres of parkland with a private chapel, traditional walled garden and six cottages, the 50-60 room chateau – "we've never really managed to agree on a definitive number", says Gwendoline – needed a huge amount of work.
"It was uninhabited for many years and was in a terrible condition," says Billy, but the couple were undaunted and determined. Billy's brother, Michael, 31, joined them in France after he too fell under the castle's spell and wanted to help with the renovation. Between the three of them, they have worked tirelessly to bring the castle back to life and start to earn an income from it, winning the admiration of all who watched their tale unfold.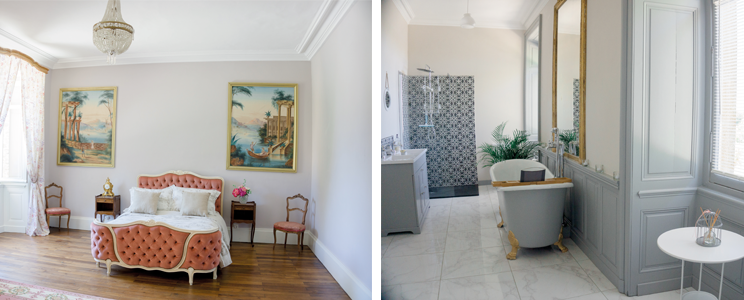 The main challenges of owning a chateau
Ask any chateau owner about the challenges of owning a stately home and all will mention the huge costs of upkeep, the constant need for maintenance and the search for the right artisans to help with restoration. In some cases, special planning requirements are needed from the Monuments Historique organisation, though in this case Basmaignée is not listed. 
"Most people dream about being chateau owners and picture themselves living like royalty, but unless you really are royalty it's not how things go," stresses Gwendoline. "We knew that right from the start; we wanted a challenge. Having  a strong belief in your project is essential."
The three intrepid young people have done most of the work themselves with the help of family and friends, though they have had professional input when it comes to electrics and plumbing.
"The more you renovate, the more you have to maintain. When we arrived,  it was kind of easy because we focused on renovating key rooms to make the chateau liveable. Now that we've done that and set up the business, we still have to keep on renovating; but we also have to look after what we've completed, manage the business and try to find time for ourselves. Balancing this is the real challenge but it's totally worth it: we love it and wouldn't change a thing," Gwendoline says.
"It's essential to try not to feel overwhelmed with all of it. We focus on the work room by room, rather than think of what needs to be done over the whole chateau. For instance, when people ask us, 'When do you think the chateau is going to be fully renovated?' we don't have any answer to give, because we don't want to put ourselves under the pressure of a deadline. We go step by step and then it's like any other renovation project,  only it's going to take longer."
It's not all about the money
Billy and Gwendoline took out a loan that has enabled them to "keep renovating and living until we break even at least".
Doing most of the work themselves means they've kept costs down at €40,000, including €15,000 for the rewiring.  They also invested in essential equipment, from a cherry picker to garden tools. "By doing as much as we can between us, we estimate we've reduced the costs by 80 per cent, based on the price of a single-room renovation being around €2,000 if we do it, €10,000 for professional support.
The chateau is their only means of income. Gwendoline admits: "We don't have any idea of how much we can earn when it's all finished, we're not planning that far ahead. For now, we are just trying to make it so the chateau can pay for itself and for the renovation work, though we're not really certain how much that needs to be."
At just over a year into this huge venture, the castle is now a functioning bed and breakfast and wedding venue and it also hosts antique adventure weekends.
"To buy a chateau, you have to be determined, prepared to work seriously hard and perhaps just a little bit mad," says Billy.
Download our free guide to buying a property in France