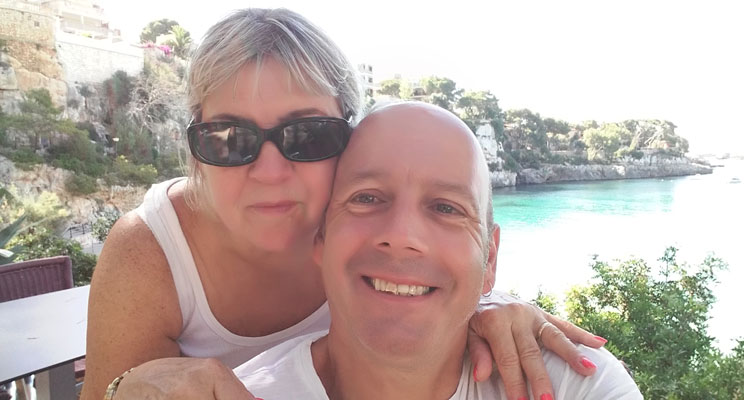 "My name is Ken Britton, and I live with my wife Linda in Thatcham, Berkshire. The two of us had dreamt of owning a holiday home abroad since we rented a workmate's villa near Torrevieja, Spain in 1993. More than two decades later in 2015 we finally realised that long-held dream and are now the proud owners of a two-bedroom, frontline apartment on the east coast of Mallorca.
We spent those intervening years attending foreign property exhibitions (including A Place in the Sun Live - obviously), spending hundreds or maybe thousands of hours online looking through properties and watching every television programme. We also signed up to the mailing list for at least half a dozen foreign estate agents too, including A Place in the Sun's.
As personal finances, property prices, and exchange rates fluctuated, so did our plans on where to buy an overseas property. This varied from a villa with a pool on mainland Spain, a plot of land in Sardinia, a house in southern Italy to a ruin in the north, until we finally started looking at Mallorca after a holiday there.
Viewing Trips
We first visited in 2003 and then again in 2005, but we were unable to return for another eight years. By then, however, we had become obsessed with Mallorca, so much so that, when we finally re-visited in 2013 we had already booked our first property viewings.
Our budget was fixed at £100k which on Mallorca is rather restrictive. Linda's top priority was a sea view, a near impossibility for our money I thought, followed by a proximity to bars, restaurants and shops. We narrowed our search to the less pricey east coast where our money would stretch a bit further. We made two subsequent viewing trips in 2014 and 2015, inspecting probably two dozen apartments in total.
But in spite of all the hard work and careful planning, finding our place was a complete fluke!
Early in that week in March 2015, we were a bit down because our property search wasn't going quite as expected, and the weather was atrocious. So, when the weather finally broke, we walked to a little spot that we knew of, at the waters' edge just along from Cala Bona harbour, where we sat on a low wall and looked out across the Meditteranean.
Pictured below is the view from our balcony overlooking the sea!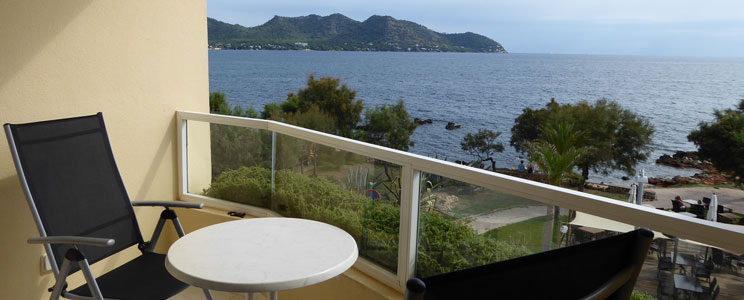 Directly behind us was a small apartment block where we noted a "Se Vende" sign on one of the balconies. I rang the number there and then. We made an appointment to see the apartment the Monday, had a second viewing on Wednesday and made a strong offer that afternoon. Over dinner that evening we got the call that the German owners had accepted.
There are many lovely resorts in this part of the Mallorca, and our search covered most of them, but long story short we decided on Cala Bona because it just felt right. It was the picturesque working harbour surrounded by numerous bars and restaurants, the proximity to the hills and countryside and the nearby town of Son Servera with its' magical Esglesia Nova (new church) that sold it to us.
There are also half a dozen of other resorts within walking distance, most of it on the flat, which will benefit us in the years to come, as we're not getting any younger. But the thing that really impressed was the sense of community that many of the larger resorts just didn't seem to have.
Do we have any regrets about buying? In short no. As mentioned before we've had this shared dream for most of our time together and through everything that life has thrown at us we never lost sight of it. Yes, we could have paid off our mortgage with the money, built an extension or bought a new car, or even financed holidays for the next 30 years, but the dream would have remained unfulfilled. THAT would have been our greatest regret.
Any advice?
If we have any advice to give it would be doing your homework. Get to know the area before you commit, agree on one key aspect of the property which you just won't compromise (eg sea view, preferred location, outside space) and make it a priority. It will narrow your search.
Choose a good solicitor, you will need them before, during, and often long after the buying process.
Also, find someone trustworthy who can look after your property when you are not there. They keep you connected to your place, they are your eyes and ears (and hands and feet) in your absence. You would be amazed the number of times our "cleaner" has had to come to our aid. We've got her on speed dial.
The best advice though? If ever you get the chance – take it. You might never get another!"
search for a property for sale in Mallorca
...or download our free guide to buying a property in Spain