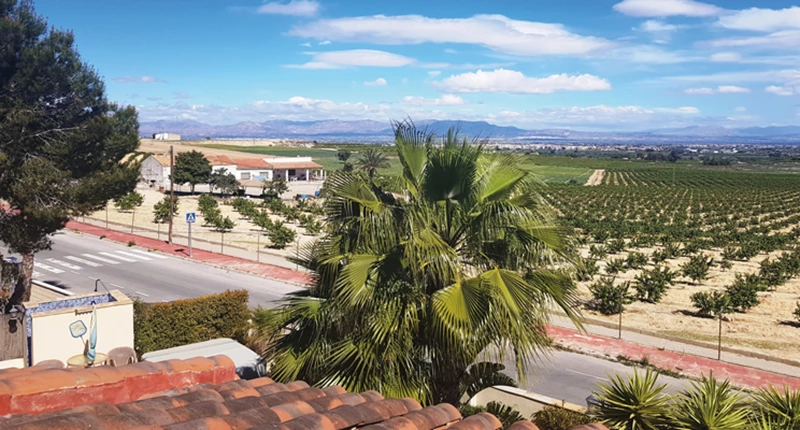 Vincent Real Estate head up our latest 'Five Minute Focus' instalment by focusing on the small yet stunning town of Algorfa on the Costa Blanca.
Where is Algorfa?
With an orange sun setting behind a majestic mountain, bathing your terrace with an apricot glow, while you sit there enjoying a glass of wine you would be forgiven for thinking you were in paradise. The reality is that this can be your view every evening of the week when you own a holiday home in Algorfa. 
Being only 30 minutes from Alicante airport on the South Costa Blanca means you could leave work Friday afternoon and witness the sunset in Spain. Life doesn't get much better than that. It 's also well located inland to offer authentic village life but be close enough to the coast to dip into the buzzy resorts there.
The famous beaches of Guardamar del Segura are under 15 minutes in one direction and the historical city of Orihuela 15 minutes in the other direction – a choice of Spanish beach or Spanish culture will be the most difficult decision you will make all weekend.
A sleepy Spanish village it certainly isn't
The two roads that intersect Algorfa hide the fact that this Spanish village has an amazing village square with a 'buzz' in the evening to match. Wandering around the village on foot and you will turn street corners and be greeted by bustling Spanish bars, European restaurants, traditional Spanish shops and a municipal sports facility that many towns 10 times the size in the United Kingdom would be proud of.
Perfect for a padel...
Venture a few minutes outside the village by car and you will hear the grunts of the legion of Rafa Nadal copycats coming from the local tennis club where you  can sharpen your skills in both traditional tennis and the ever-growing sport of padel – a combination of tennis and squash played on a smaller court than traditional tennis, with a fine layer of sand to make things more interesting, along with Perpex panels around the back of the court where you can smash the ball  back to your opponent (or yourself if  you don't manage to hold your footing  on the previously mentioned sand)...
Download your free guide to buying a property on the Costa Blanca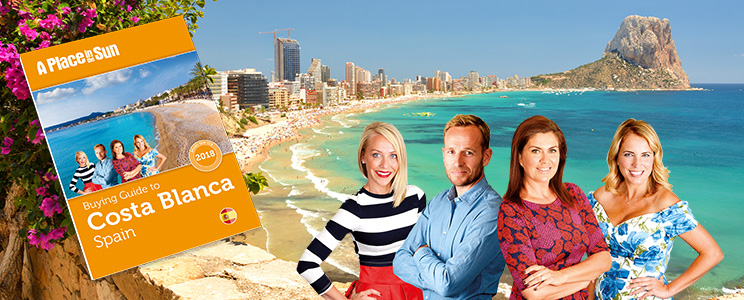 And then - relax...
If all this excitement and adrenaline is too much than a few minutes past the tennis club will bring you to the entrance of La Finca Golf Hotel and Spa Resort,  a five-star hotel with a relaxing spa centre set around an 18-hole championship  golf course allowing a pleasant game  of golf followed by an even more  relaxing spa treatment. 
For something completely different, a 10-minute drive brings you to La Pedrera reservoir, a man-made water feature offering various water sports, fishing,  quad biking, horse riding etc – a welcome break from the usual Spanish activities of the beach, pool, golf, shopping and sangria.
What property can you buy there?
From bargains to properties that wow, there is something for everyone.  The village of Algorfa is spread across a large area with different urbanisations so there is a matching variety of property types and prices.
For those on a tight budget what about a two-bedroom south-facing ground floor apartment for only €64,950? Looking for a family home that allows you to keep some of your savings for a rainy day?  How about a three-bedroom detached villa set on a 154m2 plot for a price for only €120,000.
Or maybe you enjoy a regular round of golf? Located on a five-star golf resort we have a stunning two-bed, two-bath top floor apartment with feature high- beamed ceiling for €125,000 (pictured top, right). Moving up the price range the area has some stunning resale and new-build substantial detached villas for sale, including this unbelievable frontline golf detached villa of 155m2 offering four bedrooms and three bathrooms for €484,950.
For the ultimate in style, design and location this stunning contemporary villa tops the chart at €575,000 for a brand new frontline golf villa with stunning infinity pool.
Algorfa offers something for everyone from a weekend getaway to stunning family home. Book a weekend away and discover the hidden charm of this Costa Blanca village.