Mike and Diana Tibbett from Scarborough appeared on the show with Danni Menzies (pictured above) in Malta. They admit they wouldn't have been able to find a property there without A Place in the Sun. Mike, 58, explains why.
"We had been holidaying in Malta for 15 years as I have three cousins there (via marriage) and have over the years spent a lot of time and money going there up to three times per annum. With my mother dying last year, the time was ripe to take the plunge. My youngest child was still at school too, but now she is finished [they have four children aged between 20 and 31] we will have more time.
"We love Malta for the climate, the clear seas, the people and for how English it is. Some parts can get crowded but we started looking at Marsascala, a village in the southeast of the island. There's a lot of refurbishment going on there, including a shopping mall."
After watching A Place in the Sun frequently, the couple contacted the production team and they appeared on the programme seeking a two-bedroom, modern property near the beach. 
"The researchers found it hard to find properties with our budget of £150,000, so they did very well and we wouldn't have been able to locate them without their help. "We bought the last one we saw. As soon as we walked in I knew it was the right one. It has three bedrooms and is in an unusual block in the centre. We got the property for £158,000 through the agent Frank Salt.
"When our programme aired, Scarborough almost drew to a halt as we know a lot of people in the town.
"We completed in March and have already booked four three-week trips this year and we are going to get a little boat and potter about in it there. We are counting down the days till we go."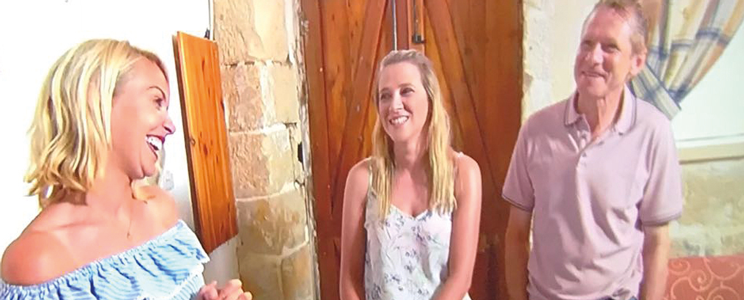 Self-employed Russell Lovatt from Nottingham has always loved Malta. At 52, he wanted a "home from home" for his children and is now the proud owner of a townhouse in Mellieha which he found through the TV show.
"I have visited Malta since I was a child and it's very familiar to me. As soon as I step off the plane I feel like I know it," says Russ, who runs a show homes business and a horse-riding school. "It's very Anglicised and easy – it's a bit like being in England with sun.
"With a view to moving out there in five years, I decided to look for a property. My daughter, Sian, 26, wanted a modern apartment for free holidays. I wanted an historic property that I could get sorted out and spend time with my six-year-old son there.
"I like the old village of Mellieha because it's got the best beach and sea in Malta. The people are friendly there, it's still got a quaintness about it, even though there's plenty to do. Some of the bigger towns are very busy.
"I went on the programme last June with Laura Hamilton, pictured, and a budget of £250,000. I put in a silly offer for the last property I was shown, a three-story, four-bedroom old townhouse right next to the church in Mellieha. It wasn't accepted so the film show wrapped up, but then the agent [Northern Properties Malta] rang back. It was originally on at €275,000 but dropped to €250,000 and I had offered €215,000. The Maltese owner said I could have it for €217,000. I completed in March.
"I was delighted but a bit worried about the amount of work needed. The 1950s kitchen needed removing and the furniture was also quite dated. I might spend £20,000 to £30,000 on it and plan to put a Jacuzzi on the roof.
Download our free guide to buying a Malta property below!