Free Downloadable Guide on How & Where to Buy a
Property in Malta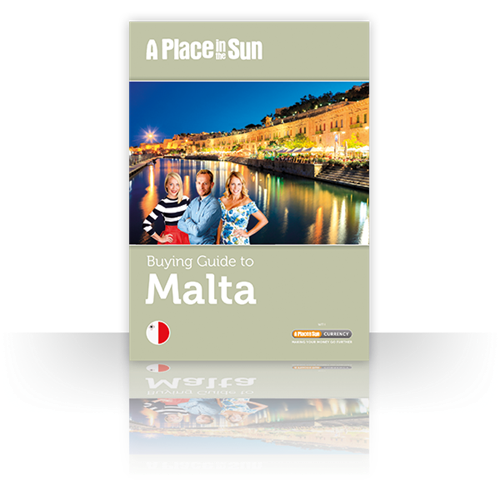 A Place in the Sun is the UK's leading overseas media brand, with a hit Channel 4 TV show, monthly magazine, three live exhibitions a year and an advice-driven overseas property website where you can search hundreds of Maltese properties for sale.
Malta has close ties with the UK, with much of the last 200 years spent as a key stretegic outpost for Britain in the Mediterranean. These days it is a flourishing tourist hotspot, with thousands attracted each year by its warm climate, beautiful beaches and sites of historical/cultural interest.
The property market in Malta offers good value for money for buyers from the UK, with mid-range properties priced between £70,000 and £100,000. Add in the cultural similarities, the Maltese drive on the left and English is one of the official languages, and its easy to be tempted.
So, if you're thinking of buying a property in Malta, then download our FREE detailed guide now.
What's in the Malta Property Guide?
Brexit and your holiday home – it's brief because nothing has changed and Brits will always be able to buy and enjoy property in Malta, some of the detail may change and we will have more when it is known.
Brexit and living permanently in Malta – if you're thinking of living in Malta permanently then now is a good time to make the move and acquire residency rights.
here's a run-down of the popular areas to buy a property in Malta, including Gozo

and Comino

We cover the main legal issues to

consider during the process of purchasing your property, including fees.

We also include detailed information related to getting a mortgage, tax fees, healthcare, inheritance and other living costs

One service that is often overlooked is how transferring your money to Malta through a currency specialist can save you thousands of pounds, so we are pleased to have had the support of A Place in the Sun Currency in the making of this guide.
Useful resources and a glossary of terms you may come across in the property buying process
We hope our buying guide to Malta will inform, enlighten and set you on your way!