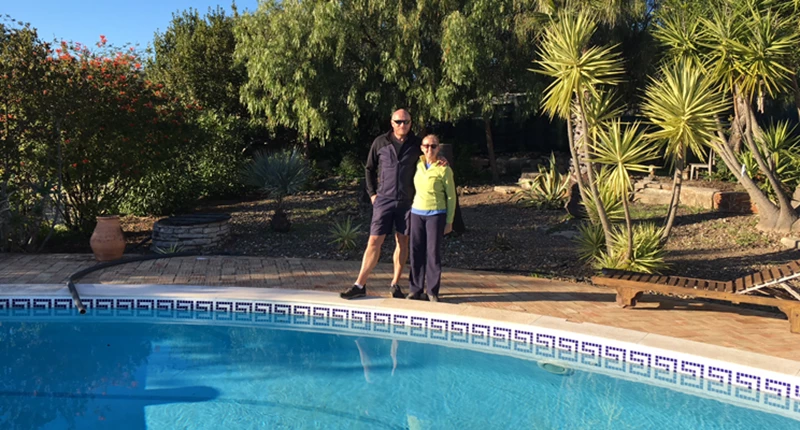 We are always getting emails asking what happened to some of the people we have helped to find a home in our magazine or through our TV series. Here Richard Way revisits one of our successful buyers who bought their property in Portugal.
Martin and Diane Bee moved to the Algarve from Cheshire in autumn 2016. They found their home – a quinta-style villa in Loulé which they share with their two cats – through Ideal Homes in spring that year. Diane has since started working locally, while Martin, an IT contractor, has been commuting back to the UK, although not for much longer.
"We chose Portugal as it ticked all the boxes for somewhere warm, cheap and enjoyable to enjoy early retirement, and things are turning out well. As alternative options, we looked as far as Central America and Borneo as well as other European countries," Martin says.
"Since buying our villa, which had a purchase price of €305,000 and has its own pool, we've pretty much gutted and modernised the whole of the interior. The only things we haven't changed are a bath and one air-con unit. We did some of the work ourselves; otherwise, we used local tradespeople, which we found relatively easily through word-of-mouth.
"We feel lucky with the location we picked. Loulé offers easy access to the airport, coast and hills while being relatively tranquil and not too touristy. There are some holiday homes here, but most of the properties around us are lived in.
Download our free guide to buying a property in Portugal below

"Right now I'm still working, which means commuting back to Manchester from Faro every other week, typically flying out on a Monday and back on the Thursday or Friday. But my plan is to retire and really start enjoying life here. Next week I'm having a meeting with someone about the non-habitual resident (NHR) tax scheme, which offers new residents special tax benefits.
Diane found a job soon after we moved over and has worked for the local estate agency Algarve Homes for about a year now, something she really enjoys. Our income also includes rent from buy-to-let properties in the UK.
"One of the things that really struck me about living here is how cheap it is. In the UK our council tax used to be around £200 a month, while here it's about £400 for the whole year. We don't have gas, our water comes from our own borehole and our electricity bills are about £70 a month, so you can see how cheap our living costs are.
"Becoming a resident was a simple process, helped by the fact that most people around here speak a bit of English. In fact, when Diane went to the local doctor's recently, she was seen by a Russian GP who spoke a few languages. When I've retired, I plan to do a two-week crash course in Portuguese, to help get me started.
"We're not worried about Brexit. All the noise coming from the UK and Portugal indicates that expats on both sides will be looked after. I don't think Portugal can afford to lose all the revenue that expats bring here."