Charming beach resorts and world-class golf communities remain the key attractions of Portugal, but more adventurous property-buyers might be tempted by Lisbon or the country's pretty interior. Could these five reminders kick-start your hunt for a Portuguese home? Richard Way reports.
1) Beach, city or countryside?
The sunny Algarve attracts the bulk of Portugal's foreign homeowners, most attracted by the friendly beach resorts, balmy climate, access to leisure activities and the laid-back lifestyle. The Central Algarve, home to the exclusive Golden Triangle, and Western Algarve, which includes resorts such as Lagos and Carvoeiro, are especially popular.
The Eastern Algarve is less developed, with the towns of Olhão and Tavira notable highlights. Prices in the Algarve can range from less €100,000 for an apartment near the beach into the millions of euros for a luxury villa.
Lisbon is Portugal's second most important tourism and property hub. The ongoing regeneration of much of the city has made it attractive to international investors, as well as foreigners looking for an exciting – and lettable - city bolt-hole.
For a rustic lifestyle in Portugal's interior, the areas around Castelo Branco, Santarém and Leiria are dotted with great value country homes. Meanwhile, culture vultures not bothered by wetter weather should head north to Porto, another fashionable city destination with a foodie edge.
Wherever today's buyers decide on, they shouldn't forget how favourable mortgage rates in Portugal are right now, especially given Sterling's ongoing weakness against the euro. Variable rates of less than 3 percent requiring a deposit of 30 percent are typical for non-residents.
2) World-class golf communities
Golfers are in heaven in Portugal! Since Penina in Portimão opened as the Algarve's first golf course just over 50 years ago, the region has become an international golf destination with more than 40 courses. The three key resorts of the famous Golden Triangle have no less than seven championship courses between them – two in Vale do Lobo, three in Quinta do Lago and five in Vilamoura, home to Portugal's largest marina.
Frontline golf properties within these communities, which also include five-star sports and leisure facilities, are some of the most sought-after in Europe. Many are owned by global the jet set and famous sports personalities. The short transfer from Faro Airport, the gateway to the Algarve with regular flights from the UK, makes these resorts even more appealing.
Elsewhere, golfers with more normal budgets are spoilt for choice in the Western Algarve, where properties within one of the many golf resorts make popular holiday homes.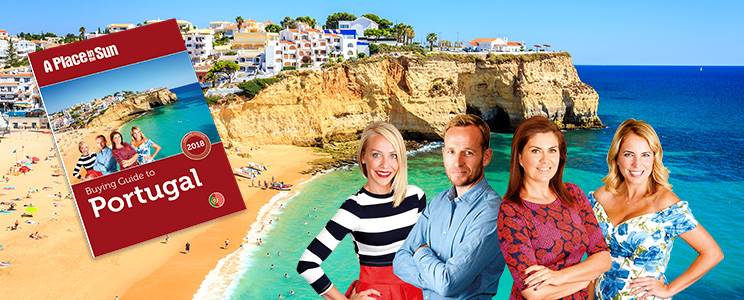 download our free guide to buying a property in Portugal
3)  Strong holiday let market
Tourism continues to boom in Portugal, with Britons making up the largest group of overseas visitors. The number of foreign tourists visiting Portugal increased nearly 12 percent last year, reaching a record 12.7 million people – this means a rise in demand for accommodation.
Well located properties let easily during the busy summer period, but thanks to the Algarve's consistent moderate temperatures - even during the winter months, occupancy rates are steady outside of high season. Golf tourism, in particular, is suited to the cooler months, so properties near a selection of courses should be good year-round earners.
Portugal's rental market is regulated, which means to let a holiday home legally you should register with your town hall and obtain a rentals licence, known as an 'Alojamento Local'. This helps maintain a level of quality in the rental market – and justify healthy rental charges!
4) Tax incentives
As if the lifestyle, scenery and properties weren't enough, Portugal's Non-Habitual Residence (NHR) regime makes it one of Europe's most tax-friendly destinations for foreigners right now.
The NHR regime, which was introduced by the Portuguese Government in 2009, permits qualifying foreigners to enjoy almost all sources of foreign income, including pensions, tax-free for the first ten years of being a new resident. And thanks to the terms of the Portugal-UK tax treaty, UK State pensions can be paid gross in Portugal, where the NHR regime would ensure they didn't incur any tax.
Non-EU citizens can also take advantage of Portugal's Golden Visa scheme, which grants you automatic residency (and the right to move freely across European borders) when you spend €500,000 or more on a property. Depending on how Brexit negotiations pan out, this could be a future option for Britons.
5) Low living costs
Portugal might be home to some of the world's most desirable golf homes, but away from the exclusive areas of the Algarve, it is also one of the most affordable places to live in Europe. The country is ranked as the second cheapest holiday destination in Europe, according to the 2018 Worldwide Holiday Costs Barometer by Post Office Travel Money – it is third if long-haul destinations are included. Meanwhile, global consumer price website Numbeo.com rates consumer prices as 28 percent lower in Portugal compared to the UK.