Our latest 'Five Minute Focus' instalment takes you on a journey across to a piece of paradise on Turkey's Mediterranean coast, Ovacik. Orka Homes reveal all about this popular property hotspot.
Where is it?
Ovacik is situated on the south-west corner of Turkey on the Mediterranean coast. It is nestled between Oludeniz, with its world-famous Blue Lagoon and beach, and Fethiye with its magnificent harbour, historical ruins and shopping. These contrasting areas are only minutes from Ovacik, giving the best of both worlds.
How do you get there?
Flights are available from all over the UK, and transfers from Dalaman airport take just 45 minutes.  A new international terminal is due to open in April 2018 to cope with the demand of increasing visitors.
What is Ovacik like?
Ovacik lies in a picturesque valley at the foot of the Babadag mountain with stunning scenery, views and protected national forestry. With a relatively flat landscape, it is ideal for leisurely walks. The area has been transformed over the past 25 years with stylish hotels, apartments and villas adding to the character of Ovacik.  Great care has been taken to keep the landscape green and unspoilt.   It is truly a mixture of traditional Turkish and modern living.
Lifestyle - slow and cosmopolitan
Blending happily alongside the local Turkish residents are families from all over Europe and beyond. This also includes a strong British presence. Everyone here enjoys the simple tastes and pace of life, a refreshing change from busy lifestyles. The weather is glorious all summer and even in the winter months is a pleasant 15 degrees. The cost of living remains extremely low, making it very attractive to reside here.
A feast for foodies
There are a number of traditional and modern restaurants in Ovacik. A 10-minute stroll will bring you into the neighbouring town of Hisaronu. Here the main street is pedestrianised from 7 pm. Oludeniz is within easy reach for a romantic dinner by the beach and a cocktail in one of the sophisticated bars.
Fethiye is where you will find world-class cuisine in the five-star restaurants. For fish lovers, the famous fish market is a must, where freshly caught fish is cooked and served with Turkish meze and drinks by one of the adjoining cafes. A fantastic choice of tastes, to suit everyone.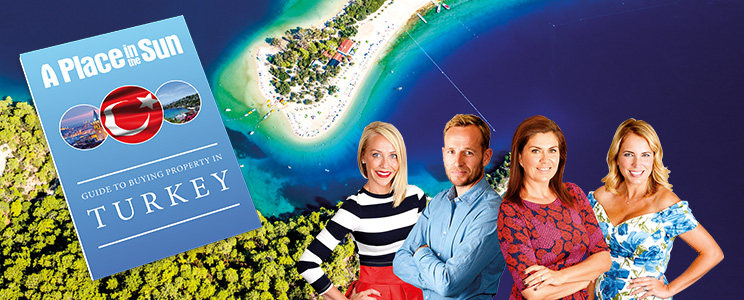 download our free guide to buying a property in turkey
Family activities
When the family need a break from lazing in the sun, there are a great variety of activities right on the doorstep. These include boat trips - enjoy a 12-island cruise or hire your own boat and explore the sparkling turquoise waters. Or paragliding – book a once in a lifetime tandem paragliding experience, with a personal video as a keepsake. A visit to Saklikent Gorge is a must – expect a challenging walk through the clear water and rocks before lounging on low sofas in lovely outdoor cafes. A fun family day out.  Alternatively, visit Kayakoy, an ancient abandoned village, and learn about its fascinating history.
What property can you buy?
Overseas property buyers nowadays are looking for a home from home. The size of overall living space and value for money are two of the main reasons buyers choose Ovacik, compared to other European destinations. New builds are phenomenal now, with modern and state of the art designs and interiors.
Prices are from £89,000 and there are many choices of luxury apartments and villas with private or shared pools. Custom-built villas are on the increase and already in the area, we are seeing villas from £500,000 upwards.
As Ovacik caters for young families, couples and retirement, there is a holiday home and lifestyle awaiting you, whatever your age. The buy to let market is also very buoyant and has attracted many investors as well as holiday clients. There is a steady growth year on year in this area and it is forecast to continue.