Download our Free Guide to
Turkey for 2019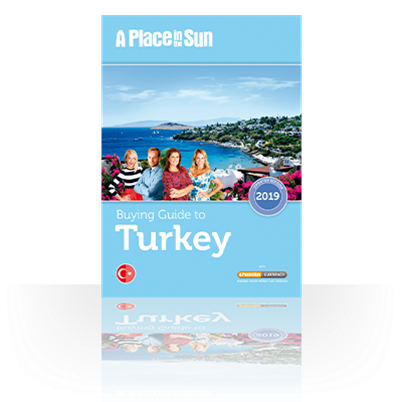 Turkey is a land where continents collide, ancient ruins mingle with modern beach resorts and the bustle of Istanbul makes way for idyllic rural retreats.
It has proved increasingly popular with both British holidaymakers and house hunters over the last couple of decades, many of the latter are tempted by the warm climate, moderate house prices and astonishing cultural heritage.
So if you're thinking of buying a property in Turkey, then download our FREE detailed guide. You'll find all the information you need to help you with your purchase.
What's in the Turkey Property Guide?
There's a run-down of the popular areas to buy a property in Turkey, including Alanya, Altinkum, Antalya, Belek, Bodrum Peninsula, Dalaman, Didim, Fethiye, Istanbul, Kalkan, Kas, Ovacik, Side and Uzumlu.
The guide also contains a useful legal briefing on the main points to consider during the process of purchasing your property, and what costs you can expect to pay and when.
Discover how you can potentially save thousands of pounds when transferring your money to Turkey as part of the buying process - we are pleased to have had the support of our online currency partner Currency Index.
How and where to research different property types.

We hope our buying guide to Turkey will inform, enlighten and set you on your way! 
Download Guide here
---
If you want to know more about how we store, secure and use your personal data, including website cookies, please take a look at our Privacy Policy.
Thank you for downloading the Buying Guide to
We've sent you an email with a link to your guide so that you can read it anytime, or please click here to get your guide now which you can print or save to your computer.