Jasmine Harman is not only highly knowledgeable in the overseas property field, but she is also somewhat of a fashion icon and well-known for her charitable work outside of presenting A Place in the Sun.
Down the years, Jasmine has long been raising awareness for Hoarding Disorder, a condition which affects up to 3 million individuals in the UK, including her own family whilst growing up. She has appeared alongside her own mother and others affected by the condition in the TV documentaries My Hoarder Mum and Me, Britain's Biggest Hoarders and Britain's Compulsive Shoppers, amongst other programmes. 
Now, in a bid to provide extra support for those in need and raise funds for her charity, Jasmine is auctioning off her on-screen A Place in the Sun wardrobe for Hoarding Awareness Week. So, if you've ever wanted to own a dress of hers worn on-screen, or know someone who might, now is certainly your chance!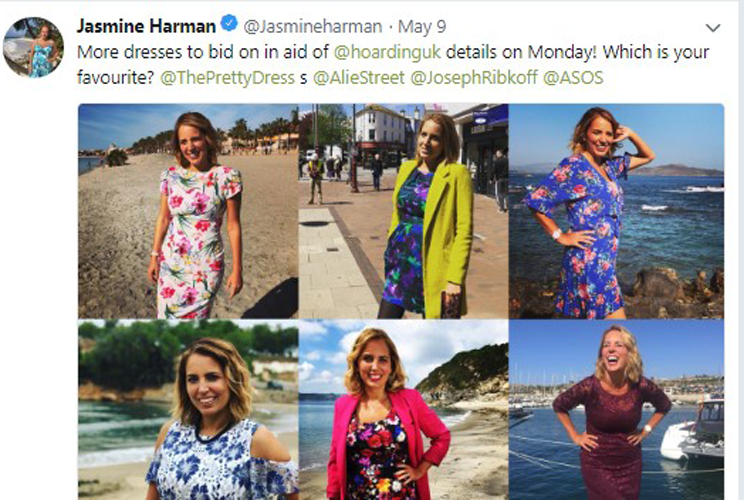 Bidding on one of her dresses is quick and simple, and all proceeds go to a worthwhile cause. All you need to do is head over to https://www.sellebrity.org.uk/live-charity-auction to check out her latest selection of dresses that are up for grabs.
Get your bids in soon though as there is high demand for her attire! Whilst making a guest appearance at A Place in the Sun Live last weekend at Olympia London, she managed to sell a dress of hers on-the-spot to one happy attendee (above). 
To find out more information on her charitable work, then be sure to follow Jasmine on Facebook, Twitter and Instagram using the handle @jasmineharman and @JasmineHarmanOfficial.
All the best, Jasmine!