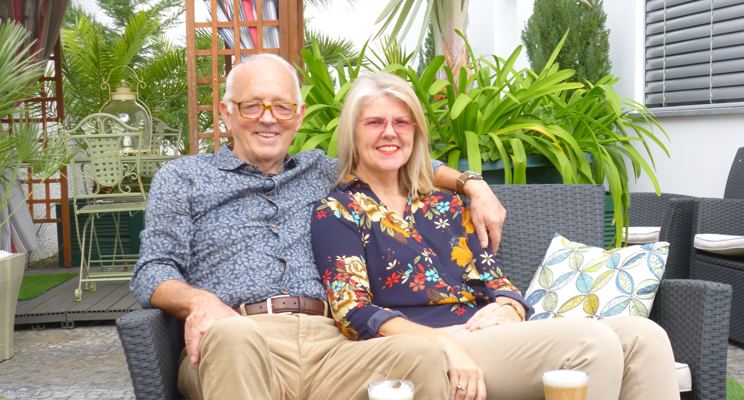 Alex and Jan Green purchased their property on the Portuguese island of Madeira back in 2015, which is now their full-time home...
"We first discovered Madeira in 2005 when we took a week's holiday there for some much-needed winter sun. A small archipelago of Portugal in the Atlantic ocean, 360 miles directly west of Morocco and 540 miles Southwest of Lisbon known as 'The Atlantic Garden', it was utter paradise.
Since then, we've toured most of the Mediterranean looking for our dream retirement location. We previously lived in Australia for seven years but the UK was always calling us home in the background.
We both finally agreed in 2014 to buy a holiday home whilst living back in Herefordshire and recalled Madeira for its relaxed culture, great climate and generally high standards - so off we went!
We toured the island and decided the capital Funchal was where we wanted to buy, so we went and met a few local agents. You always find one that stands out from the crowd, which lead us to eventually purchasing via Estelle Silva of Silva Estate. She showed us a few houses suitable for a holiday home, including the one we bought for €508,000. It's a three storey detached villa with four bedrooms and four bathrooms and balconies in every room with views of the sea and harbour (below).
At first, we thought it was an apartment but it was, in fact, an entire house. It was empty as it had been used as a holiday home by the previous owner, and was priced within our budget. We made an offer which was accepted pretty much straight away, so we returned to the UK from Funchal which only took three and a half hours.
This has now become our full-time home. We moved over in 2015 which fortunately went very smoothly, including our currency exchange as we already had an account for our previous travels.
We find living in Madeira is very relaxing and pretty much everyone in Funchal speaks English. Every month there is a festival and Madeirans truly know how to party! The carnival in February is a favourite and the outfits are quite astonishing. Christmas and New Year are magical with one of the biggest firework displays in the world, and the numerous cruise ships that call into the port to celebrate the night away really is a wonderful sight.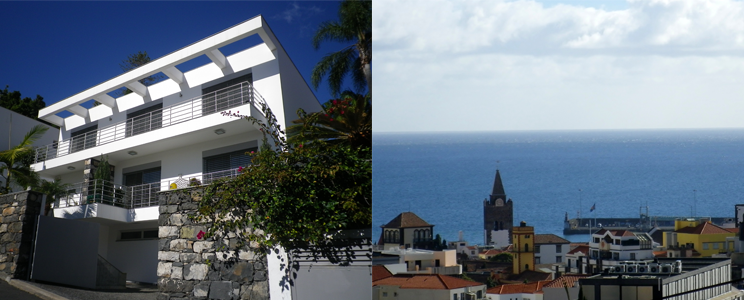 Madeira has many beaches (some sandy but mainly stoney) and most hotels letting you have use of the swimming pools - hoping you buy lunch there!
We have year-round sunshine and actually live in our property without the need for heating or air-conditioning which saves us money. Per year we spend around €1,200 for electricity and water bills.
We've also been registered as Non Habitual residents, which is quite a simple process that allows you to live tax-free for 10 years. This includes no tax on any UK savings and your pension. It does, however, limit the days you can spend in the UK.
Health departments are quite efficient here too and you can see your private doctor for €55 for a same-day appointment. Bring private here, the service is impeccable in modern clinics, and if you apply for the S1 form from DWP in the UK you can get a discount on some medical bills and prescriptions you have. At this moment in time, we're also allowed to have medical treatment back in the UK too.
All in all, this little-known island of Madeira has worked out fantastically for us. We have all the shopping facilities we need, friendly Madeiran neighbours, good standards of supermarkets and the assurance knowing that Madeira is a very safe island. You can walk at night with no worries for your safety.
So, for now, we're extremely happy with our choice of location. In fact, we're selling this property and hoping to buy a larger property in the same area.
We were avid viewers of the A Place in the Sun TV show whilst we lived in England, but little did we know we would be a couple sharing their own experience with other potential buyers. One tip we would give you is, find trustworthy lawyers and estate agents, they'll make all the difference.
If we were asked for three words to sum up our experience so far of living in Madeira, those words would be sunshine, safety and friendliness.
Signing off".
Download our free guide to buying a property and living in Portugal