Pat and her husband Tom talk us through what it's like buying a property and living in the Algarve, Portugal after originally visiting the region back in 2015.
"We had our first holiday in Vilamoura, Algarve in May 2015, when we came for a month as Pat had decided to retire from full-time employment.
We needed to bring our dog with us so we caught the ferry from Portsmouth to Santander and drove through Spain and across to the Algarve. Little did we know that this would be the beginning of our love affair with Portugal!
We found that on our return, all of our conversations were based on the idea of one day retiring to Portugal, which then made us turn to the TV show A Place in the Sun. We searched the internet extensively and researched possible places to live in the Algarve, as well as the lifestyle, the food and most importantly, the involved costs.
We checked out many expat websites to find out about the experiences other people had whilst moving to Portugal. We then made direct contact with a few of these people and then began looking at properties.
Next step was to book tickets for one of the A Place in the Sun Live exhibitions to gather information about buying an overseas property, as well as important legal and financial factors. Homework done, the next step was to show interest in properties and make contacts with estate agents - which then lead us to Ideal Homes Portugal.
We had already planned to go to the Algarve for three months in the Spring of 2017 (April to June) and had the ferry and accommodation booked. We figured that three months would give us plenty of time to explore different areas whilst working closely with our estate agent.
When we arrived, we planned a trip to the Silver Coast which is one hour out of Lisbon and spent three days there looking at the properties and landscape and also get a feel for the lifestyle. However, we knew that it wasn't for us.
Upon returning to the Algarve we then contacted Janet at Ideal Homes who sent us a list of properties she thought were right for us. She then arranged multiple viewings for us, when then lead us to us finding our dream home (above). We then negotiated the price and then the deal was done!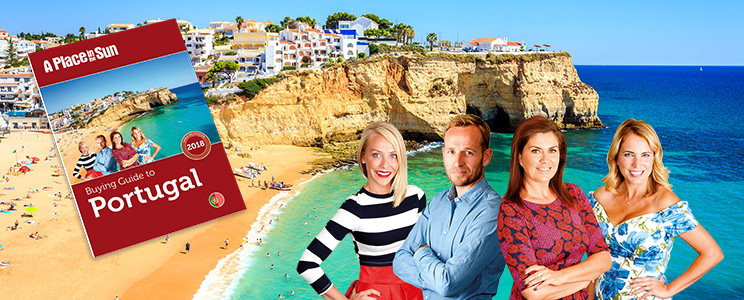 download our free guide to buying a property in Portugal
On our return to England, we had three months to sell unwanted items and pack up our furniture. We had a few delays but eventually agreed on a date to exchange contracts and a week before the sailing date a removals firm collected our furniture. Ideal Homes introduced us to a solicitor before we returned to England, who looked after getting our fiscal numbers and organised the changeover of the gas, electricity and water supplies.
We sold our UK car and bought a left-hand drive vehicle which now makes driving easier!
Our life now is much slower and relaxed and is no longer controlled by the seasons. The temperature may drop here in the Algarve but the lovely blue skies and winter sun have become the norm, and when we do get a storm or a downpour it doesn't last for long. We love to be outdoors and enjoy the odd game of golf and walking the dog.
We have bought a Portuguese language course on CD so that we can listen and learn how to pronounce the words and use the everyday language. When in doubt, Pat uses Google Translate and prints off what we need to say in Portuguese and hands this over. Sometimes it's not quite correct, but we usually get a smile and a correction.
Pat goes to Zumba and Pilates in the village hall twice a week with some other ladies on the Condominium. We lunch in many local eateries and call for coffee when we are out walking. Shopping for food is really good as there is so much choice and of course, shopping for local fish is excellent.
The Portuguese people are welcoming and helpful and the expats who are our neighbours are full of information. We now have the local TV and British TV, a landline, mobile phone and internet. The whole package covers international free calls from 9 pm so keeping in touch with our family is easy.
After getting together 32 years ago and putting our two families under one roof and working very hard to make a life together, we now have a place where our five children, nine grandchildren and one great-grandchild can now enjoy their summer holidays in the sun. 
Living in the Algarve is a dream we thought could never happen!".
This case study was provided by Ideal Homes Portugal.