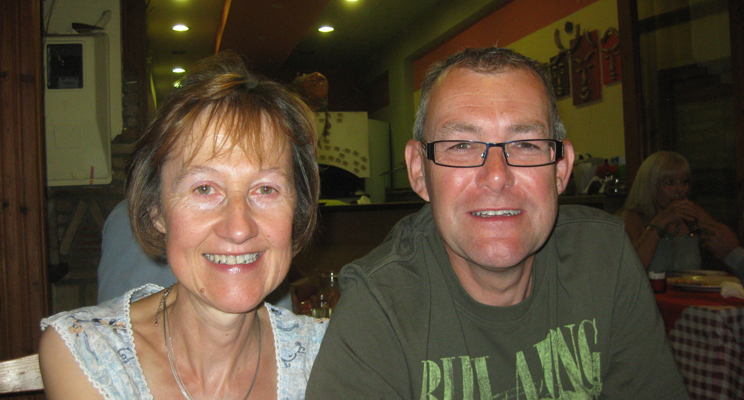 Judith and Chris Clegg purchased a 200 sq metre plot of land in the Peloponnese, Greece, back in 2009. Today, they're proud owners of their dream, custom-built property, and share their experience with you below.
"For many years we spent our holidays visiting the Greek Islands, and with each visit, we grew more and more in love with Greece - the culture, the food, the friendly people and the stunning scenery. Over time we started to think about the idea of one day retiring in the country, however, we came to realise that many of the islands virtually close after the summer tourist season. It turns out that many of the residents return to Athens for the winter. 
This was a problem for us as we wanted to buy in an area with a permanent community, so therefore we turned our attention to the mainland instead.
In 2006 we stayed in Stoupa which is on the Mani Peninsula in the Peloponnese region, where we both fell in love with this visually stunning area. The people were all very friendly. By chatting with individuals in tavernas we learned that Stoupa has an all year round community and an expat population mainly consisting of English and Germans.
We returned the next year and were surprised and delighted that many of the taverna and bar owners recognised us from before. It was then that we decided to return the following year and begin researching properties in the area.
On the next visit, we made enquiries with expats about their buying experience. What became evident is that many houses are not built to the same standards as UK standards. For example, some properties have inadequate foundations for an area which is in an earthquake zone. We also learned that sometimes properties bought off plan are not built to the client's exact specifications.
We then decided to build our very own dream property from scratch...
Since 2006 we had been following the work of a German builder who had been a resident in the Mani region for over 25 years. Through his website, it became clear that his building standards were exceptional, so we met him back in 2007. 
In 2009, we decided that the Mani region was definitely where we wanted to build, and then arranged further meetings with the same builder. We viewed a variety of finished properties that he'd built for previous clients, in addition to plots of land for sale in the area. We were convinced that this was the man for the job - his work was second to none!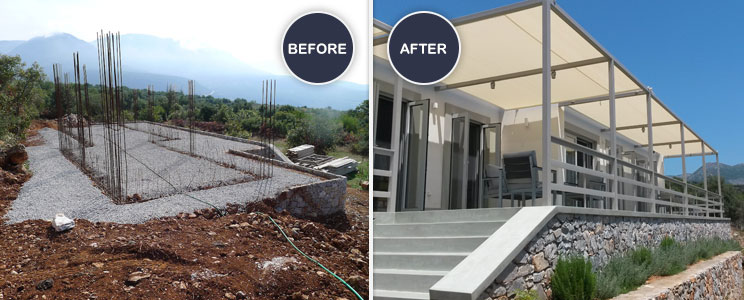 We purchased our 2000 sq metre plot in September 2009 for 50,000 Euros but knew that our finances wouldn't allow us to build for several years. However, we continued to follow the work of our chosen builder and never once questioned our choice. We have not seen any other properties built by other builders to the same exacting standards.
We applied for planning permission in 2014 and commenced building in 2015, which was eventually finished in April 2017 (above). We chose a single storey contemporary home which is very different from the traditional stone houses of the area. 
It has two bedrooms, one bathroom and a large open plan living room and dining area. The basic build cost was 180,000 Euros, but we have paid extra to have a perimeter wall built and some landscaping too. The kitchen and wardrobes were also an additional cost. 
We are highly delighted with our finished home. We were sent photos and emails of every stage and were involved in every decision and we used a notary to buy the plot of land. It is also essential and a legal requirement to have an English translator present for the official proceedings. We also used a currency exchange company to transfer money to our builder, but due to the financial crisis in Greece, some payments had to be made in cash.
I would advise anyone considering buying either off plan or resale that research, research, research is essential. Get to know the builder if you are buying off plan and make sure you know exactly what you are buying. Talk to people who have bought in the area and listen carefully to their experiences. Also, thoroughly research the area you are thinking of buying in.
Some places are completely different when the hustle and bustle of the summer season is over. Never feel pressurised into making decisions and take your time. If you buy off plan it can be a lengthy, time consuming and frustrating process due to Greek laws and regulations. 
We would describe the building experience as exciting, fulfilling, frustrating - but well worth it!"
search for a property for sale in the Peloponnese
...or download our free guide to building, buying and living in Greece